Golden, buttery, crisp and flakey are a few characteristics we look for in a perfect pastry. Auckland's bakery game has come a long way since its days of cream doughnuts and slices. That's not to say that we dislike any of the Kiwi bakery classics, but there's something about the gentle crackle of that first bite into a croissant that is unlike anything else. And after eating our way through Auckland's various boulangeries, we decided it was time we broke down a list of the best bakeries in the city and their speciality pastries — from plain butter croissants to tasty fruit danishes.

TEMS Coffee Roasters
Plain croissant
Start with a classic and you can never go wrong. Presenting the basic yet beautiful butter croissant. In seeking the ultimate croissant, we were after a pastry that had a crispy exterior, fine, delicate layers and a delightfully stretchy texture. TEMS Coffee Roasters on Lake Road embodied all of these. This hidden gem coffee spot is operated by one man who is not only the baker but also the barista and serves coffee that levels up to the raft of freshly-made, high-quality pastries.

Fort Greene
Almond croissant
For those seeking a pastry that is more indulgent, look no further than Fort Greene's almond croissant. Renowned for serving the best toasted sandwiches and sourdough in town, Fort Green's selection of pastries have stepped up a notch since its move from St Kevins Arcade to the main strip of K'Road. The almond croissant is filled with the creamiest almond meal mixture and topped with a crispy almond biscuit and almond slivers for the ultimate nutty richness.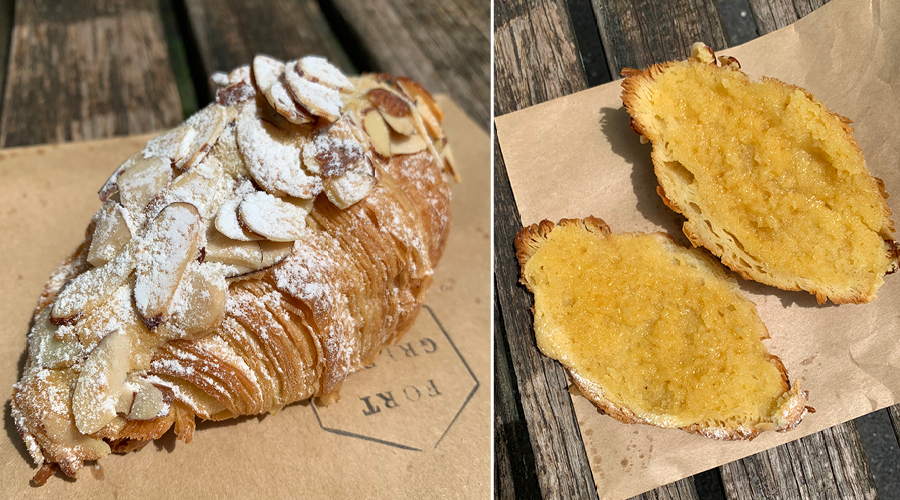 Vaniyé Patisserie
Pain au chocolat
Not quite as indulgent as an almond croissant but not as plain as a regular croissant, the pain au chocolat is the ideal pastry when you're wanting a little something extra without too big a commitment to sweet. Vaniyé does one of the best chocolate croissants we have ever tried, comprising lots of layers with a high rise and a good amount of airiness between each. Two delicate strips of premium dark chocolate line the base of the pastry, lending subtle sweetness and bitter richness to the buttery flavours.

Hook
Pain aux raisins
Despite its somewhat negative reputation for being the devil of pastries (we blame the raisins,) a good pain aux raisins can, when executed properly, go a long way. Try the one from Ponsonby's Hook bakery and your opinion of the raisin-speckled pastry will change, we guarantee it. The layers have been lined with custard for some extra sweetness and the raisins have been soaked in rum, offering a deep richness and juiciness which bursts in the mouth as the custard melts on the palate.

Daily Bread
Fruit danish
Incorporating fruit into your diet has never been easier, with Daily Bread's delightful fruit danishes. The fillings change depending on the season, but no matter what variation of nature's candy is placed in the centre of the pastries, deliciousness is always guaranteed. Some of our favourites are the apricot and the blueberry — both pastries that are simultaneously sweet and fresh.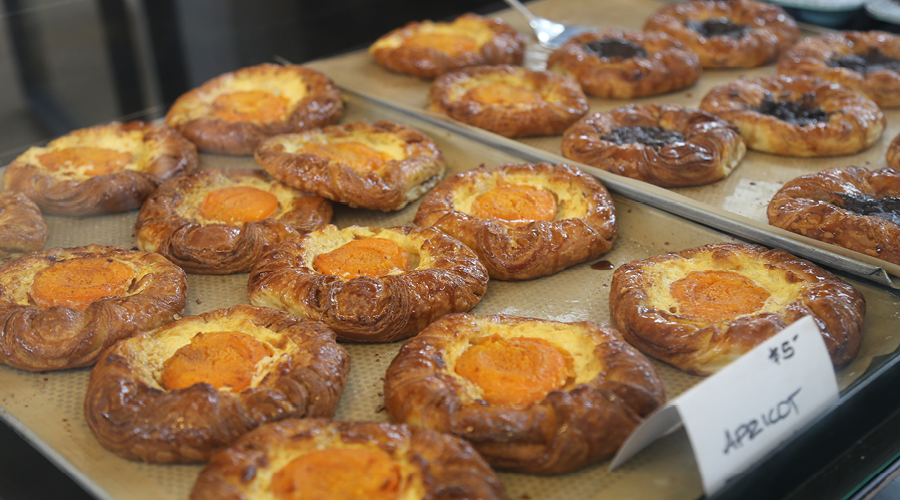 Ima Cuisine 
Lemon meringue cruffin
Offering a fusion of pastries is Ima Cuisine with its cruffins — a hybrid of a croissant and muffin. These boast the typical shape of a muffin but swap the moist cake for layers of crisp pastry. What makes these so special is that they're filled with citrusy lemon curd to counteract the rich notes of butter and are topped with fluffy meringue, which mixes into the zesty lemon curd, making them one-of-a-kind morsels.

The Real Bread Project
Ham and cheese croissant
Following his days of being the Head Baker at Amano Bakery, Daniel Cruden has gone out on his own and is dominating the bakery scene with his delightful treats. Driving out to Helensville just to get a taste of Cruden's pastries at his bakery, The Real Bread Project is well worth it, and after you bite into his ham and cheese croissant, you'll understand why. From first glance, it looks as though it's just a regular croissant, however, it's filled with thick cuts of ham and swirled with cheese, proving that not all indulgence has to be sweet.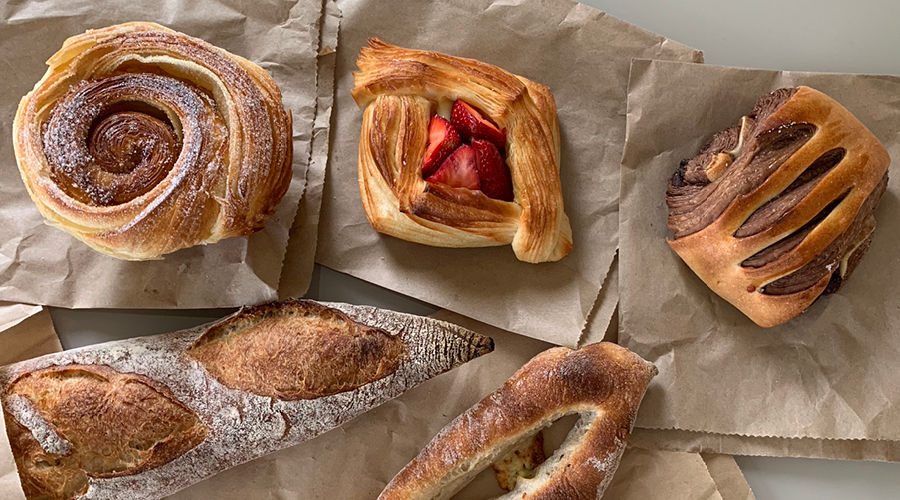 Monzù
Sfogliatella
Proving that pastries are appropriate no matter what time of the day or night, the Italian dinner restaurant, Monzù serves a heavenly sfogliatella as its final course. If you're a lover of layers, the sfogliatella is the pastry for you and for all we know, Monzù is the only place you can find one in town. Unlike the other pastries in this roundup, this one does not feature any butter, but don't let that fool you into thinking that it will be lacking in texture. In fact, it's unbelievably crispy and filled with limoncello custard cream, so delicious, that it goes down an absolute treat no matter how full you might be.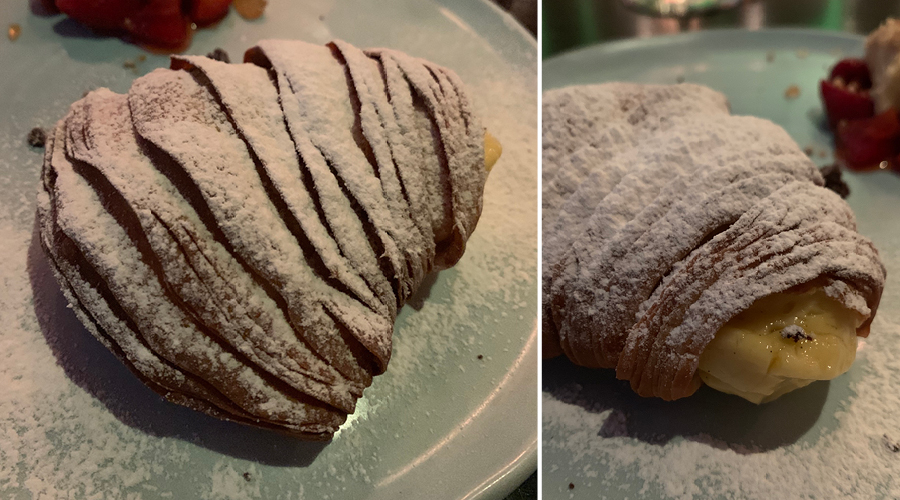 La Voie Française
Kouign amann
Located on Dominion Road is arguably the best French bakery in all of Auckland. Spotting La Voie Française is simple, just drive down Dominion Road on a Saturday or Sunday and look for a queue. Everything at this bakery is nothing short of divine, but the kouign amann is truly something else. It's basically a caramelised croissant which features a candied shell that offers a toffee-like sweetness and the kind of crackle you won't find anywhere else.