Sweet tooths rejoice: these saccharine creations are anything but boring. Pleasing the eye as well as the stomach, Auckland's most inventive sweet treats are sure to have you skipping straight to dessert.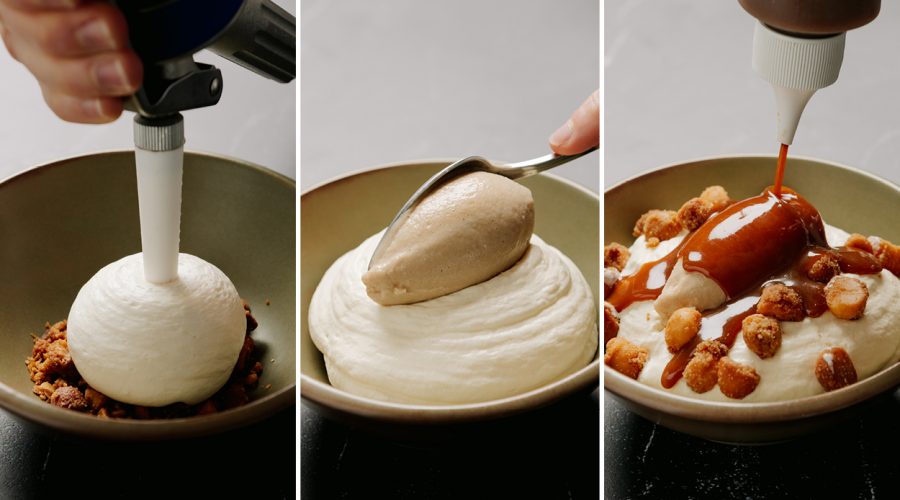 Macadamia nut cream, waffle, chocolate sauce and espresso ice cream from Soul Bar & Bistro
A heavenly medley of creamy, nutty and chocolatey flavours come together to form this unmissable sweet creation from Soul. Aerated, mousse-like macadamia nut cream is syphoned onto candied macadamia nuts, over which is scooped a quenelle of house-made espresso ice cream. Caramelised chocolate sauce and more candied macadamias follow, and the whole dish is topped with a waffle that diners must crack with a spoon to reveal the delight underneath. While this dessert is generously portioned, it's light and airy enough to order one just for yourself. Because we guarantee you won't want to share.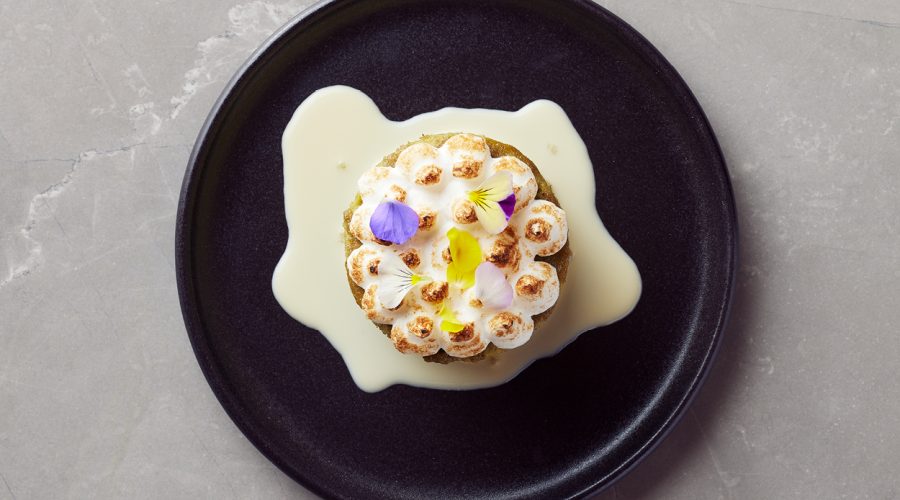 Matcha and coconut tres leches cake from Azabu Mission Bay
Tres leches (meaning three milks) cake is known for its blissfully moist texture, and while this matcha and coconut version from Azabu stays true to the original in that regard, it's otherwise wholly unique. A matcha and coconut-infused sponge cake is soaked with a creamy mixture, then sandwiched with a middle layer of matcha pastry cream. Topping this scrumptious cake is a layer of meringue, caramelised with a blow torch and finished with edible flowers. Matcha fans, this is the one for you.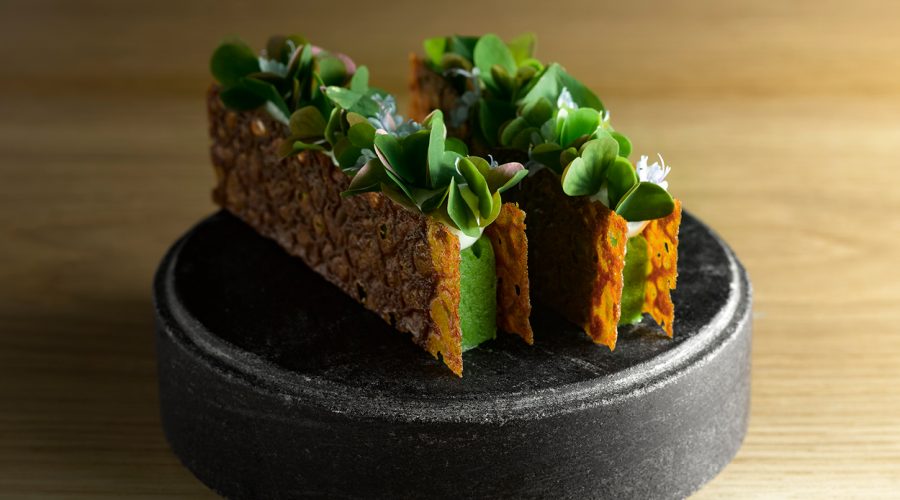 Sorrel and pine brandy snaps with flowers from Pasture
Rendering the nostalgic favourite almost unrecognisable, these brandy snaps from Parnell fine-dining restaurant, Pasture, impart a refreshing smack of textural and verdant flavours. A filling of frozen sorrel, cacao and vinegar makes for a unique and unforgettable palate cleanser, ideal for those who like their final bite to leave a lasting yet fresh impression.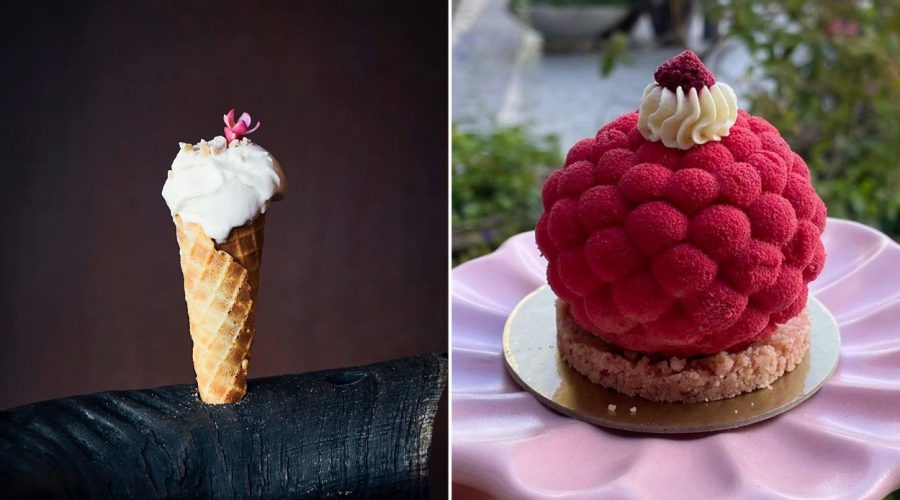 Boysenberry and pohutakawa honey waffle cone from Ahi
No meal at the Commercial Bay favourite, Ahi, would be complete without one of these delicious wee cones. Reminiscent of a certain iconic Kiwi ice cream, this morsel combines creamy buffalo milk ice cream sweetened with pohutakawa honey and boysenberries, with a topping of roasted chopped peanuts and a Miann chocolate base at the bottom of the cone.
Pistachio mousse, raspberry jelly and sponge gâteaux from Miann
The pattissiers at Miann are renowned far and wide for their sweet creations, and it's no wonder given they make all their own chocolate right in Auckland at their Morningside factory. From macarons to petit gâteaux, gelato, celebration cakes and, of course, superb chocolate bars, Miann's selection has something to pique any sweet tooth's interest. Currently, we can't go past this berry-laden creation, comprising a pistachio and white chocolate mousse with raspberry jelly and sponge.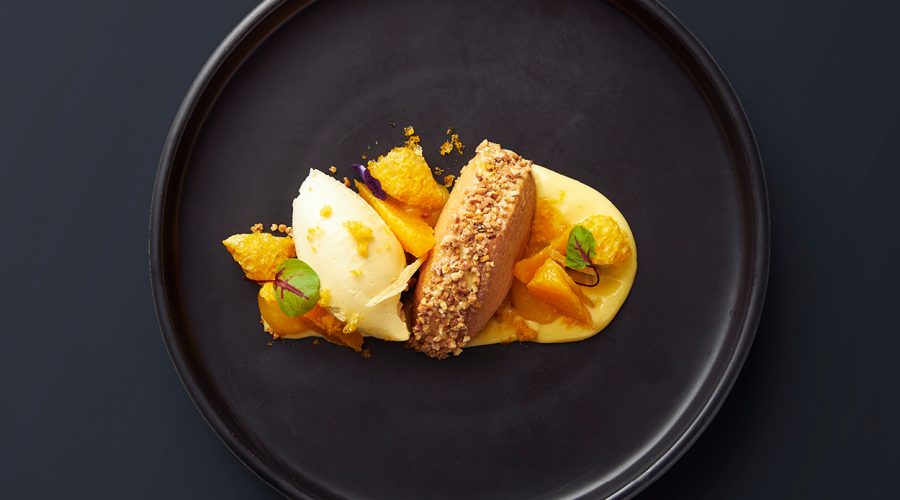 Ginger and malt cake, citrus salad, orange curd, vanilla bean and ginger ice cream from Ostro
Looks can be deceiving, as proven by Ostro's fragrant, deconstructed take on another childhood comfort: the Ginger Kiss. A moist ginger and malt cake is complemented by citrus flavours from a medley of orange segments, laying atop a delectable orange curd and finished with vanilla bean and ginger ice cream. The packet version, we can safely say, will never do again.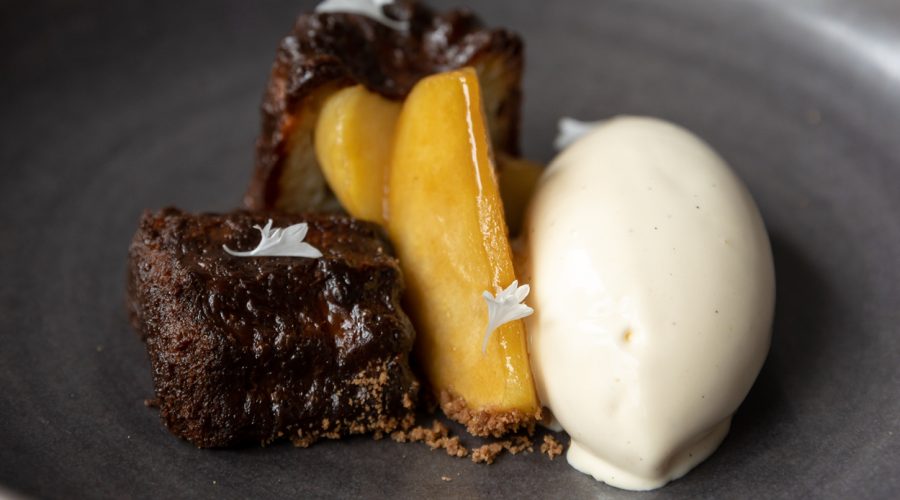 Cannelé de Bordeaux, poached apple in sea salt caramel with vanilla ice cream from Onslow
With an eye for classics with a twist, it's no surprise Josh Emett's Onslow serves sweet treats that combine both the familiar and the inventive. This traditional French pastry has a custard centre and a dark caramelised crust; perfectly offsetting it is fragrant poached apple and creamy vanilla ice cream, topped with a drizzle of salted caramel sauce.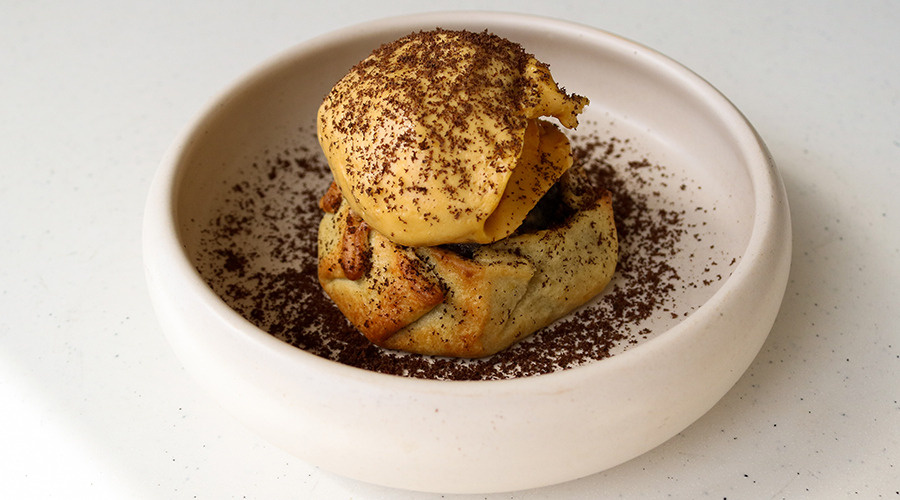 Chocolate crostata with Valrhona Manjari chocolate fondant, salted caramel mousse and Koko Samoa from Euro
This Pacific-infused take on an Italian sweet tart is divine. Sweet pastry is filled with a chocolate fondant, and Euro head chef Uelese Mua has incorporated Pasifika flavours into this dessert by using Koko Samoa — cocoa seeds grown in Samoa which are then roasted on a fire. Once roasted, they are ground using a mortar and pestle and sprinkled on top of the salted caramel mousse, which adds a touch of bitterness to counteract the sweetness.