Eating cake is a common thing here at Denizen. With a team of 12 people, there are many birthdays to celebrate but also, freedom is the realisation that it doesn't need to be anyone's birthday to indulge in a slice of cake. Our city is blessed with numerous cakeries and we've picked some of our favourites from the bunch. Here is where to find the best cakes in Auckland.

Dark chocolate, pear and pistachio cake from The Caker
Deciding on the best flavour from The Caker was a difficult one, as all the cakes are absolutely divine and some of the best we have ever tasted. However, it's the dark chocolate, pear and pistachio cake that wins us over every time. The cinnamon-spiced, buttery cake is dotted with juicy pears, dark chocolate chunks and topped with a chocolate mousse icing and crushed pistachios.

Chocolate cake from The Pie Piper
This is an old school favourite, a classic chocolate cake. Pie Piper's rendition of this dessert hits home for all of us as it reminds us of the chocolate cake we all grew up with. In fact, we dubb it as 'the Matilda chocolate cake' in tribute to Bruce Bogtrotter. It's moist, decadent, rich and sweet — exactly how a chocolate cake should be. The icing is dotted with rainbow sprinkles for some extra crunch which might seem like a small touch but it makes a huge difference.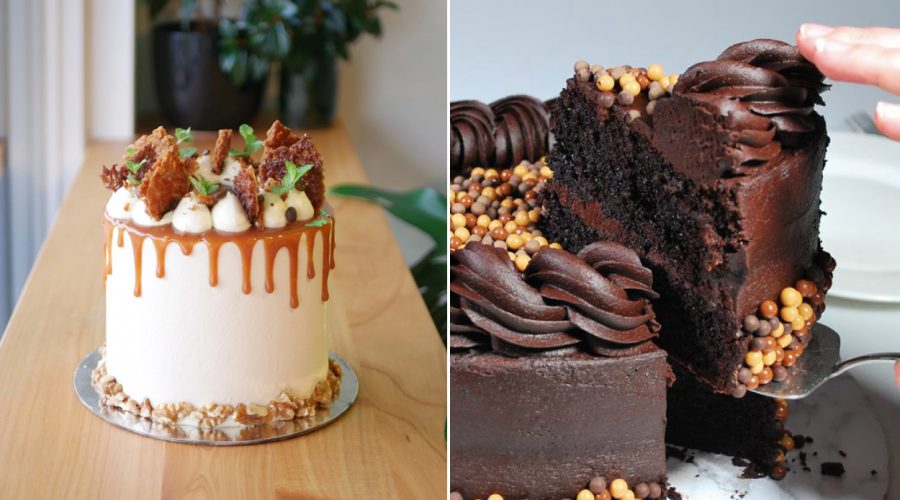 Espresso walnut and salted caramel cake from Mint Cakery
Some people might think that a coffee cake is outdated and targeted towards the older demographic, but Mint Cakery's version is for everyone. The texture is spongy, fluffy yet decadent and incredibly moist as it has been soaked in Kahlua coffee liqueur. The layers are sandwiched together with a rich chocolate ganache and the whole cake is slathered in a beautiful caramel buttercream, a drizzle of salted caramel, walnuts and brandy snaps.

Carrot cake from Corelli's
Even if you're not a fan of carrot, you can't turn down a delicious slice of carrot cake. Especially when it's a double layer beast from Devonport's local cafe and eatery, Corelli's. The moist cake is generously spiced with large chunks of walnuts and juicy currants laced all throughout. The layers of cream cheese icing are unbelievably thick and creamy, boasting a perfect balance of tartness and sweetness.

Banana cake from Bluebells Cakery
No matter what day or time it is, banana cake is always a good idea and Bluebells Cakery's variation is one of the best in town. The cake has the perfect amount of sweetness with a strong scent of the distinct, caramelised banana aroma. The icing is not just a vanilla flavour, but a cream cheese base which lends a tartness to elevate the distinct flavour of the banana, while the candied pumpkin seeds and walnuts top off the cake and offer even more sweetness to the dessert.

Lemon and raspberry cake from Sweet Cheeks
We think that lemon and raspberry tends to lean on the safer side in terms of cake flavours. However, Claudia Long, otherwise known as Sweet Cheeks on Instagram, is renowned for her otherworldly lemon and raspberry creation. This cake has a base of white chocolate and coconut butter and paired with salted white chocolate buttercream, raspberry coconut marshmallow and burnt meringue twigs for a light crunch.

Red velvet cake from Catroux
Before trying a red velvet from Catroux, not many of us understood what red velvet really entailed. We were all unsure about what the flavour 'red' was but Catroux Cafe has proven that red velvet is very much its own unique flavour of cake. It's unbelievably moist and has a hint of cocoa aroma while the cream cheese icing contrasts with the slightly chocolatey cake.

Chocolate mousse cake from Vaniyé
Believe it or not, some people aren't the biggest fans of moist and decadent cakes. Instead, they prefer more of a creamy mousse-like dessert which is usually referred to as a petit-gateaux (French for small cake). These are rich in flavour, yet light in texture, making it the perfect after-dinner dessert. Our favourite is the Noah from Vaniyé, a mixture of milk and dark chocolate mousse, fluffy chocolate sponge cake, praline, crunchy praline and blackcurrant coulis.

Peanut butter and raspberry cake from Baby
Bestie Cafe's little sister in Eden Terrace, Baby, probably has one of the strongest cabinets in the game at the moment. It's filled with epic sandwiches and the most tempting cakes and the most popular is definitely the peanut butter and raspberry. The cake has a strong nutty flavour while the fruity raspberry cuts the richness. The magic is all in the icing — thick, nutty and absolutely indulgent.