Any gourmand knows that a burger is a dietary staple. They also know that careful thought goes into each and every creation. We've spent a fair few months scouring the city for said sandwich-like handiwork and what we've found is an extensive list — from beef and cheese to chicken, breakfast buns and even hybrids — of the best burgers in Auckland.
Brooklyn Smokestack from Brooklyn by Night (pictured above)
Here for a good time, not a long time, this beef burger from The Botanist's evening pop-up Brooklyn by Night is as juicy and delicious as it looks. Accompanied by smoked tomato ketchup, cheddar, caramelised onions, sautéed mushrooms and hickory BBQ sauce, we suggest you stop by before it's too late.
Classic Fishburger from John Dory's
In the fickle borough of Herne Bay, where only a few establishments have stood the test of time (John Dory's being one of them), you'll find a delicious fish burger. You can choose to have your fresh snapper or salmon fillet crumbed or cajun spicy grilled, then wedged into a sesame seed bun slathered in lemon aioli with tomato, lettuce and onion. Be sure to request avo as an extra.
Wagyu Beef Burger from Ostro
Not only will you be treated to stellar views of the harbour, but also a juicy beef burger wrapped in a charcoal brioche bun. It comes with aged cheddar, tomato chutney, lettuce with a side of truffle fries, and is elevated burger perfection.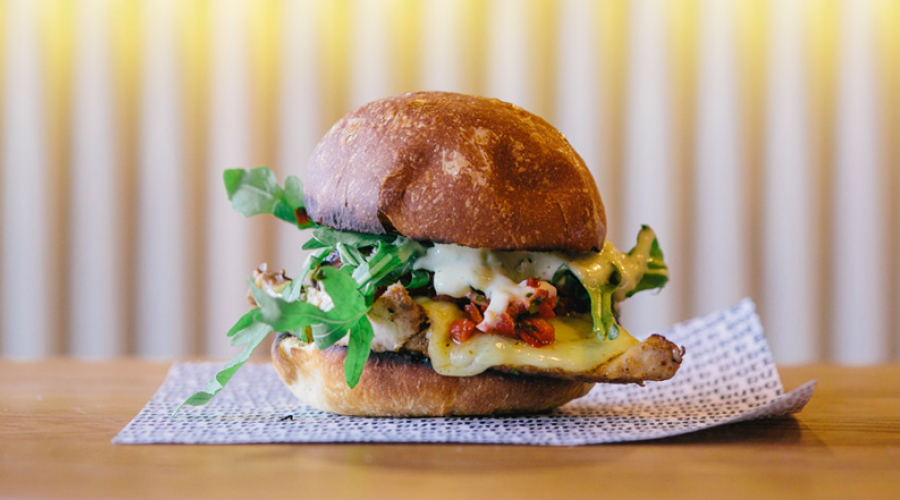 Chicken Burger from Burger Burger 
We're big fans of a chicken burger and this tender, cajun grilled chicken thigh number is no different. Accompanied with red pepper salsa, tomato jam, aged cheddar, rocket aioli and wild rocket, it will always be one of our go-to's.
Sunfed 'Chicken' Burger from The Butcher's Son
The new kid on the Herne Bay block has been making waves thanks to its point of difference, but don't let the entirely vegan menu fool you — The Butcher's Son isn't messing around when it comes to its rendition of a chicken burger. Made with crispy Sunfed 'chicken' fillets (made from pea protein), miso slaw, baby spinach, chilli jam and a side of fries and salad, one bite and you'd be none the wiser that no animal products were used in its making.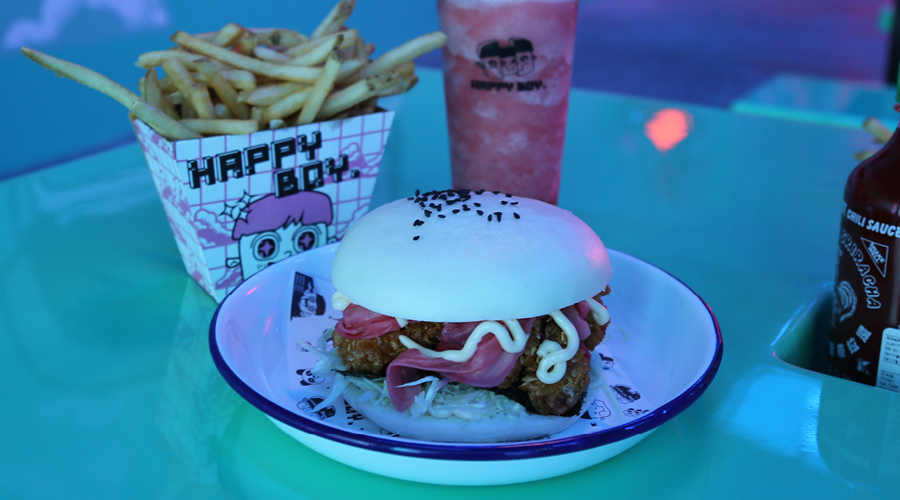 Chicken 'steamed bun' from Happy Boy
Technically a steamed bun, but with all the components you'd find in a burger, we couldn't leave this one out. Made with free-range chicken katsu, white cabbage, pickled ginger, curry mayo and bulldog sauce, you really ought to add this Japanese-inspired burger to your list.
Porker Burger from Fokker Bros
Located on Customs Street West, this gourmet fast-food establishment serves a delicious array of burgers. But our favourite? That would have to be The Porker. Freshly-ground pork, cheddar cheese, shredded BBQ pork, pickles, pineapple and honey mustard all come together in a charcoal bun.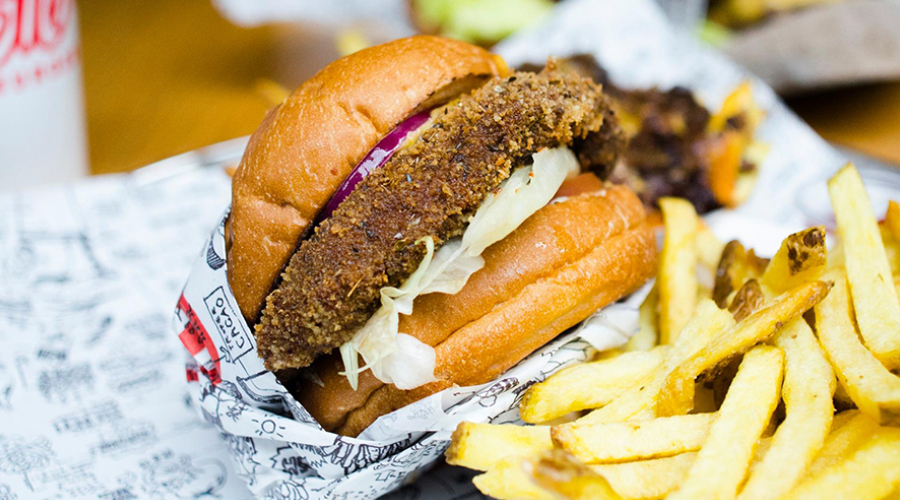 Mushroom Burger from Better Burger
We've explained this burger to quite a few people and often find they don't quite get it. A deep-fried mushroom burger? Yes. It's crispy, it's juicy and the sauce is otherworldly. It's simple and you must try it for yourself.
Awesome Wagu Kiwi Burger from The Culpeper
It wasn't given the above title for no reason. This Princes Wharf stalwart makes this burger with grass-fed wagyu beef, beetroot, a fried egg and a generous dollop of aioli. And guess what? It's awesome.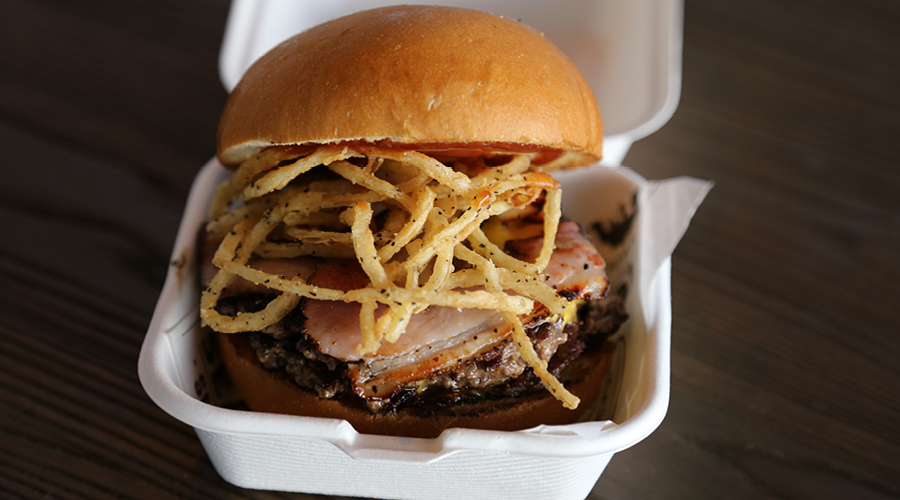 Swanson Burger from Burger Geek
This isn't your classic burger. What makes this standout is not only its house blend of Wagyu and Angus freshly ground each day, but also its smoked bacon, onion strings (salivating right now) and bourbon BBQ sauce.
The 46 Burger from 46 & York 
Wagyu, swiss cheese and the optional addition of harmony bacon or blue cheese comprise the burger from this sun-soaked Parnell bar. It comes with a side of fries and more importantly, stays together beautifully while you indulge. No one likes a messy burger.
The Beef Burger from Grangers
Regardless of whether you find yourself heading to Waiheke on the car ferry, we suggest you make a trip to Half Moon Bay and visit Grangers Tap House. Not only for the views but for the beef burger that comes with crispy smoked bacon, tomato, lettuce, cheese and a side of fries. Here, the burger sauce oozing out is not optional, it's necessary.
Wagyu Burger from Mission Bay Pavilion
A trip to the Eastern Bays wouldn't be complete without stopping into its newest hot spot; Mission Bay Pavilion. Served on a beetroot brioche bun with tomato, lettuce, pickled cucumber, BBQ sauce and chips, we suggest you make a day of it.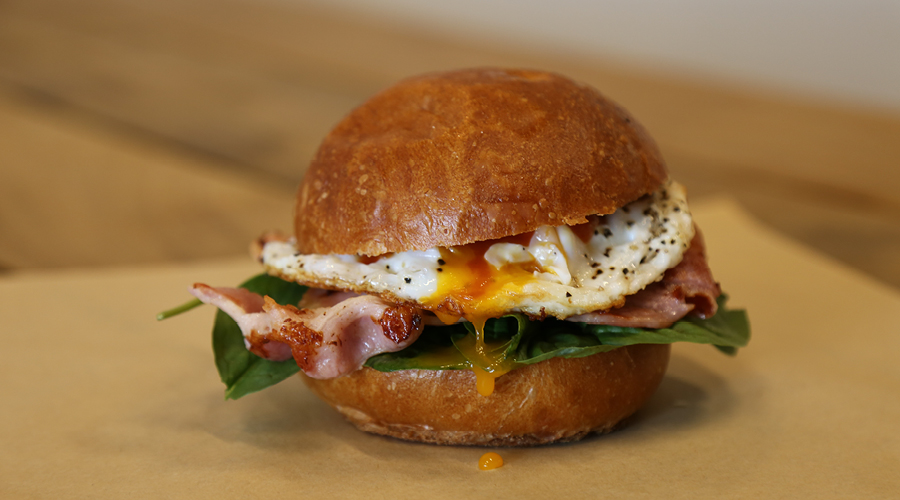 The Bacon & Egg Burger from Hatchburger
The standalone breakfast burger on this list, although Hatchburger has a few renditions (including the cleverly named Yolko Ono), the bacon & egg, will get you through any morning — no matter how rough. It's served on a brioche bun with streaky bacon, a blistered free-range egg, baby spinach and bloody mary ketchup.
The Double Cheeseburger from Chapel
Famous for its Sunday sessions, Chapel Bar & Bistro also harbours some bloody tasty fare. We love stopping in for a burger and a beer to enjoy the sunshine with our favourite being the double cheeseburger with grilled onions, tomato relish, McClure's pickles, smoked cheddar, mustard and brie. Although, occasionally we convince our dining partner to order the mushroom burger and go 50/50.