Whether the saying 'breakfast is the most important meal of the day' is true or false, that's beside the point. What's important is, breakfast is delicious and that's a solid fact. The early morning meal motivates us to rise out of bed and make our way to our favourite cafe's — a number of which you'll find rounded up in this post we made last year. But in the year since then and now, following the countless cafe trips we've been on, our list of favourites has expanded and our list has updated — these are the dishes that we are currently obsessing over.

Istanbul scramble from Honey Bones
We all love a classic scrambled egg for breakfast. It's comforting, warm and hearty and sets every day on a good note. Honey Bones steps up the breakfast staple by taking a Turkish pide, slathering it with creamy whipped feta and the fluffiest scrambled eggs that have been laced with parsley. Then comes the curried cauliflower, followed by a drizzle of za'atar and chilli oil for an extra kick, but it's the aromatic and crispy sage that elevates this dish from great to sensational.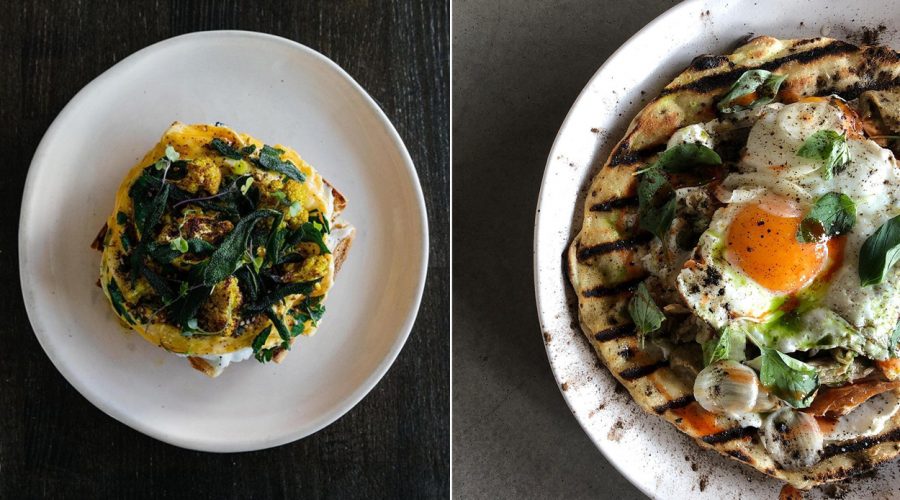 Smoked fish flatbread from Williams Eatery
'Sophisticated staples' is the perfect way to explain Wiliams Eatery. This eatery serves the much known and loved bolognese on toast, but instead of 'mince' or 'bolognese,' the folks at Williams dub it as 'ragu' and names aside, we can confirm that it's absolutely divine. But what steals the show for us is the smoked fish flatbread. The bread is unbelievably fluffy, boasts a charred and smokey flavour and is loaded with toppings. These consist of smoked fish which is rich in ocean aroma and slivers of leek, fennel, capers and an egg with a golden yolk.

Pancakes from Hare and the Turtle
A humble stack of pancakes is hard to come by in this modern age of cafe culture. But Hare and the Turtle keeps its pancakes simple, making it a foolproof breakfast that brings us some serious nostalgia. The stack is fluffy beyond words, adorned with sweet and crunchy candied walnuts, mascarpone and a caramelised banana. If you're not a vegetarian, we strongly recommend you order this with a side of bacon and add a hefty drizzle of maple syrup as that sweet and salty combination is to die for.

Corn fritter balls from Lola
The owner behind Charlie & George in Stonefields and Flour Mill in Epsom has just recently opened a new cafe in Mt Wellington. Rebecca McRobie refers to the 100-seater cafe as Flour Mill's bigger sister, Lola. The menu features the classics and the somewhat forgotten, nostalgic meals that aren't so widely popular within this town's cafe scene. McRobie recognises the beauty of corn fritters, and Lola's take on this dish might be the tastiest yet. The morsels almost taste like falafel and are loaded with juicy corn kernels and sit atop a bed of sriracha labneh, which is the star element of this breakfast — slightly spicy, a little bit tart and purely delicious.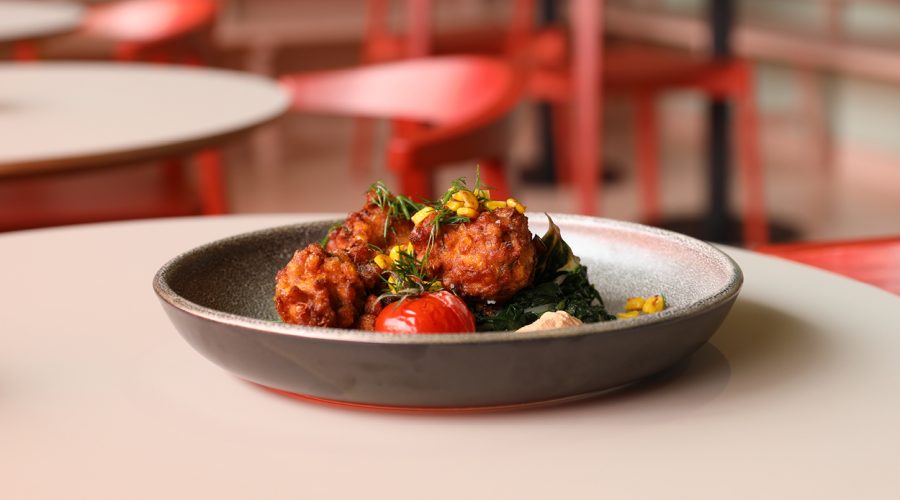 Fried eggs on a kumara tortilla from Orphans Kitchen
If you're looking to expand your horizons from the moment you get out of bed, take yourself to Orphans Kitchen. This cafe (and restaurant by night) has a menu that includes highly unique, one-of-a-kind dishes, of which the fried eggs on kumara tortilla is our current go-to. The eggs are fried sunny side up and accompanied by a sweet and sour kiwifruit mole, tangy kraut and spring onions for some extra freshness. Pair it with a glass of their house OJ and you're guaranteed to have a stellar day.

Bharta eggs from Seabreeze
Seabreeze, a Westmere local favourite, is renowned for the bone marrow burger for lunch and the Bharta eggs for breakfast. The gorgeously poached eggs are served with a beautiful aubergine puree which mixes into the whipped yoghurt and forms a lovely flavour that resonates with a baba ganoush dip. Finally, the chilli butter adds a decadence to the breakfast, making it the perfect accompaniment to the crispy, toasted sourdough on the side.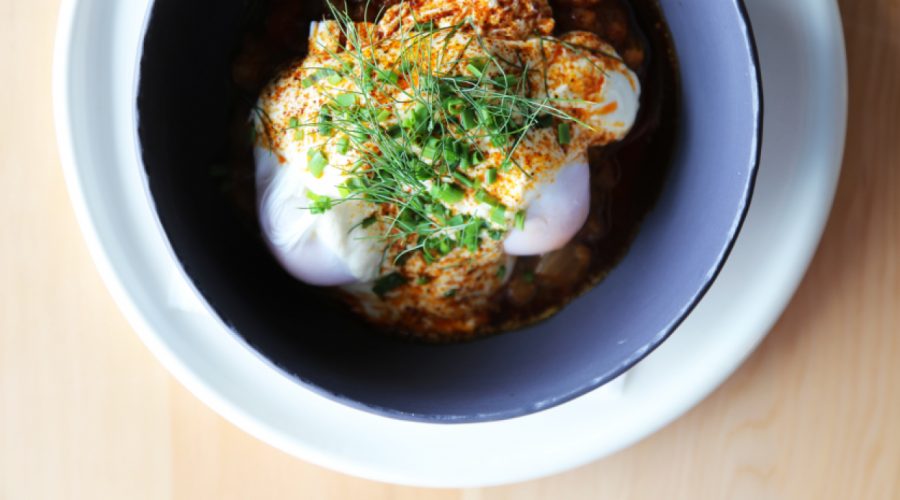 Kedgeree from Ozone Coffee Roasters
Although Ozone Coffee Roasters only opened the doors to its Auckland eatery this year, it has quickly become one of the top cafes in this city. From the first time we visited the eatery, to this very day, the smoked fish kedgeree has never done us wrong. The rice has been mixed with fried shallots, fresh and creamy labneh and chimichurri. Last but not least, the poached egg adds a richness to the entire dish as the yolk runs through the rice, making it an overall thicker consistency.

Eggs Benedict with truffle hollandaise from Andiamo
It seems as though liking an eggs benedict is something that isn't considered 'cool' nowadays. There's no doubt that the Eggs Benedict has been around for a long time, but that shouldn't degrade the tastiness of this staple breakfast dish. Andiamo offers a brunch menu on the weekends, and the eggs benedict is worth dedicating a Saturday morning for. The hollandaise has been infused in truffle oil and you get the option of pairing it with either bacon or salmon and we couldn't recommend the salmon enough. Sourced from Big Glory Bay, it melts in your mouth while the flavours of truffle linger on the palate.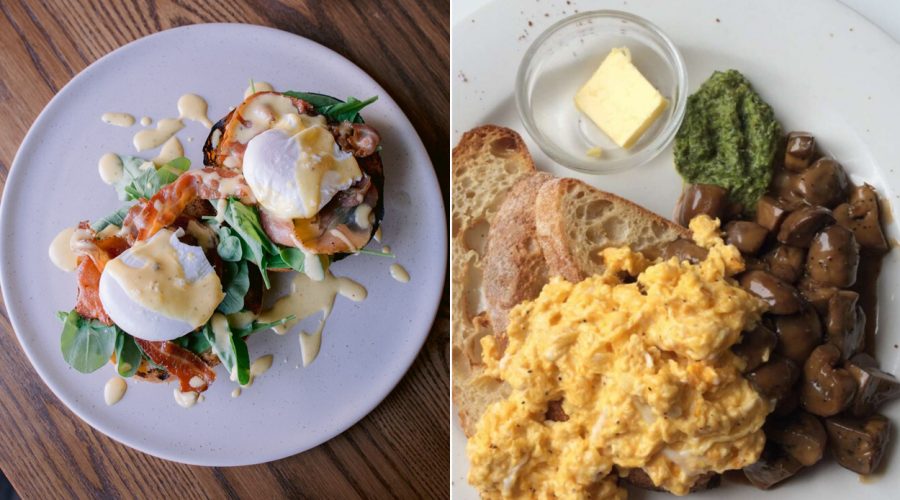 1/2 and 1/2 from Dizengoff
Not necessarily a new dish, but one that consistently guarantees premium quality — the 1/2 and 1/2 from Dizengoff. Any fan of mushrooms is bound to know about this dish as rumour has it that this cafe has the best creamy balsamic mushrooms in Auckland. Even people who aren't the biggest fan of mushrooms state that the ones from Dizengoff are an exception. Meanwhile, the other half of the plate is accompanied by the scrambled eggs which balance the intensity of the mushrooms and mixes into the housemade pesto for a herby flavour.