Another month, another round-up. August is upon us and we are well prepared for the upcoming foodie affairs the next few weeks have in store. With numerous new openings and pop-up restaurants happening around the city, this month is set to be a busy one. So, without further ado, here is everything you need to know about the Auckland dining scene this August.

Pop-ups and events
American Express Restaurant Month
It's that time of year again folks, American Express Restaurant Month is here which is a highly-anticipated event for the gastronomes of Auckland. With special menu deals starting from just $25 and various dining series taking place, every day is set to be packed for dedicated local foodies as they take this month as an opportunity to dine at as many restaurants as possible. Some of the restaurants that we have our eyes on include Culprit, Ebisu, Cassia, Ostro, The Culpeper, Soul Bar & Bistro and Lowbrow, to name a few.
A Taste of Craggy Range Hosted By Masu
Kicking off August on a strong note, Casey McDonald of Craggy Range, a prolific winery located in the Hawkes Bay is coming to Auckland for a one-night-only dinner at MASU by Nic Watt. The dishes that will be paired with the wine were created by Nic Watt himself, along with the assistance of MASU's Head Chef, Chris Will. The dinner will consist of four courses and each plate will be carefully paired with different varietals of Hawke's Bay's finest wine.
Five Boroughs pop-up at Ponsonby's Ante-Social
Not so long ago, the Wellington burger joint, Five Boroughs shook up the dining scene with a short, pop-up stint at Ponsonby Social Club. Back for round two, Aucklanders are given another chance to bite into the infamous cheeseburgers and fried chicken which go down a treat when dipped into the acclaimed Five Boroughs truffle mac and cheese. The pop-up starts at 5pm tonight (Wednesday 31st July) and only goes on until Saturday (3rd August.)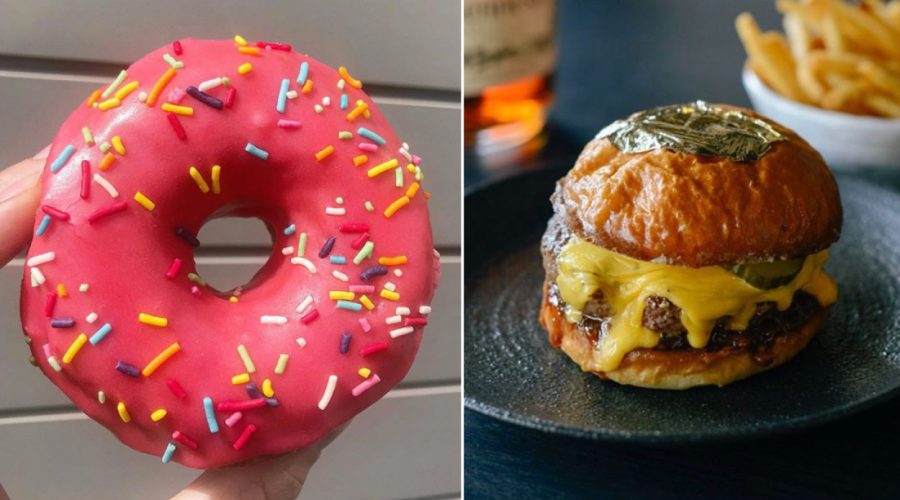 Doe Donuts pop-up at Hero Sandwich House
After selling out every Friday at every location they source to, it's about time the girls at Doe Donuts hosted another pop-up to ensure more people get a chance to try what we think are the best doughnuts in town. Set to offer flavours that include pandan custard-filled, PB glazed and jelly-filled, mark your calendars for Saturday, 3rd August and be ready to get there early — the last pop-up by these guys sold out in less than an hour.
Forest X Wise Boys taco takeover
You don't have to be a vegan to know about Forest pop-ups and Wise Boys Burgers and you certainly don't need to be a vegan to get amongst this epic collaborative affair. Although Forest has not been in the Auckland dining scene for very long, the pop-up restaurant's ability to constantly push the boundaries with its plant-based cuisine has caught the attention of many, including Wise Boys. Forest is working at Wise Boys' shop in Grey Lynn for a tasty taco takeover on the evening of Monday, 19th August and we can't wait to try the dishes they come up with.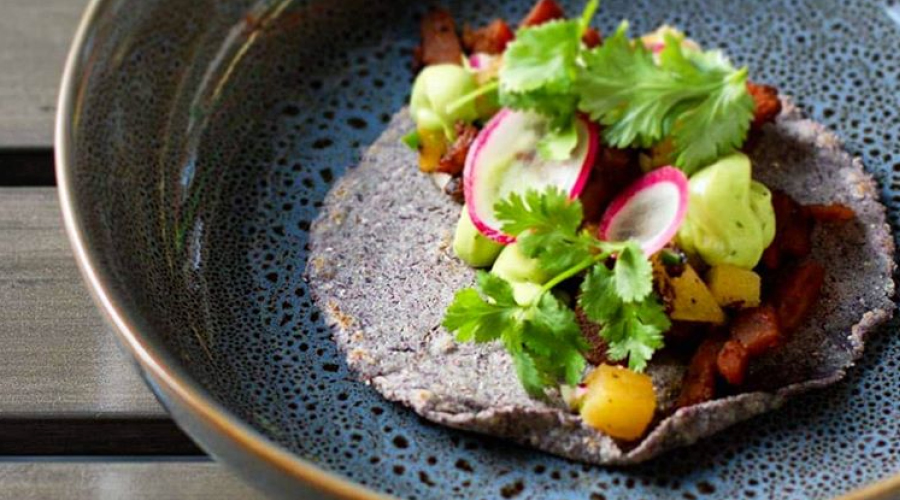 Azabu Wine Maker's Dinner
On the evening of Friday, 9th August, Azabu's renowned Head Chef Yukio Ozeki is taking over Las Vegas on K'Road once again. This time he is joining forces with Stephen Farquharson from Wooing Tree Vineyard and has created a variety of delicious canapes and a special four-course menu to match the wines that will be offered to celebrate the release of the acclaimed "Blondie" Blanc De Noir 2019.
The ultimate happy hour and special deals at The Culpeper
August seems to be a big month for The Culpeper as the waterfront restaurant is treating its diners to numerous specials and deals. Firstly, the ultimate happy hour is being hosted by the team at The Culpeper throughout this month and it entails $5 wine, beer and $10 cocktails, $2 oysters on the weekdays from 4pm until 7pm. Not to mention, the Monday $1 wings, all you can eat ribs on Tuesdays for $25 and two burgers for $20 on Wednesdays, all available from 6pm — The Culpeper is the place to be.
Miann Japanese inspired six-course tasting menu
If you have a sweet tooth, this is just the event for you. Miann is holding a Japanese-inspired dessert experience which entails six decadent dishes that showcase the freshness and simplicity of Japanese cuisine. More details are yet to come about the event, however, if Miann is involved, it's safe to assume that it will be a memorable and delicious evening. To reserve your seat, email and prepare for a sweet journey.
New menu items and products
Jelly Tip bagel hack from Best Ugly Bagels
Our favourite bagelry recently posted on its social media the ultimate bagel hack which has us frustrated with ourselves for not having thought of it sooner. Next time you visit Best Ugly Bagels, request the JC on chocolate for a toasted chocolate bagel slathered with cream cheese, jam and chocolate drizzle. It's an ooey-gooey, sweet experience that everybody needs to try at least once.
The truffle mac and cheese from Prego
Trade-in your regular order of the Prego Pie and calamari for its latest truffle mac and cheese. The creamy pasta is served as a sides portion and makes for the perfect pairing to any one of their main dishes. Not only is the pasta infused with truffle oil but it's also topped with fresh truffle shavings and it's one of the dreamiest mac and cheeses we've ever tasted.

Burger Burger's special of the month
The folks at Burger Burger are showcasing the best of winter's produce with their delicious new special side. The dish features Brussels sprouts, crispy bacon, crunchy croutons, glazed in garlic and butter and then sprinkled with chives and a big dollop of sour cream.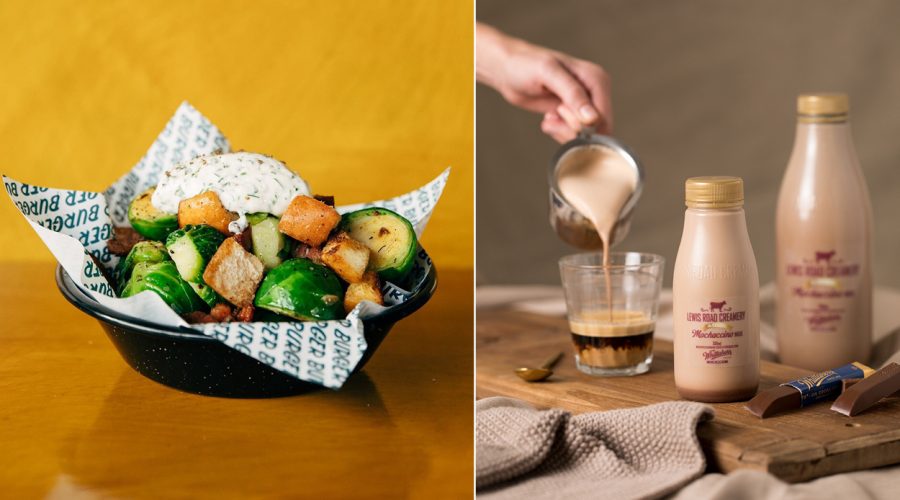 Lewis Road Creamery's new mochaccino milk
Introducing the perfect marriage of Colombian coffee and Whittaker's chocolate, Lewis Road Creamery's mochaccino milk is our newfound obsession. The combination of the silky smooth milk along with the rich blend of sweet chocolate and aromatic coffee makes for a moreish beverage and is even better when it has been heated up.
New Openings
Little Alice
Anyone who has been to Saint Alice will know that not only is the food delicious, but the restaurant is heaving with customers no matter what day of the week it is. Luckily, the team has expanded its space by using what was formerly Bang Bang China Cafe as Little Alice, perfect for hosting exclusive events and private parties.
Shake Out opens in Browns Bay
The North Shore burger joint, Shake Out has made the wise decision to open its second store in Browns Bay. Staying true to the mantra `don't fix what isn't broken,' the menu offerings are the same as the original shop located in The Goodside precinct at Smales Farm, with pillowy potato buns, succulent patties and decadent shakes.
Hot & Spicy Pot opens in CBD
There's no need to venture out to Dominion Road for Hot & Spicy Pot anymore as the doors to its CBD restaurant have finally opened. Located right opposite the Auckland Library, the DIY noodle eatery already has lines out the door and word on the street is that it's as good as the OG store on Dominion Road if not, better.

Dumpling Lover Parnell
You can never go wrong with dumplings and you can never have too many dumpling eateries either. Parnell has just welcomed a new restaurant, Dumpling Lover and locals that have already visited the eatery are claiming that these are some of the tastiest dumplings they have tasted in a while. The menu also features traditional Chinese dishes such as dan dan noodles and mapo tofu, making this new opening one to watch.
Eat My Lunch Grab 'n Go Store
In order to feed more hungry children in need, Eat My Lunch has opened its first 'grab 'n go' store on Customs Street East, taking over the space where Little Bird's CBD shop used to be. For every $14 you spend, you will be giving a lunch meal to a Kiwi kid in need and we could not think of one reason to not get amongst this new opening.
Other newly opened eateries and restaurants that have us intrigued are The Rolling Pin, Lowbrow and Rebel Rebel.