The City of Sails has no shortage of mouth-watering, coma-inducing, pants-tightening puddings to satisfy your sweet tooth. Herein, we round up our top tastes of the saccharine from around town, because we all know life is too short to skip dessert.
Golden Gaytime Paddle Pop at Wu & You  (pictured above)
Bringing a delightfully sweet addition to Mt Eden village is Wu & You with their aptly named Happy Endings menu. We suggest you get stuck into their Golden Gaytime Paddle Pop — a generous slab of frozen New York cheesecake topped off with a whirl of chocolate ganache, a drizzling of miso caramel and a smattering of cookie crumbs.
Chocolate Pudding at Soul Bar & Bistro
Chocolate pudding but not as you know it, Soul Bar and Bistro gives the delightful classic a luxurious update with a drizzling of delectably sweet dulce de leche and a spritz of zesty mandarin, served up alongside caramelised orange ice cream.
Whittaker's Chocolate Mousse at Culprit
Taking a short but sweet approach to their treat menu, Culprit is a strong purveyor of the quality over quantity ethos — at least that's if their Whittaker's Chocolate Mousse is anything to go by. A blend of the brand's milk chocolate and Pic's peanut butter is whipped to delicious perfection before being topped with soft serve, chopped peanuts, and delectable caramel corn.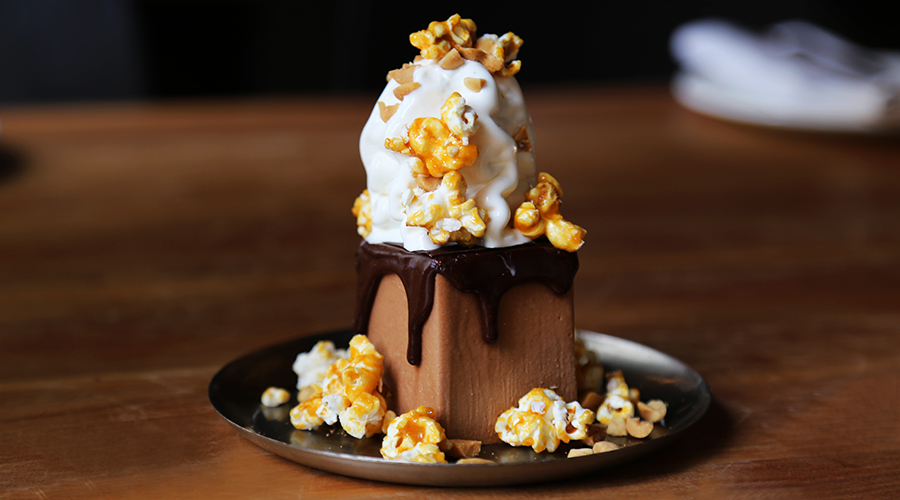 Grilled Peach Gratin at The Grill by Sean Connelly 
While the steak menu is mouth-wateringly hearty, don't forget the importance of leaving room for dessert — especially when it comes in the form of their sinfully delicious Grilled peach gratin, a winter nights saviour served with buttery, crumbly shortbread, vanilla bean ice cream and devilish hints of Patron.
Classic Creme Brulee at Ostro (pictured above)
Those hankering after a bite of the luxurious should opt for the Crème brûlée served up at harbourside eatery Ostro. Think rich and creamy vanilla-custard topped with a delightful layer of ready-to-shatter solidified caramel.
Loukoumades at Gerome
Taking delicious Greek fare to mouth-watering new heights, it's no surprise that Gerome desserts have us wishing we could migrate to Europe. The loukoumades — puffs of dough that are deep-fried to a delectable golden brown — are topped with blackberries, spiced sugar and a big ol' scoop of vanilla ice-cream.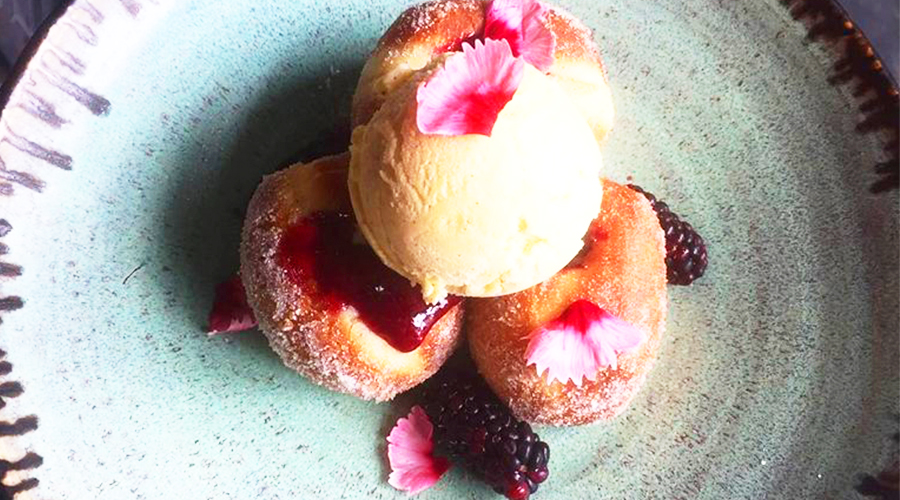 Dolce di datteri at Artusi
During chillier temps, there's nothing quite like a hearty sticky pudding. Artusi's lusciously sweet twist on a classic is a high contender — date pudding doused in golden caramel sauce and sprinkled with a roasted pistachio crumb, all served up with a scoop of refreshing ginger ice cream.
Shed DIY S'mores at The Garden Shed
Is there anything more comforting than the oozing, chocolatey, sweet mess that is the S'more? Deconstructed S'more's — marshmallows, ganache and graham crackers — are served up next to your own open flame, you know what to do.
Rhubarb and Custard Sandwich at Euro
Taking the ice cream sandwich and elevating it to delectable new heights are the gourmands at Euro, with an injection of the British pudding classic. Rhubarb and custard are mingled with creamy vanilla ice cream before being garnished with white chocolate and sweet rhubarb gel.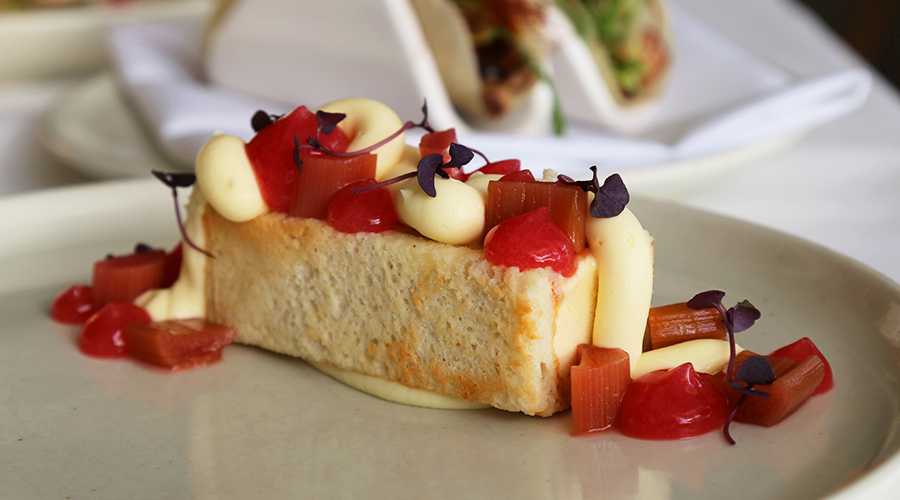 Falooda at Big Tikka
Feeling exotic? Indian cuisine maestro's Big Tikka serve up a dessert menu that's unlikely to be experienced anywhere else. After indulging in the exceptional selection of curries, immerse yourself fully in the Indian culture and opt for the Falooda. A unique take on rice pudding, the cooler dessert mixes milk, vermicelli and basil seeds before topping with ice cream — don't knock it until you've tried it.
Chocolate Steamed Bun at XuXu's Dumpling Bar 
Just when we think we couldn't love the humble Bao bun any deeper, a newcomer arrives in the form of a delicious dessert twist on the classic Chinese staple. XuXu's Dumpling Bar sees a traditional steamed bun shaken up with a molten centre of oozing, decadent chocolate.