What places The Fat Duck at the frontier is that the team is constantly exploring what makes food better.
"Question everything" is the motto on Heston Blumenthal's coat of arms at The Fat Duck. My wife Chand and I recently darkened the doors of this iconic three Michelin-starred restaurant in Bray, UK. To be honest, Chand was a little more excited to eat there than I was. I thought a 22-year-old restaurant, with dishes that I had seen splashed across various media over the years, was really just somewhere for me to tick off my list. It's still hard to get a reservation at The Fat Duck even now, such is the hype.
We booked on the day the reservations opened, yet we could only secure a table for three, not two, so we invited our Cassia Head Chef Lesley Chandra who was on a UK sojourn at the same time to join us. I started questioning my preconceptions when, two weeks before our visit, an excited Chand told me that she had received an interesting phone call from Joanna, one of the 'storytellers' at the restaurant. Joanna checked about the usual dietary requirements, but also asked her to describe a childhood memory of a holiday and what makes her "feel like a kid in a candy store". We had an inkling that her answers would be incorporated into the experience somehow but were given no further clues.
We started our much anticipated evening at The Hind's Head, a pub also owned by Heston located across the street from The Fat Duck. After a cocktail each we headed to the restaurant and were welcomed by a familiar face, or rather a familiar name and voice; Joanna, who was, in fact, our host for the night. As we walked into the dining room, we were each handed a map and magnifying glass. This was where the journey began.
The storyteller seats you and explains that you are going on a holiday and the map is there to guide you. What places The Fat Duck at the frontier is that the team is constantly exploring what makes food better, delivering an experience that stimulates all your senses. The first culinary highlight for me was one of the first dishes, it was inspired by the flavours of gin and tonic and actually included the beverage on the side. This dish sets you up to calm your nerves and collect yourself before you start the journey. The second was the 'forest course', where they literally bring out a forest that smells of pine, complete with misty fog, followed by a dish that has black truffles and looks like the forest floor; damp, muddy and fresh.
At The Fat Duck, Heston questions what it is that makes childhood memories special, recreating them to take the guest back in time. Chand's holiday memories translated into a bespoke mini picnic, mini sandwiches, house- made brioche, coffee and jam. Her secret indulgence of licking Nutella straight out of the jar was recreated into tiny Nutella ice creams as a course after dessert. Lesley's secret indulgence of a chocolate bar instead of a nightcap was captured in a miniature chocolate bar.
The restaurant may have some courses that haven't changed in five years, but it's the storyteller's role to personalise them so that they evoke emotional responses from the guests. We were given puzzle pieces inside cereal boxes that made up our breakfast on our journey. As we fiddled around with them, we noticed that each of the wooden pieces had been personalised with our restaurant logos, Cassia and Sidart. What other restaurant in the world goes to such lengths to know and care for its guests?
Heston's motto of questioning everything infects the diner who is reduced to a giddy, curious child. There has never been a four-hour dinner where we have talked of nothing else but what was in front of and around us. The lights on top of each table change in colour and intensity to follow the journey through each course, bright sunshine at the beach, warm sleepy pink tones for bedtime and dessert.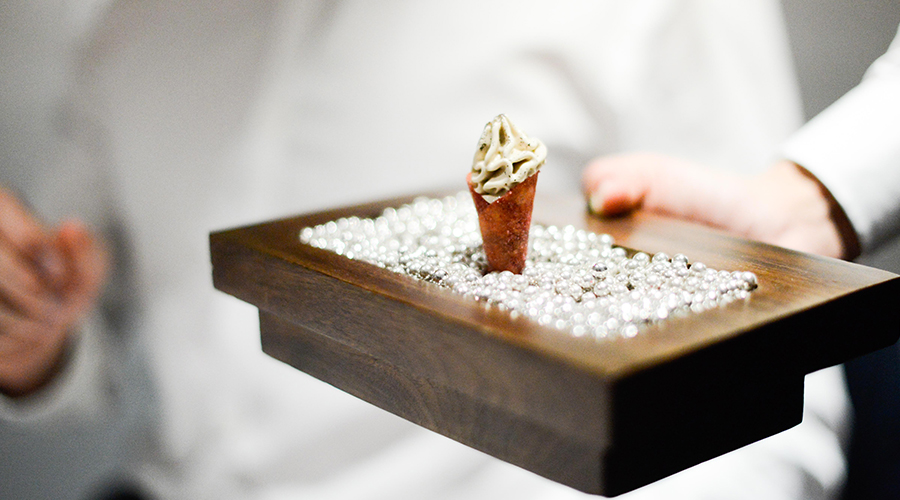 Just as you get comfortable with the 'all is not what it seems to be', the dining experience questions your assumptions yet again. Heston made us challenge our thinking around what degustations should be, by throwing in a mini à la carte to the mix as well. Joanna tells you it's dinner time on your journey and here is a menu for the dinner you are at, pick your entrée, main and dessert. It's all a bit topsy-turvy — Alice in Wonderland, tumbling down a rabbit hole — crazy but delicious and fun. Definitely, bucket list-worthy.
After our hedonistic adventure, laden with a goodie bag full of sweets from Heston's lolly shop, the three of us, fully-grown children, stepped back into the real world and thought, what if we 'questioned everything'? Surely nobody could copy what Heston is creating, but it can inspire us. We have come back to Auckland with questions: how do we create a more unique guest experience? How do we personalise it for our guests? How does a 22-year-old restaurant that started with just two chefs keep its guests entranced and engaged? And what makes a meal unforgettable?
To find out more about the 'Sidart' experience, click here.