While we're familiar with the habitual concept of 'dinner and a show', we're a little less au fait with dinner actually being the show. However, such a notion is about to be explored thanks to a fun-filled, experimental pop-up unfolding within K' Road's Las Vegas institution. Asahi presents Akai Doa — or 'red door' in Japanese — is kicking off on this Thursday (23rd August) and is set to be a theatrical 'dinner experience like nothing else'. What awaits beyond the crimson doorway is for you to discover.
Guests will enter and ascend into the familiar space where the food and chef become part of the show. Once seated, awaiting a menu designed by Yukio Ozeki (of Ebisu, Azabu acclaim) and his team, the chef will assume his role as the evening's maestro front and centre on stage. A complete experience comes together from being seated in the historical venue, the immersive soundtrack with accompanying projections, and finally, a multi-course omakase menu that Chef Yukio to complete the new offering. Asahi beer will be seamlessly infused throughout the menu; from Asahi dusted popcorn through to Asahi black jelly, the beer will be incorporated in the most unexpected and inspiring manner.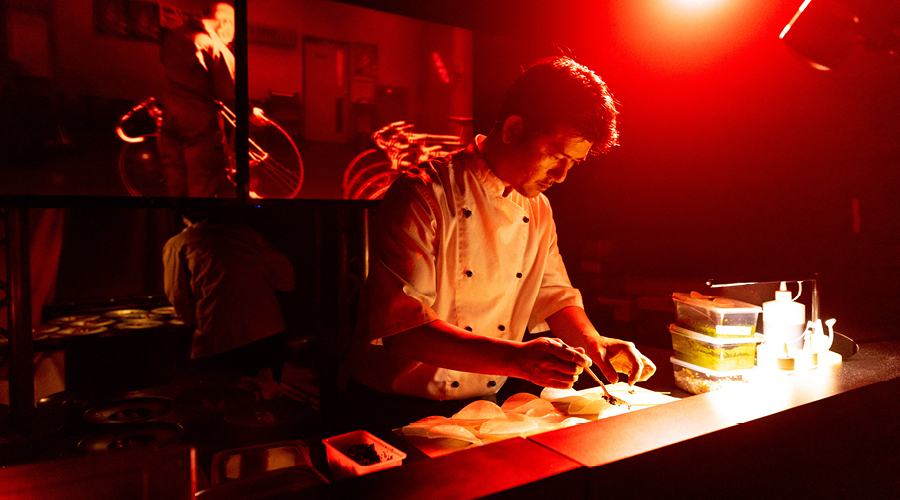 When each night's gastronomic theatrics are over, the restaurant will transform into a revelrous cocktail lounge — a loud and naughty locale with a late-night revelry. The pop up is only open Thursday to Saturday with only one sitting each night and the limited experience will end after 90 days. If there's one thing we can count on, it's that Akai Doa is set to elevate our perceptions of Japanese hospitality with a memorable night out.
Asahi presents the Akai Doa experience from 25th August at Las Vegas, K' Road. Dinner is $80 per person. To book, click here.
Las Vegas
339 Karangahape Rd
Auckland