With the Auckland dining scene constantly evolving, it's a struggle to stay in-the-know when it comes to the dishes of the moment. 'Tis the season of fresh summer produce and all things fruity, here are the 12 best things you should be eating right now.
1. Ol' Smokey from Lowbrow
The masterminds behind Lowbrow and Culprit, Kyle Street and Jordan MacDonald are buzzing to keep the ball rolling after their hit collaboration with Wellington's Goldburger. The weekend pop-up marked the beginning of what lies ahead as they've just introduced a new hot sandwich to their menu for a limited time, the Ol'Smokey. A sesame seed potato roll filled with a double beef brisket and pork shoulder patty, American cheese and house-cured smokey free farmed pork, more bacon and pickle mayo.
2. Lobster Roll from Soul Bar & Bistro
If you still haven't had your lobster roll fix this summer, it's not too late to get your hands on them at Soul Bar & Bistro. Situated on Auckland's waterfront, you couldn't ask for a more ideal location to go along with the summery sandwich. The lobster has been doused in clarified butter and stuffed into a brioche bun that has also been slathered and toasted in butter to have a golden shimmery glow.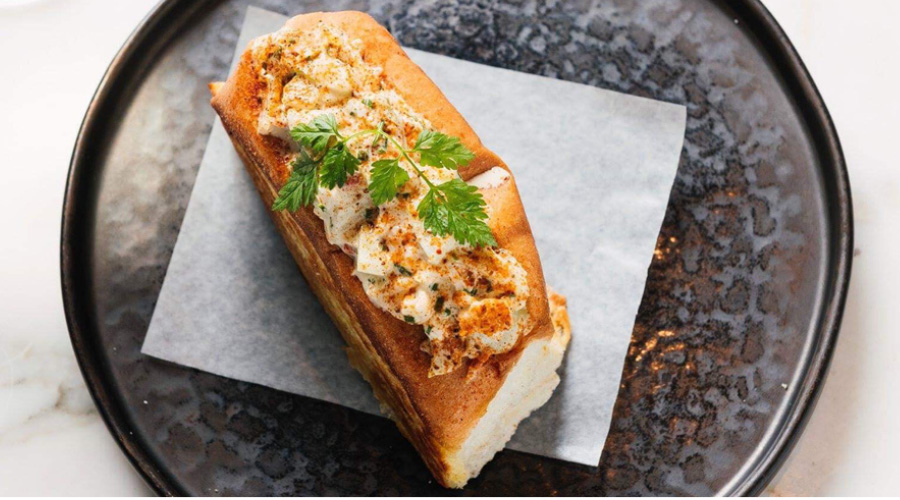 3. 'Jackson's Orchard' Central Otago Cherry Clafoutis from Depot
Speaking of summer, you can't get more summery than some lush and juicy cherries. Depot has created staple desserts such as the macadamia cookie on a skillet and sugar pie but their seasonal puddings deserve just as much attention. This time around is the cherry clafoutis, a hot pan filled with baked custard and sweet cherries, finished off with a lemon infused mascarpone.
4. Jalapeno and Cheddar Corn Bread from Bestie Cafe
Don't confuse a cornbread for a scone, they're completely different and Bestie Cafe shows the Native American delicacy the respect it deserves. They've spiced up the fluffy bread with some jalapenos, smoked corn salsa, pickled onions, smashed avocado and perfectly poached eggs and it may be one of the best breakfast dishes around at the moment.
5. Scampi Dumplings from The Sugar Club
Last year, Josh Barlow was appointed Executive Chef at Peter Gordon's restaurant, The Sugar Club and it seems he's not taking a break in evolving their menu. The newest addition is the scampi dumplings and these little morsels are fried to be crispy and served with garlic shoots and wild scampi caviar.
6. Pad Thai at Auckland Fish Market's Tiki Thai
Just recently, the Auckland Fish Market was decked out with newly opened eateries and one of the favourites would be Tiki Thai, particularly their pad Thai. The rice noodles are doused in sweet and spicy chilli jam along with choy sum and then served with prawns and squid. Go ahead and add some crispy pork if you want the full experience.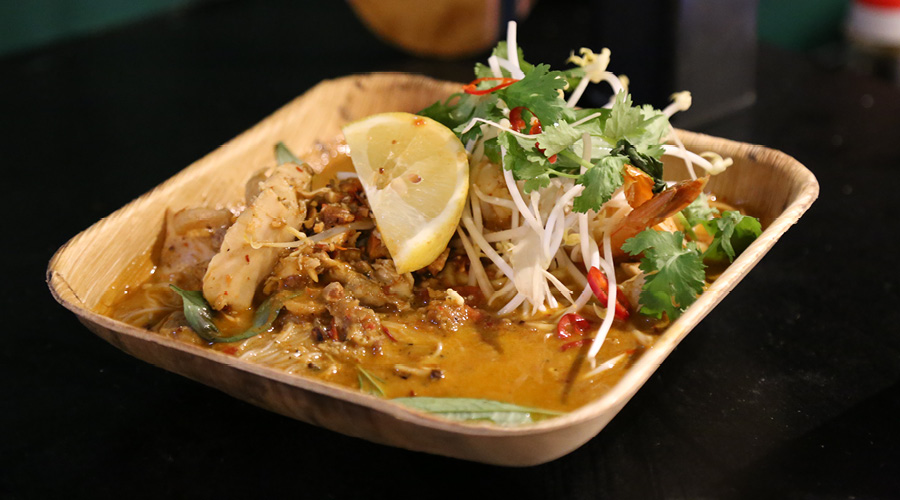 7. Agria Potato Gnocchi from Ostro
Ostro has it all from the ambience, fine selection of seafood which is so exquisite that it's easy to look past their gnocchi. Big mistake as Ostro's is truly something else. They have a buttery, crispy exterior and soft and fluffy inside. Served with spring greens, burnt butter, buffalo ricotta, confit lemon and toasted almonds.
8. Saffron Pasta from Saint Alice
If you thought Saint Alice had done it all with their Oyster McMuffin and $1 oyster happy hour which goes on every day from 3 pm – 5 pm, you thought wrong. Hitting the menu this week of the rooftop eatery is a fresh, hand-cut saffron pasta which includes seasonal ingredients such as Westcoast tomatoes, courgettes, wood-roasted peppers, pecorino cheese and cherry mozzarella. Take on the offer of adding clams and you have summer on a plate.
9. Korean Inspired Tacos from Little Han
Head on over to this modern Korean eatery, Han in Parnell where they offer a more casual dining experience for lunch from Wednesday's to Saturday's. The must-have dishes at Little Han are the beef galbi tacos and the salmon moochim tacos. The beef taco features a Korean style marinated braised ribs, homemade mayo and house kimchi while the salmon includes fresher ingredients of raw salmon and avocado puree.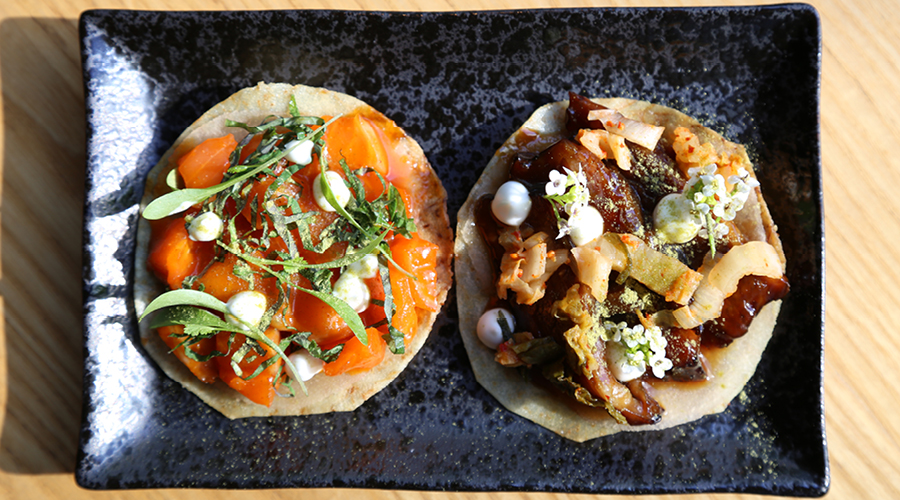 10. Espresso and Dark Chocolate Cake from The Caker
Trade in your morning coffee for a slice of cake that has been infused with Coffee Supreme espresso, filled with dark chocolate chunks and topped with coffee cream-cheese icing and salted caramel. The Caker's espresso and dark chocolate cake was released for only one month in 2017 and it remained as their best selling cake flavour of all time throughout the years. Jordan Rondel and her team have decided to reinstate it permanently and that alone is reason enough to celebrate with a slice.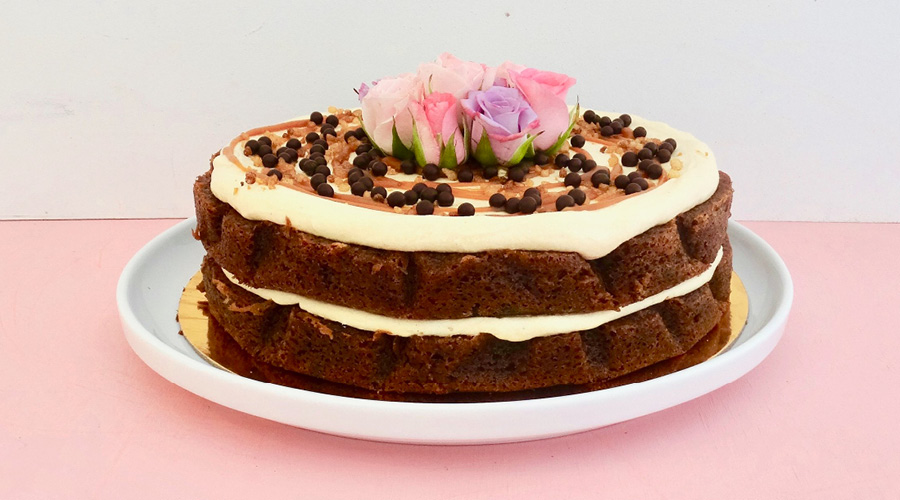 11. Banoffee Pie from Coffee Pen
Eden Terrace's hidden gem, Coffee Pen has finally ended their holiday and are ready for business. The banoffee pie is made fresh, every morning by Yasuji and Fumi and some people even go as far as saying that it's the best banoffee in town. The traditional base is swapped out for crushed up ginger biscuits, melded together with butter and you'd be surprised at how a little bit of spice can make a world of a difference.
12. The Candy Caesar from The Candy Shop
If you still have a few more beach trips on the agenda and want to keep things light, The Candy Shop has just introduced their own take on the classic Caesar salad and it proves that healthy can also mean tasty. The Candy Caesar features a bed of cos lettuce, sweetcorn, apple, green beans, onions, peppers, capers, pecorino cheese and buttermilk dressing with the options of adding smashed avocado, smoked salmon or bacon and we recommend you get all three.