Looking to conquer new territory in your own backyard this season? The South Island's plethora of excellent club ski fields offers up a more humble approach to hitting the slopes. You don't need to be a member to enjoy the benefits either. Architectural designer and bonafide snow addict, Luke Leuschke (known for his global escapades in search of the best pistes and freshest powder) takes us on a tour of the best.
Temple Basin
Renowned for its steep terrain littered with rocky knuckles and chutes, it pays to bring your fat skis for a day at Temple. No groomed runs means this field is fuelled by its cult status, seeing skiers make their pilgrimage to Temple. To get to this four-basin haven, you need to drive two hours west of Christchurch toward the heart of Arthur's Pass before parking your car on the side of State Highway 73 and scaling up the mountain face for at least 45 minutes. This 'accessibility moat' is the reason why Temple Basin doesn't attract the family day-trippers or cafe latte scene — rather, it lures the single-minded, steep 'n' deep type.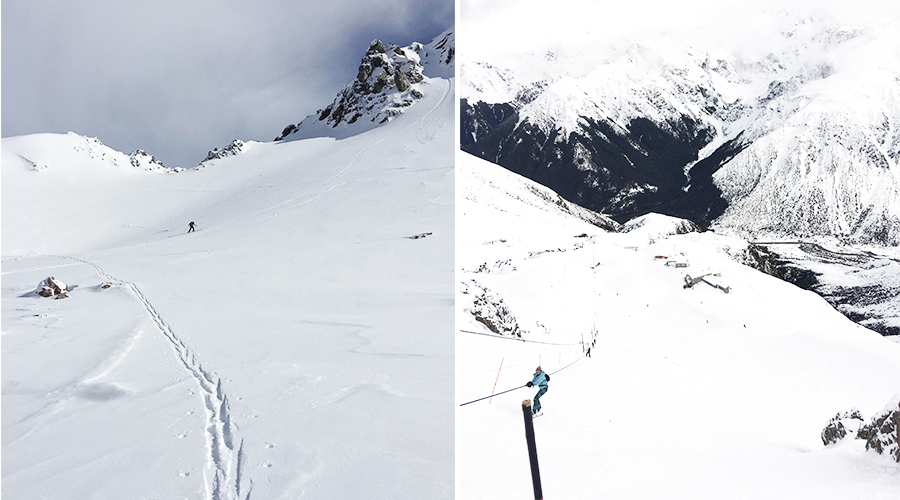 The ski area consists of four basins — Temple, Cassidy, Bills and Downhill — covering a total of 320 hectares. There is zero trail grooming and lifts consist of three rope tows to help you navigate some of the most challenging terrain in the country. Though the ski area is hard to access, once you're there, the amazing high alpine terrain is at your fingertips. There's plenty of backcountry to explore too. If you've got the guts, boot pack up the west ridge of Phipps Peak and drop down The Gouch, or climb up to the top of Temple Col and drop over the back, you'll be rewarded with a leisurely ski back up in the sun, looking out over some incredible landscape.
There are three main buildings at the ski hill base. Farrier Lodge is the hub, offering serviced bunk style lodging, catered meals, a licensed bar and panoramic views. The University of Canterbury Lodge services the boozy students and Lockwood Shelter looks after the climbers from the Canterbury Mountaineering Club. For those staying the night, there is a goods lift that operates during convenient hours that can be used to transport ski gear, bags and supplies up to the ski field base.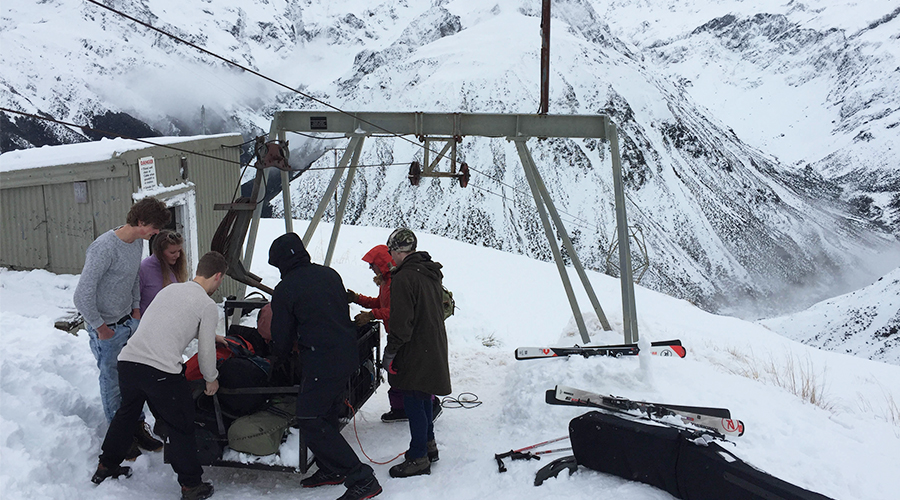 Mt Olympus
If in search of challenging pistes and alpine inspiration, this heavenly offering is sure to serve up the goods. Also dubbed 'Playground of the Gods', this ski field is a large south-facing basin at the foot of the 2096 metres-tall Mt Olympus and has been run by the Windwhistle Winter Sports Club (WWSC) since 1932. Located on the southern side of the Craigieburn Range, it's a two-hour drive from Christchurch, aiming for the northern side of Lake Coleridge, with a heavy-duty mountain access road that requires a high ground clearance 4WD at the best of times.
The ski field — serviced by four high capacity rope tows/nutcrackers that take you 450 metres vertical — occupies only a fraction of the 60 hectares of skiable terrain. However, positioned inside a basin with ridgeline and peaks wrapping nearly 270 degrees around, there is an almost inexhaustible amount of big mountain skiing and exploring. The basin acts like a powder sink and is known to hold a good snowstorm, consistently receiving over 4.5 metres of snowfall annually.
There are two mountain lodgings; 'The Top Hut' acts as the main mountain facility, and, situated at 1620 metres above sea level, also takes the cake for New Zealand's highest accommodation. Here, they offer the full package (along with a notorious hot tub) including a roaring log fire, 52 bunks and a fully licensed bar. Similar to other club fields, Olympus isn't geared up for the beginner rider — it's challenging. But a strong sense of community sets this field apart.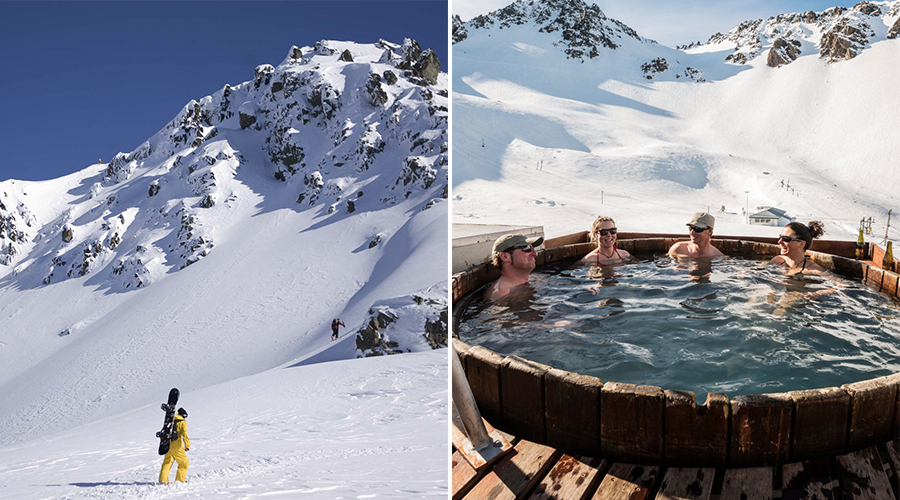 Craigieburn
With community spirit at its core, Craigieburn is an approachable entree into a different kind of skiing. Craigieburn Valley Ski Area has earned a reputation as being steep, deep and cheap (Glen Plake is an honorary member — enough said). Heading towards Arthur's Pass from Christchurch, you pass Castle Hill and pull off onto the eponymous road. It's a beautiful two-hour drive covered in dense beech, that winds through very steep and rugged, single- lane terrain. You'll need to carry chains but usually, only a 2WD is necessary. Once there, the base sits at the edge of the tree line, providing accommodation and car parking. The ski area consists of two large basins serviced by three high capacity rope tows that straddle the ridge, taking you 500 metres vertical.
Although it may seem like a small operation, CVSA is a well oiled, resourceful machine that has been run by a brilliant group of enthusiasts for several decades and is very much a part of New Zealand's ski history. The community spirit and friendly club atmosphere is enhanced by a strong student vibe that emanates from the University of Canterbury snowsports club lodge. However, the bar is deadly. Equipped with its shotski (an old ski with four shot glasses glued to the top and from which four people take a shot at the same time) it's the ski field's revenue workhorse. A ski-in, ski-out main lodge offers bunk beds and a fully catered stay. If you're up for an explore, CVSA offers fantastic backcountry terrain and is connected to Broken River Ski Area via a 15-minute hike. There is also a great day lodge at the top of the second tow offering superb views, cold beers, mince pies and a sausage sizzle. What more could you want?
Ohau
Not quite ready to tackle the ungroomed and unserviced terrain? This is the perfect field for bridging the gap. Ohau Ski Field is not a club field, but it's great for those interested in something a little different to Queenstown's regular commercial offering. Those who lack the right equipment and confidence to rough it on the nutcrackers up north should start here. Located on the western shores of Lake Ohau in the Mackenzie District, the field is a four-hour drive from Christchurch, three hours from Dunedin, and two hours from Wanaka.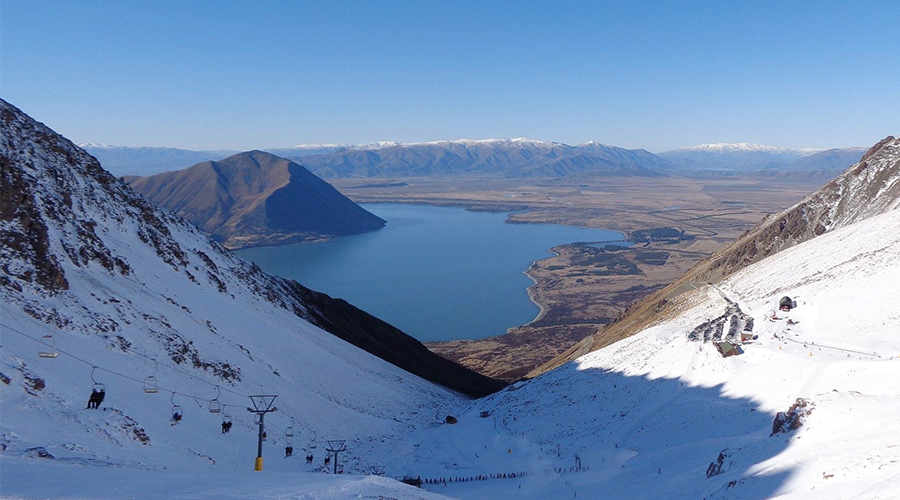 At 125 hectares, Ohau is a petite resort with one little two-seater, fix-grip chairlift, a small day lodge, and only a couple of groomed trails. But don't be fooled by the statistics — Ohau offers a good deal of side country skiing, accessible by traverse, and plenty more backcountry if you're up for a hike and have touring equipment. Like most ski fields in the South Island, it also boasts incredible views; the eponymous lake at the foot of the ski field feels so close you can almost ski right in. The Ohau Lodge is operated by the same family who own the ski field and is a popular tourist destination for visitors year-round. It's a cosy place to shack up for the night and even has an outdoor hot tub.
Image credit: Luke Leuschke, Skiracing.com, NZ Snowboarder