In need of some new year travel inspiration? We list six of the hottest destinations to add to your bucket list in the name of awe-inspiring new experiences for 2018.
1. The Atacama Desert, Chile
Lying peacefully between the Andes and the Pacific Coast, this is a staggering landscape unlike any other. Known for its reputation as one of the driest places on earth, the harsh but beautiful Atacama Desert is otherworldly with its twisted terrain of wind-crafted canyons, salt pans and geysers. The best way to see it is by four-wheel drive.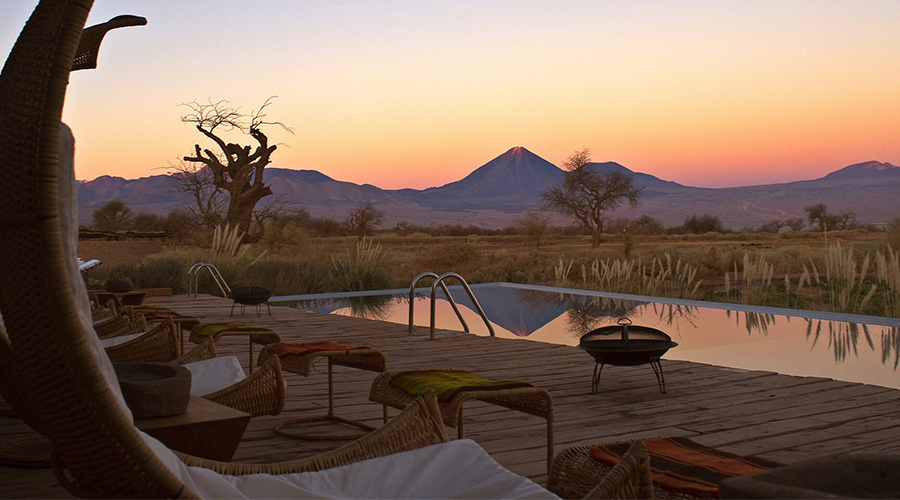 There's no accommodation inside the desert itself, so travellers are best to base themselves in the northeast town of San Pedro de Atacama and explore the area on day trips. For true indulgence, Awasi Atacama is one of the finest stays in town. Comprised of just 10 rooms, each of which is allocated its own private guide and four-wheel drive, guests can explore the surrounds on their own time and agenda. Alternatively, the Tierra Atacama Hotel & Spa merges authentic Chilean culture with contemporary design and service.
When to go: It's best to go in late summer (March to April) or early autumn (October to November) to avoid peak tourist takeover.
2. Rwanda for a close encounter with wildlife
Now one of Africa's most stable nations and popular holiday spots, most are drawn to Rwanda's jungle-coated countryside in the hopes of spotting the endangered mountain gorillas.
Only to be embarked upon with a guide, the traditional gorilla safaris take you across some of the country's most incredible landscape and into the heart of the Volcanoes National Park. With a deep respect for the grand apes, most tours will only allow an hour for observing the gorillas each day (so to leave them as undisturbed as possible). That said, wildlife enthusiasts will not be left feeling short-changed. The country is also home to hippos, elephants, giraffes, zebras, leopards, crocodiles and more than 600 species of birds.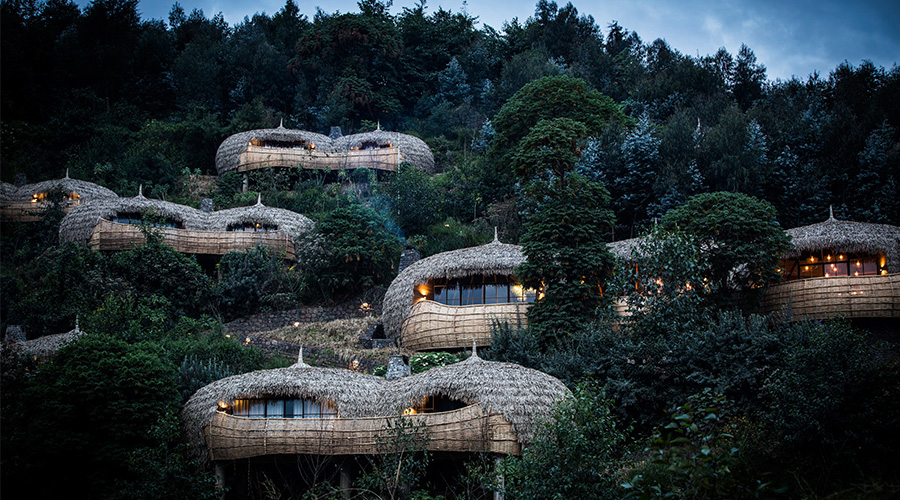 To experience it best, the new Bisate Lodge which sits right on the border of the gorilla conservation area is a luxurious base. Comprised of six private villas, the pod-like rooms reference traditional Rwandan building techniques in an unmistakably modern way. Enjoying uninterrupted views across the jungle and the volcanoes beyond, the exclusive accommodation is faultless.
When to go: Mid-May through September, and mid-December through February will see you avoiding the rain.
3. The Outback for a jaw-dropping road trip
The Australian Outback is, in a word, colossal. Covering a vast percentage of our neighbouring antipodean country, a visit to the testing desert is one that can be approached in many ways. Home to the world's longest stretch of straight railway, visitors often choose to see the sights aboard a train, or on a guided tour, but for the intrepid traveller, there is no better vantage point than the driver's seat of a four-wheel drive.
One journey sure to pique an adventurer's attention is the Gibb River Road. A largely unpaved 660km trail that snakes through the northwest region of Kimberley, it isn't a trip to be taken lightly. For those courageous few who plan well though, the plunging gorges, craggy mountain ranges, unexpected waterfalls and shady pools make for a life-changing drive. Navigable with or without a guide, a few non-negotiables would include a sturdy truck, considerable food, water and fuel supplies as well as an excellent camera.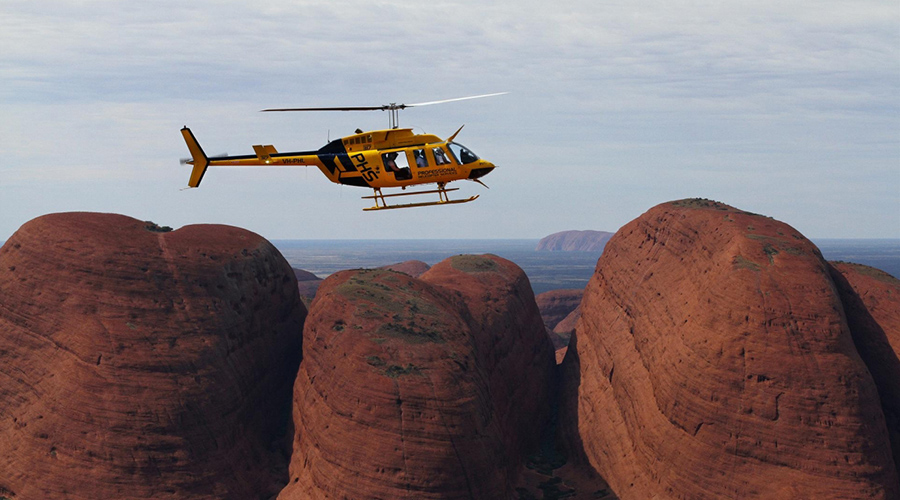 For a more sophisticated sojourn, a visit to Uluru (Ayers Rock) is a classic bucket list contender. With options to view the staggering sandstone monolith by helicopter, on the back of a Harley or even a camel, it's not just the mountain that makes for a worthy destination, but its surrounds too. With lodges nestled near its base, Longitude 131° is one of the most exceptional ways to immerse yourself in nature while not compromising on luxury. Boasting elegant, WiFi-enabled, air-conditioned tents and gourmet cuisine — which is at its best when enjoyed under the dazzling night sky — the nearby Red Ochre Spa makes for a particularly nice addition too.
When to go: August through September. Any earlier and you'll encounter the torrid winter, during which the days are still warm but the evenings drop to below freezing.
4. Niseko for the best luxury skiing
Officially Japan's top ski resort, Niseko lies just 2.5 hours by car or 30 minutes by helicopter from Sapporo. One mountain comprised of four linking resorts — Hanazono, Grand Hirafu, Niseko Village and Annupuri — it averages more than 15 metres of snow every season and offers slopes for all abilities, from gentle, groomed runs to deep powder bowls and tree-dotted backcountry terrain.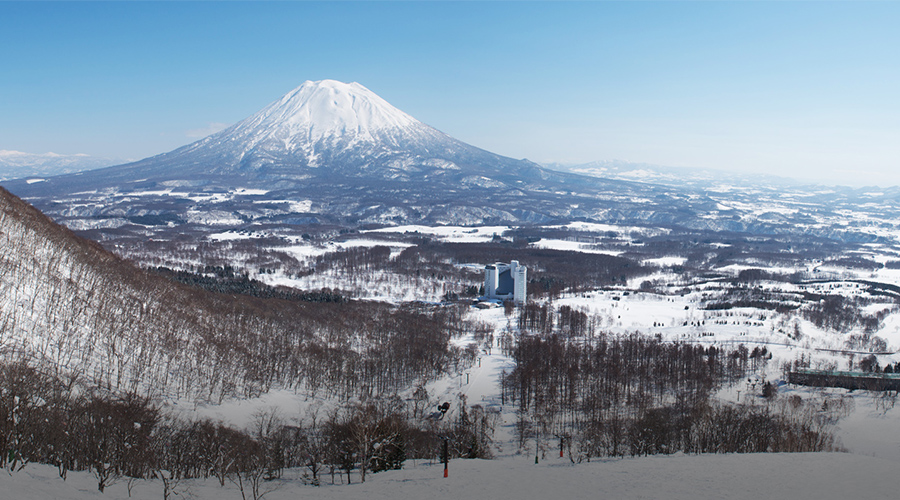 Offering more than just exceptional skiing, the cuisine here is among the finest in Japan. Encompassing sushi bars, izakayas and fine dining, the tiny Niseko Village even boasts its own Michelin-starred French restaurant, Kamimura. With plenty of five-star ski-in lodges at the foot of the mountain, accommodation is not a challenge, but should still be booked well in advance. Lastly, an unmissable attraction is the many onsens (traditional Japanese hot pools) that surround the town. Generally separated by gender, they require you to leave your modesty at the door as no clothing nor swimsuits are permitted.
When to go: The ski season runs from December to April, but January and February is when the true powder hunters visit. Be warned though, premium snow comes with the compromise of low temperatures, high snowfall and patchy visibility.
5. Alaska for the best adventure in the wild
Regardless of whether you are a keen fisherman or a novice, the Alaskan salmon run is a worthy addition to your 2018 travel calendar. Bringing millions of Sockeye to the icy Northern waters every year, it isn't just the salmon that make the annual event a must-attend, but the enormous brown bears that follow in their wake. Stalking the fish and eating their fill before winter hibernation, the grizzlies can be spotted across Alaska, but are easiest to find in the wild national parks and reserves south of the capital city, Anchorage.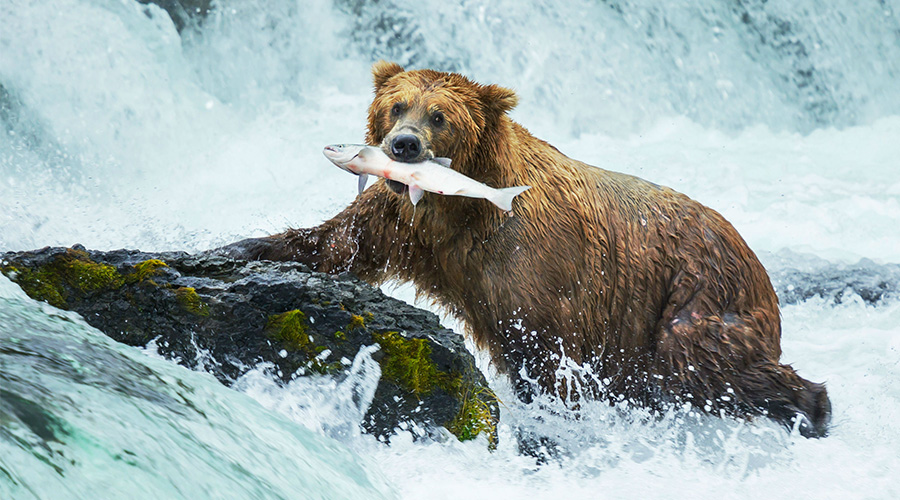 With accommodation best described as 'rustic', there are dozens of private, luxury wooden lodges dotted throughout the wilderness. Arguably, The Ultima Thule Lodge is the region's finest. Tailoring itineraries to suit, a typical day could see guests sightseeing over glaciers, bear watching, fly fishing and hiking, all before enjoying a gourmet meal fireside. For those less concerned with luxury and more with wildlife, few offer the same bear spotting and salmon fishing opportunities as Brooks Lodge. Lying in the heart of the Katmai National Park and accessed only by water plane, come July the lodge is visited by dozens of brown bears who flock to the waterfalls to fish. Here, guests can watch from the safety of a viewing platform as the huge beasts refine their fishing talents. With a 'bears first' policy, the animals do roam uninhibited through the grounds, and it's not uncommon for guests to be stopped on a trail or momentarily trapped inside their cabins as a mother grizzly and her cubs bumble on through.
When to go: June to September.
6. Raja Ampat Islands for the best underwater exploration
A cluster of more than 1,500 jungle swathed islands sitting just a short ferry ride away from Indonesia's West Papua province; Raja Ampat Islands are a little-known nearby paradise. With white sand beaches, inviting lagoons, crystal clear waters and abundant marine life, the Southeast Asian archipelago sits within the Coral Triangle, a tropical area which boasts the richest marine biodiversity on earth.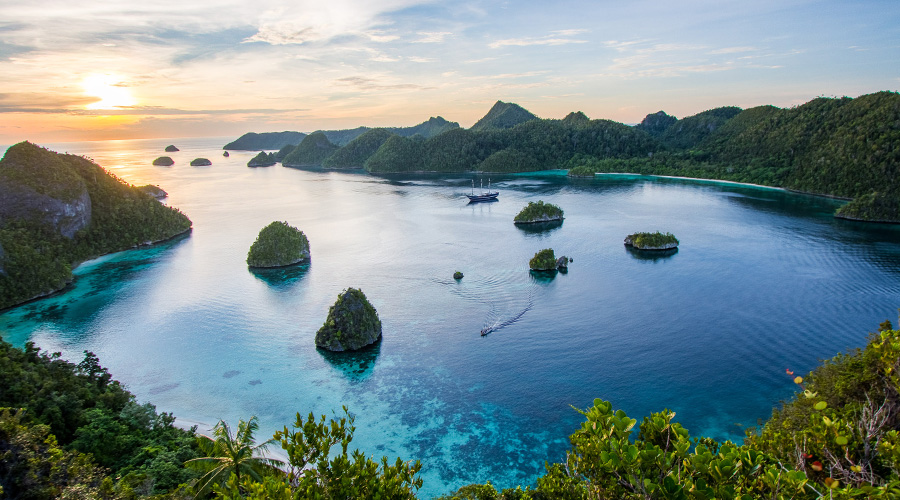 A long coveted destination for divers and snorkellers, it offers an equally incredible escape for adventure seekers and those looking for the quintessential beach holiday. Accommodation is dotted across the many islands and varies from hostels to established resorts and homestays. For ease, the four largest and most accessible islands are Batanta, Salawati, Waigeo and Misool. Each is extraordinarily beautiful and regardless of which you choose it will merely serve as your base as day trips to surrounding islands are sure to be on the agenda.
When to go: Plan your trip between November and March to enjoy the calmest waters and best underwater visibility.