The majority of the Colosseum was built from it. Richard Meier used over 250,000 tonnes of it when he built LA's gargantuan Getty Centre. And Ludwig Mies van der Rohe's famous Barcelona Pavilion is perhaps the best example of its aesthetic appeal. At once extravagant and minimalist, travertine is one of those materials that has transcended history to remain as utterly relevant and desirable today.
Naturally expressed in a variety of neutral tones, when arranged longitudinally, such as in van der Rohe's architecturally significant pavilion, its horizontal grain, whether used internally or externally, creates a sense of space and fluidity, earthiness and grandeur.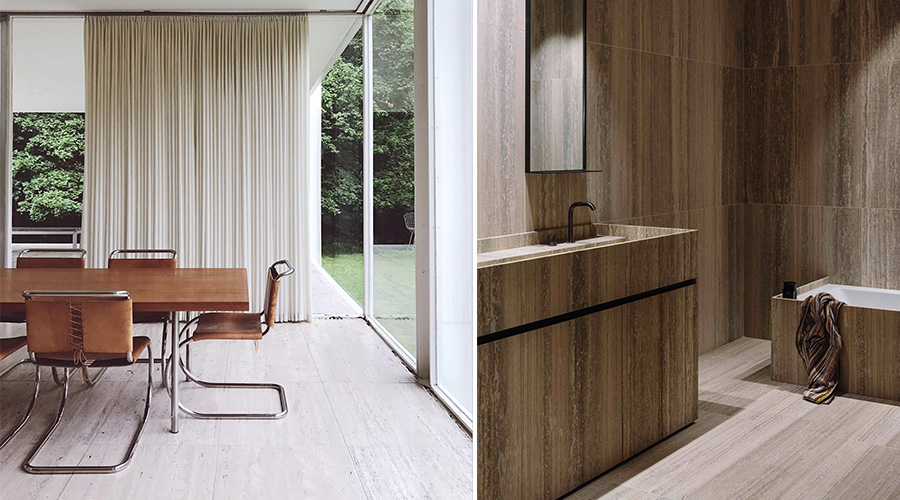 Halfway between limestone and marble, though not as rare as the latter, the soft and graceful stone is relatively easy to cut and shape which explains why architects are so inclined to use it. As equally suited to the bathroom walls and kitchen splashbacks if not an outdoor pool deck, walls, flooring, or interior plinth, when employed in places that are heavily exposed to the sun, thick travertine walls help to limit the heat intake.
The esteemed material doesn't take the main stage but rather sets a sophisticated backdrop, paving the way for a well-appointed lifestyle. So when the next project calls for a material that is both noble and laid-back, look no further.
Travertine can be sourced locally from Artedomus.