Located in the illustrious suburb of Toorak, Melbourne, this family home is a soaringly impressive monument to materiality, scale and proportion, light and shade. Designed by Conrad Architects, the residence was commissioned by Lauren Tarrant — who also designed the interiors, via her eponymous design firm.
Split across four levels, the home navigates an expansive, sloping site. Its street presence is strong and a gatehouse forms the entryway into a private garden, immediately leaving the outside world behind for a more tranquil setting.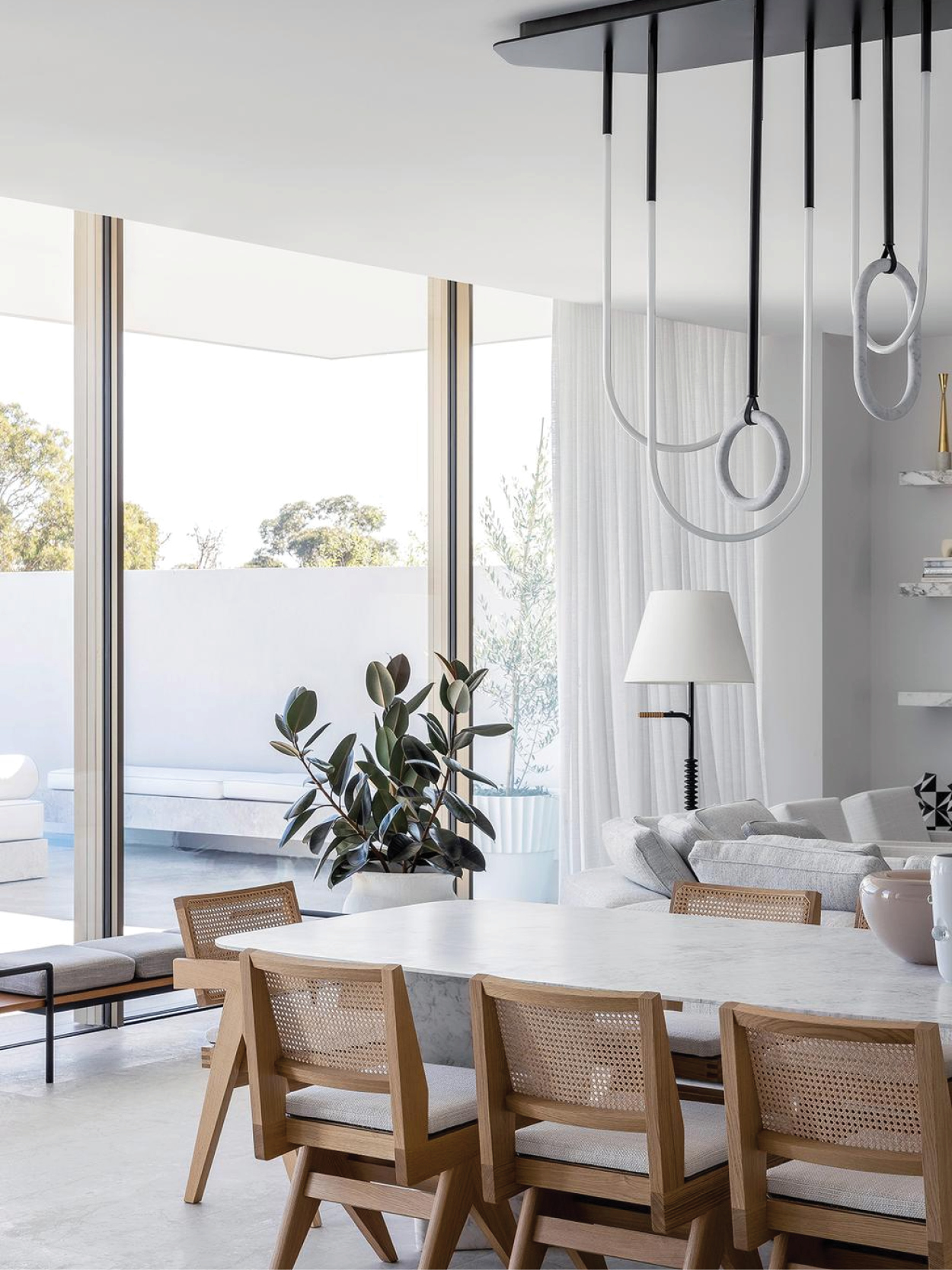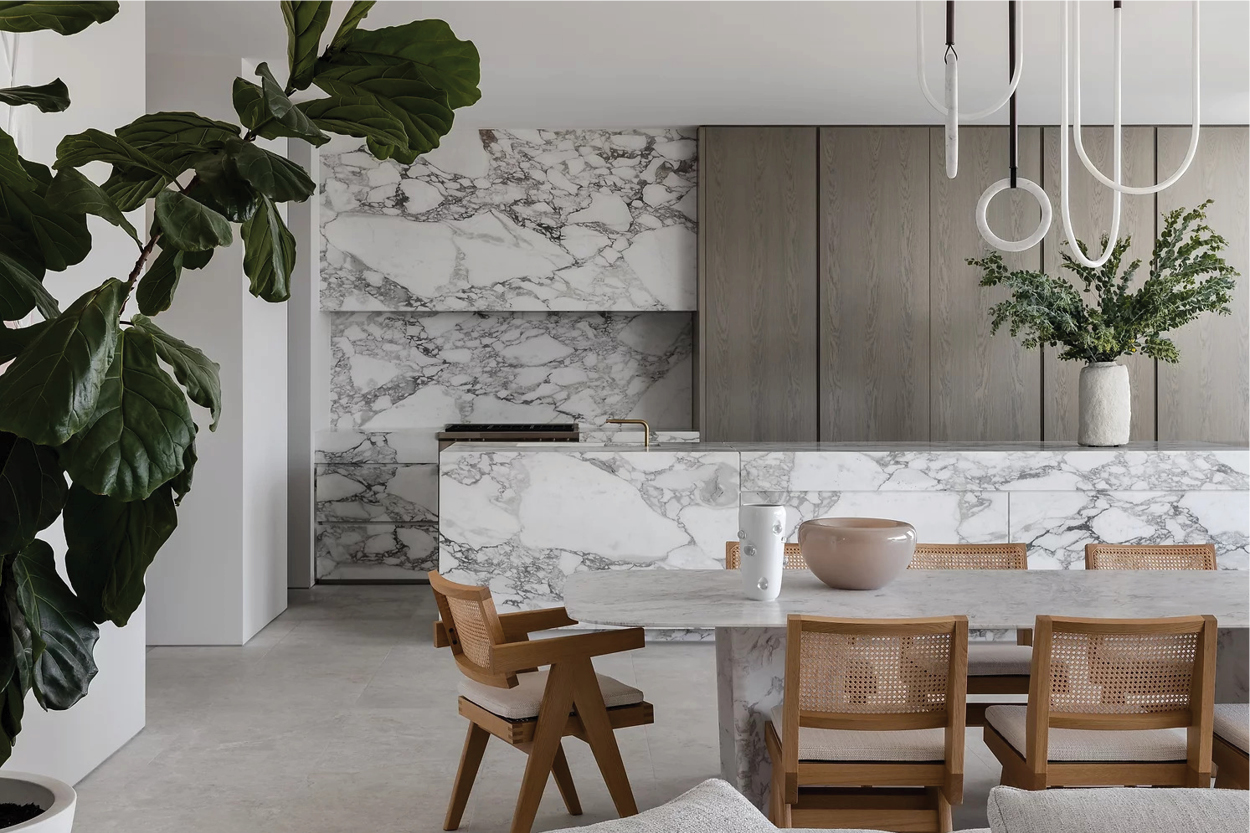 The journey into the house is purposefully raised via a flight of stairs, whereby any entrant stepping up into it has their eye immediately drawn through the corridor, right to the terrace that displays an infinity pool and is perfectly placed for a spectacular view of the Melbourne skyline. Thanks to its impassive exterior, you'd never know this lay in wait for you upon first entering through the doors.
Tarrant designs her homes to cater to all needs — from entertaining to providing comfort and liveability for a family. This one was no different; as a mother of two girls under the age of five, one of the non-negotiables was a sturdiness that could withstand young family life.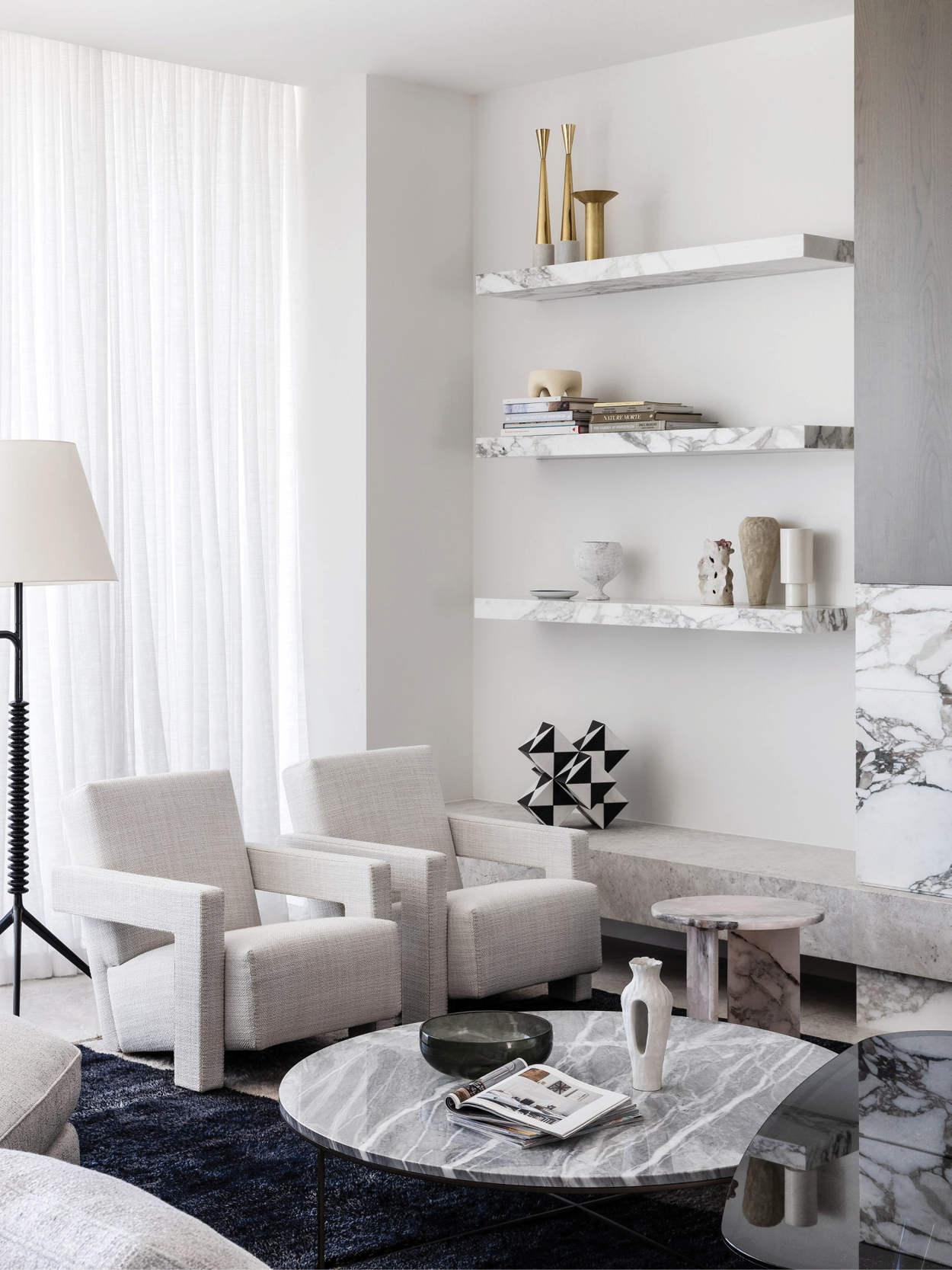 Principles of brightness, solidity, grandeur and timelessness were kept at the forefront of Tarrant's wishlist when consulting with Conrad Architects on this personal project — as well as a melding of a classically European aesthetic with a contemporary feel.
A unique aspect of this abode is that the bedrooms, rather than being perched above the living and dining spaces, actually reside on a lower level. They look out onto a lush green area, which creates a sense of being cocooned in one's own private haven, away from the hustle and bustle of the world at the end of the day.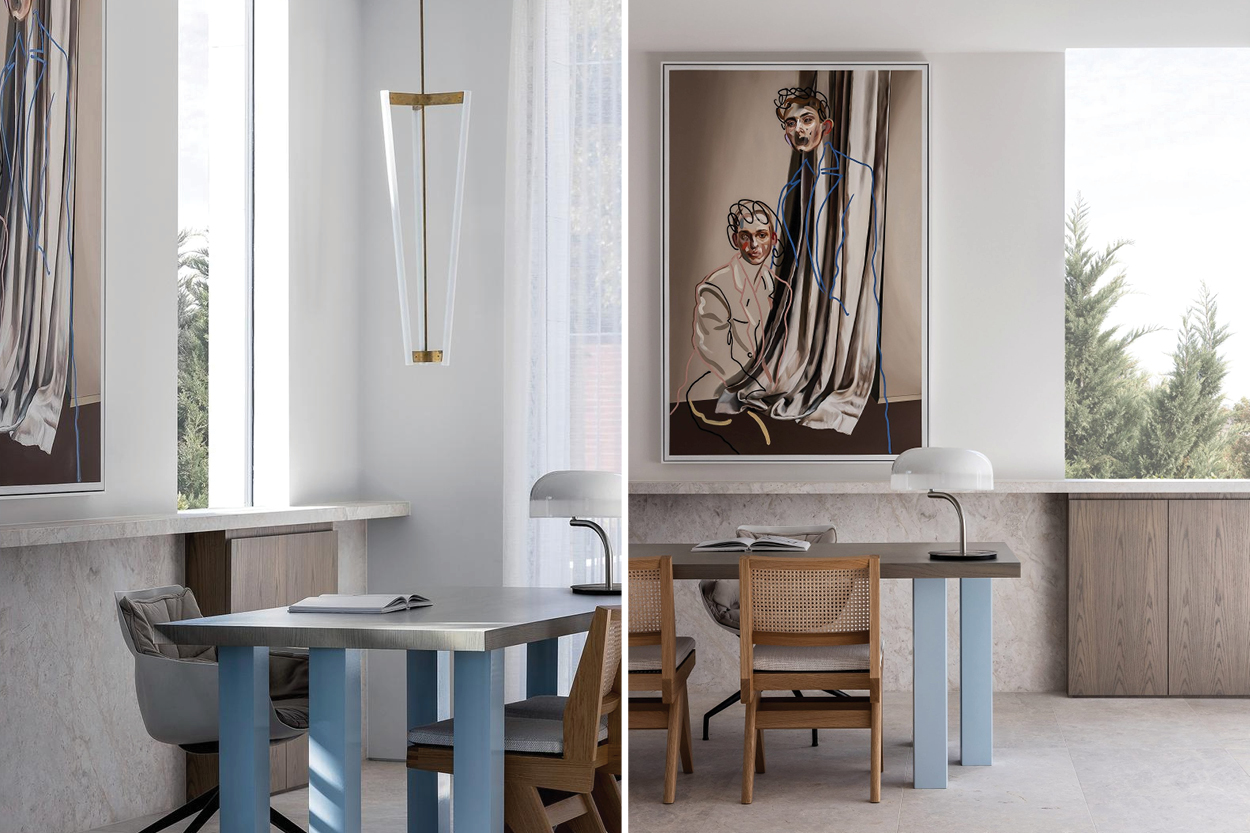 The base-level below this is fully specced as a health facility, complete with spa, sauna and gym spaces — and, for a different kind of unwinding, the wine cellar-come-tasting-room is a space of utter serenity.
As it is spread across four storeys, Conrad Architects made a feature of the staircase, with a spectacular wrapping balustrade that snakes in a sculptural curve from level to level. A custom skylight at the top draws light down into the stairwell, again enhancing the chiaroscuro effect that is in play throughout.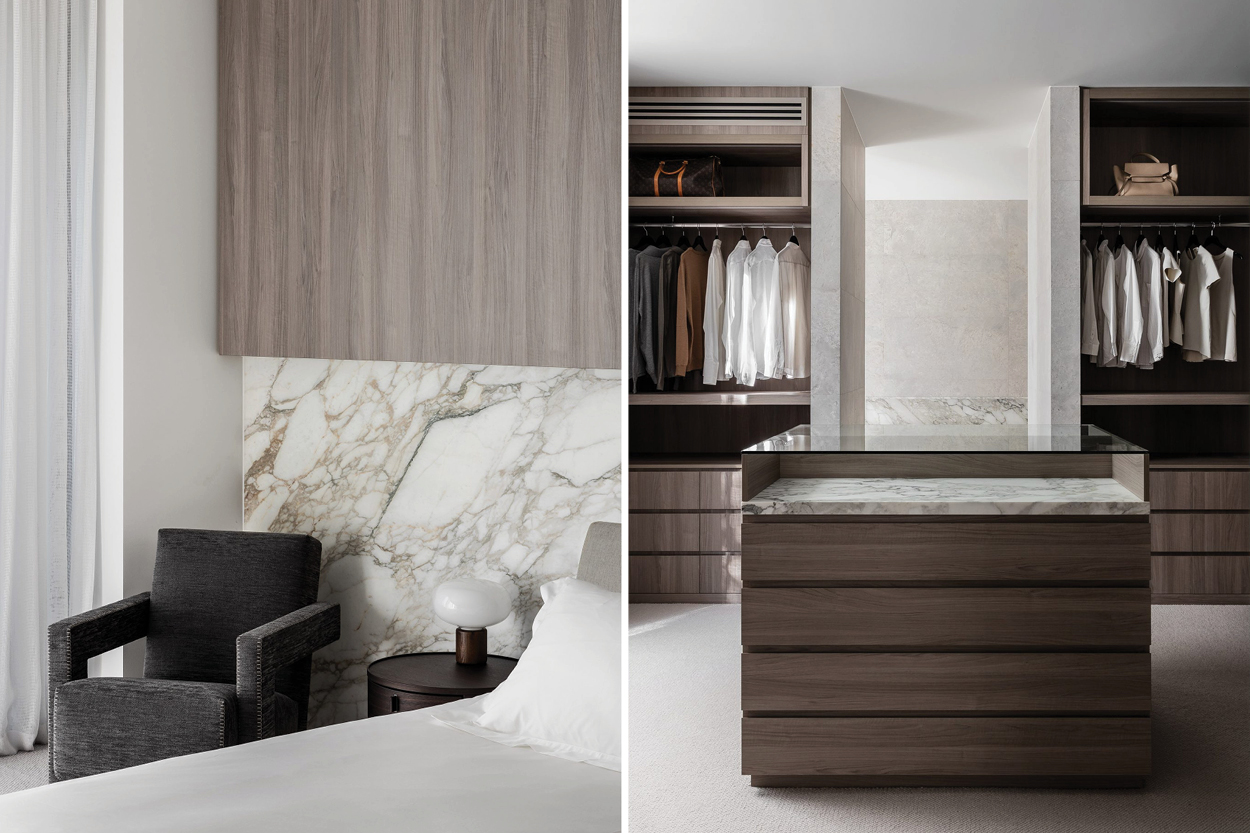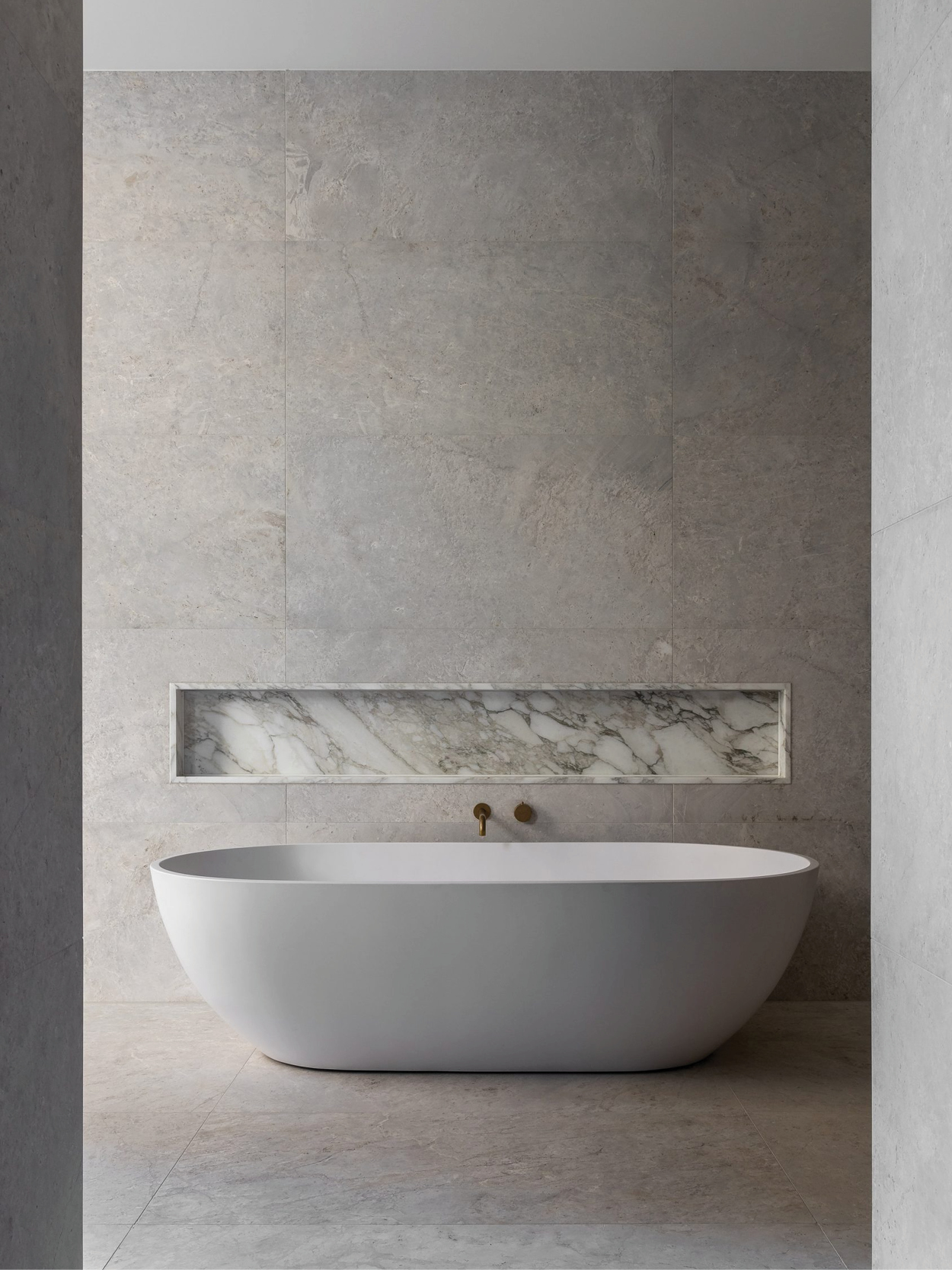 The cleverly formatted layout in regards to both natural and in-built lighting also serves to enhance one of the other main talking points of this house: the breathtaking abundance of marble and stone. It presents in multiple forms throughout both exterior and interior. From the towering facade in custom-finished Grigio Orsola, warm with rust veining, to the hefty marble backsplashes and basins, the spectacular fireplace, Japanese mosaics in the spa area and a huge, custom marble table, this is an ode to stone being anything but cold.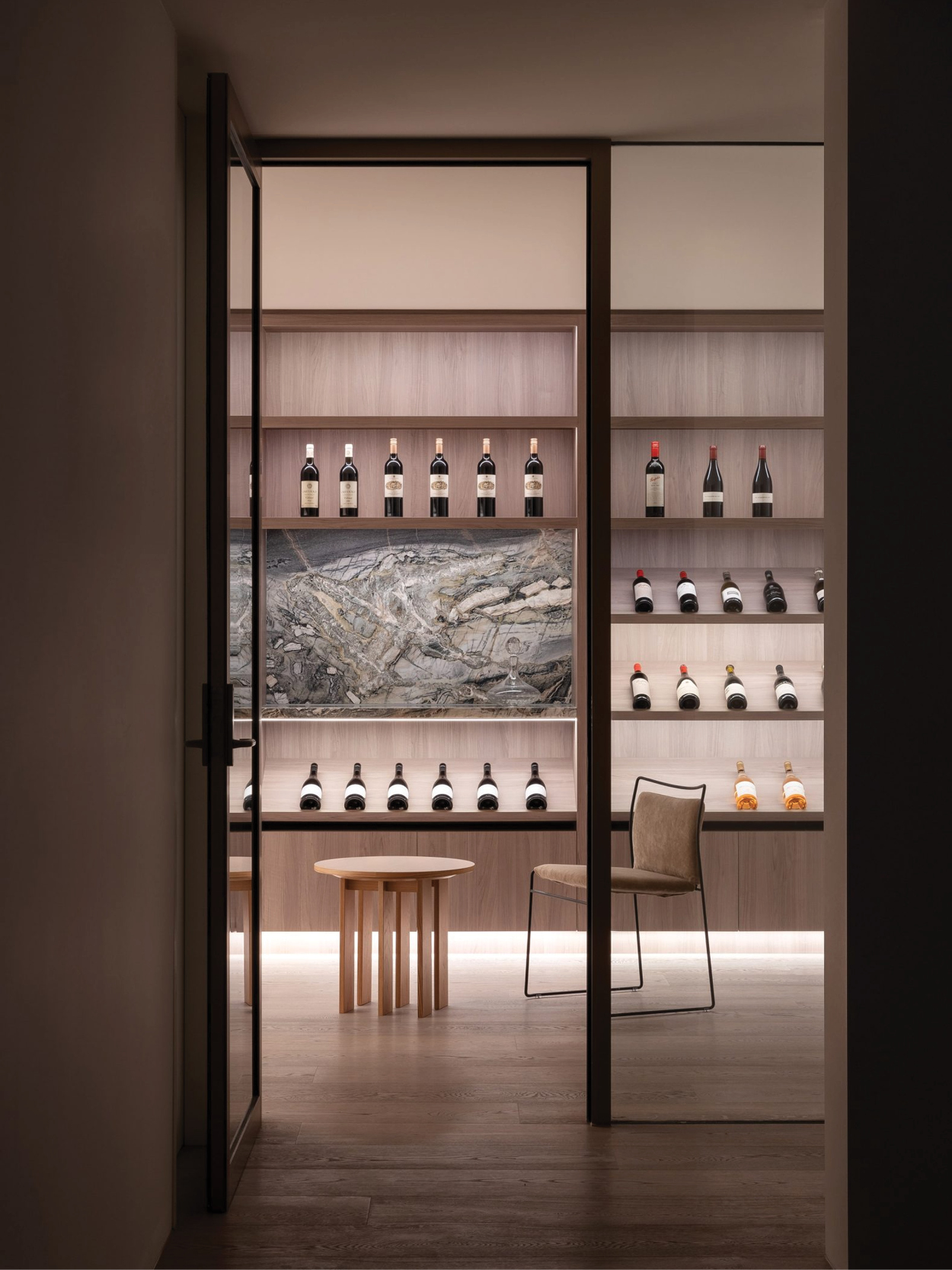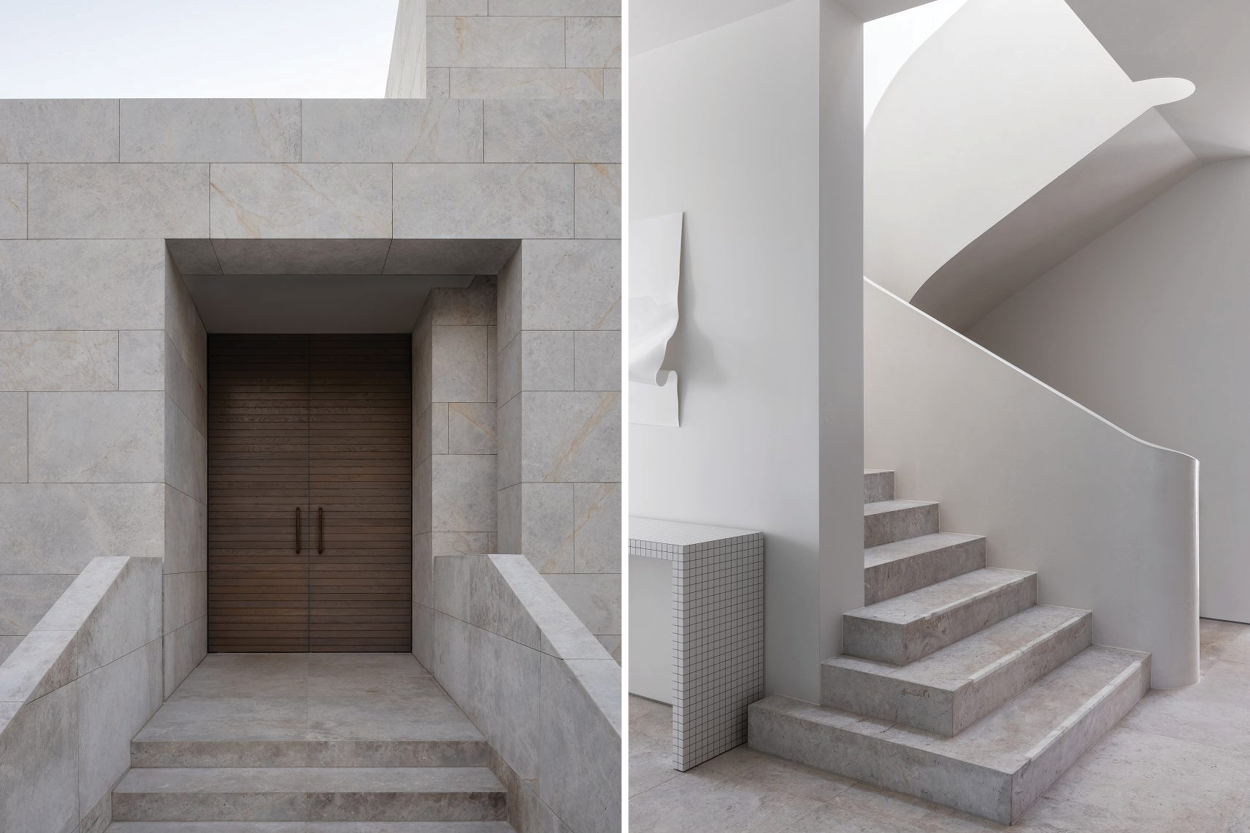 To complement a supporting palette of mostly neutrals, Tarrant chose predominantly Italian furniture to fill her home. Light-cushioned Capitol Complex Chairs by Pierre Jeanneret for Cassina sit around the dining table; pale Utrecht armchairs by Gerrit Thomas Rietveld for Cassina and the West modular sofa by Rodolfo Dordoni for Minotti are elegant yet inviting in the living area. A Minotti glass coffee table and Minotti marble coffee table tie in the sturdy materials from the house's structure.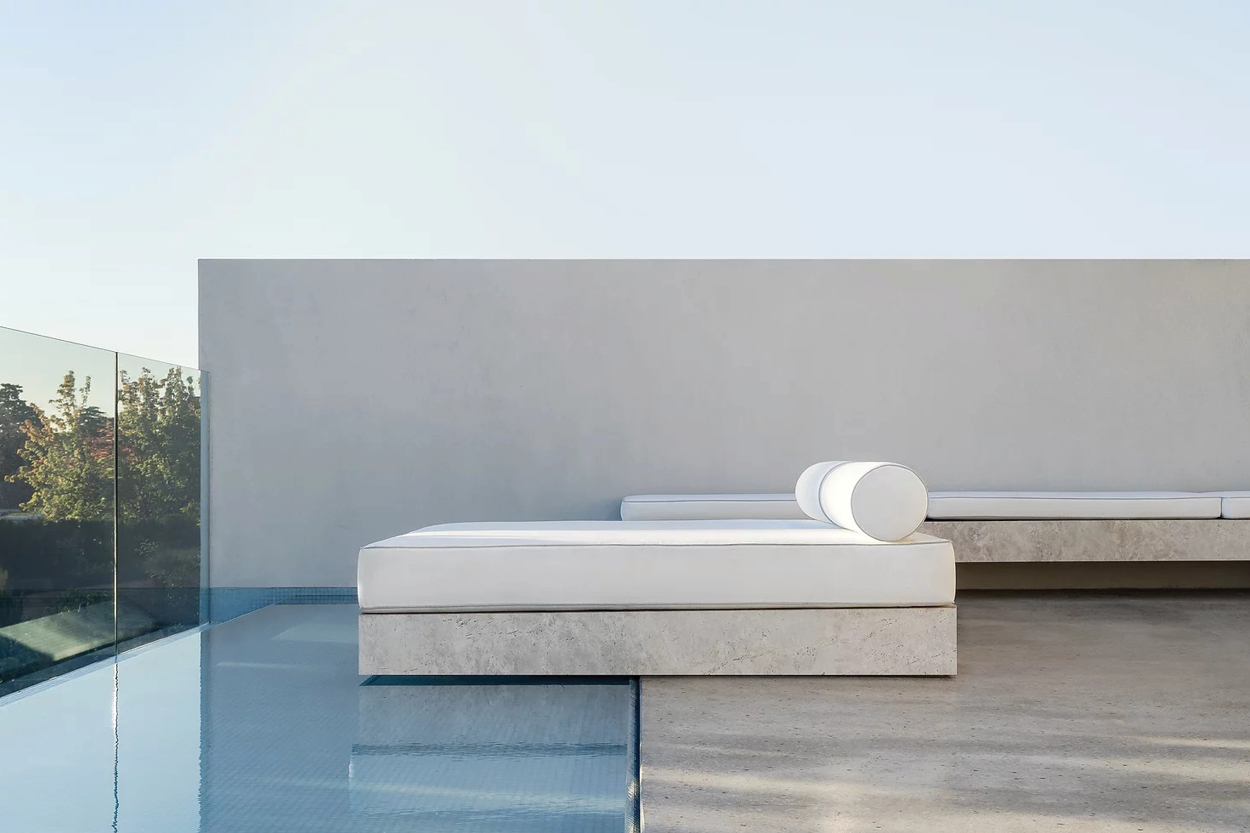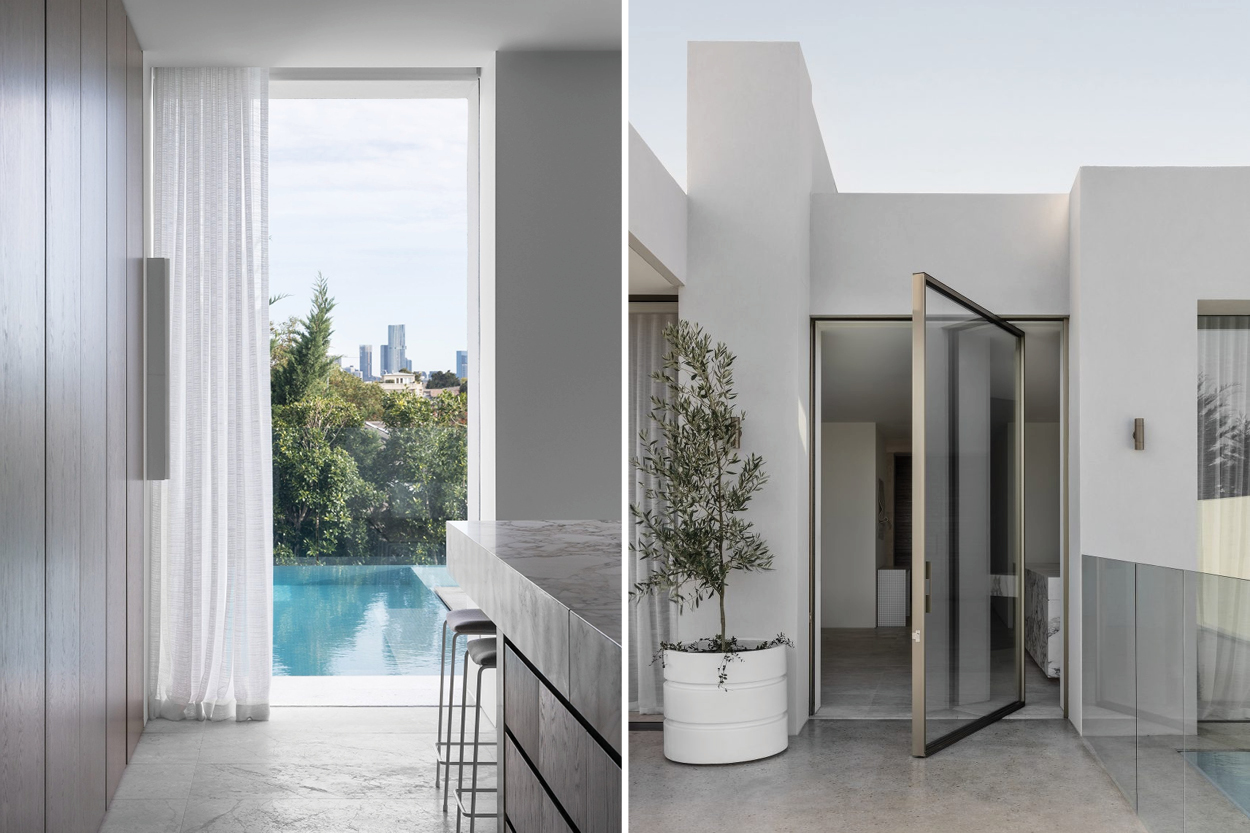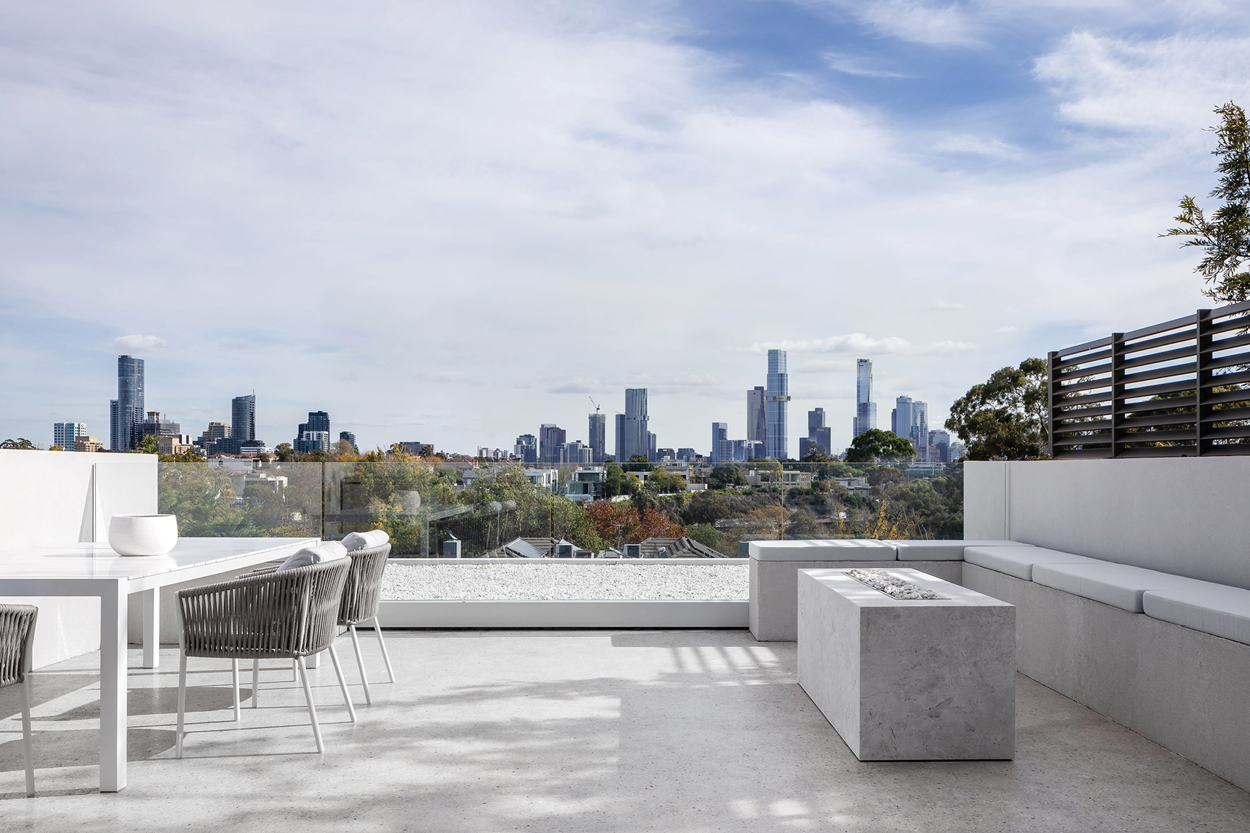 In playful contrast, Tarrant opted for tube LED lighting to punctuate the spaces, seen on and under shelves and sconces, and in features like the Tube chandelier pendant light by Michael Anastassiades, which hangs above the custom Lauren Tarrant Design desk in the office.
Moving through this home is sure to be a joyful and breathtaking experience, a feeling that undoubtedly stays true wherever one should choose to come to rest.