Seeing some of the brightest minds in the design and art realms come together in a fascinating and unprecedented exhibition, Objectspace's new multi-disciplinary venture is redefining the way we think about our own living spaces.
'The Room' sees the Ponsonby gallery transformed with a series of interconnected spaces housed within a large structure created and executed by acclaimed interior design firm, Knight Associates. It's the final product of what has apparently been a long-planned project. According to the Director of Objectspace, Kim Paton, it was a fascination with living spaces and what people chose to put in them that drove the unique concept. Speaking with me about how little the living space had been examined and discussed as a site of creativity and identity, despite it being an undeniably rich source, Paton explained how intrigued she had been by the idea of looking at how different people would react to different spaces. In describing The Room, she credited the "cross-disciplinary approach," with the "wide-ranging interpretation of domestic spaces" that comprised the final exhibition.
The first room you see upon walking in is that of Rufus Knight and his colleague Mijntje Lepoutre. Called Presque Rien ('almost nothing' in French), the space is, in a bid to focus on material sustainability, made from the off-cut materials of the main structure. True to its name, the room is sparse, and seems initially, to have very little to it. It's not until you step onto the floor tiles (made from around 2,300 cut-off ends of building timber) and feel them creek under foot, noticing the pearlescent quality they take on under the gallery lights, that you realise the true depth of the space. Within its humble materials there is an underlying grandeur — subtle, certainly, but no less impressive than if the space had been filled with intriguing objects d'art.
In another space, the Curator of Decorative Arts and Design at Te Papa, Justine Olsen, has created (in collaboration with jeweller Karl Fritsch) The Poet's Room Te Whare Toikupu, a space designed to speak to New Zealand's cultural history. Filled with various hue — traditional Maori vessels made from gourds — and objects that Olsen explained as tying ideas of contemporary living in with cultural signifiers, the simple space speaks to various aspects of our history. A cushion covered in possum fur, for instance, hangs on a wall opposite an intriguing macro photograph, while on one side of the room sits, in thought-provoking contrast, an iPad crafted from Coromandel basalt stone.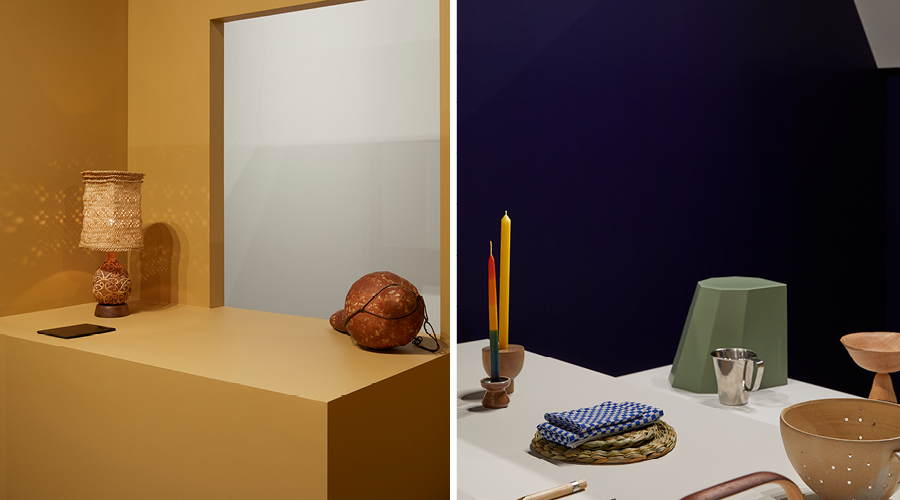 The other two spaces offer vastly different interpretations of the brief again. Emma Ng, inspired by MoMA's exhibition of 'Useful Household Objects of Design under $10' in the 40s, used her space to explore the connections between the way objects are displayed in retail and museums, arguing that the curation and storytelling process is largely the same in both contexts. As such, she pulled pieces from stores like Everyday Needs, Precinct 35 and Frances Nation to hang and place in such a way as to create a retail-art hybrid, unlike anything you'd expect to find in a gallery.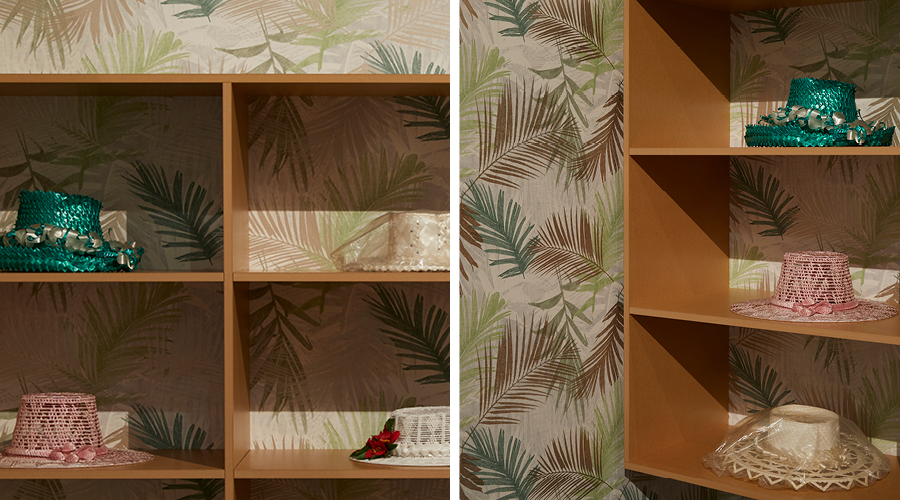 The final room, a collaboration between curator Ane Tonga and artist Ani O'Neill, posits the interior space as a site of cultural learning. Seeing the latter reprise her 1993 site-specific work using the pare-hats her grandmother would wear to church, the resulting room is a simple but powerful comment on the living space as integral to ideas of cultural identity. "A living room frames lifetimes," Tonga says, "and is where rituals are learnt."
The Room is on at Objectspace gallery until 19th May. For more information, click here.
Objectspace
13 Rose Road,
Ponsonby