Unparalleled refinement and lush grounds promise a truly luxurious living environment.
Taking form on an elevated ridgeline overlooking the Eastern Bays, luxury apartment development Soto can boast a larger-than-normal square meterage and unimpeded views of Auckland's rolling topography. Pegging Meadowbank as a suburb of emerging elegance, its residences will be enveloped by park-like grounds, affording residents a lush green backdrop without the upkeep of a standalone home and backyard.
In a nod to some of the area's more historic, expansive garden communities, Soto's apartments place a heavy emphasis on a connection to the outdoors. A large, north-facing terraced lawn, affectionately known as Central Park, will sit at the development's epicentre, connecting the tower residences to the standalone pavilions, while expertly placed native plantings will provide privacy for all. With an expansive garden ripe for exploring and an opportunity for residents to tend to their own gardens, green, it would seem, is gold in the minds of Boffa Miskell, the landscape architects responsible for the grounds and layout.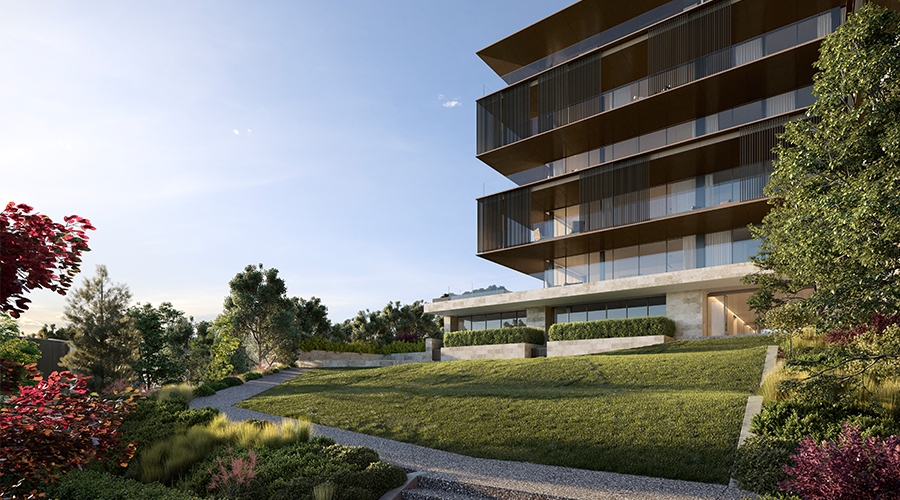 A celebration of minimalist, contemporary design, Soto's six-storey apartment building, conceived by architecture firm Monk Mackenzie, gives way to lofty residences and standalone, townhouse-like pavilions with an appealing contemporary aesthetic. The latter offer space-maximising, three-level abodes with three bedrooms, two bathrooms, private courtyards, a 2.7-metre stud, internal access basement parking for two vehicles and dual outlooks.
Designer Lauren Hare and her team, responsible for the interiors, have tapped into a philosophy that reflects Soto's timeless design — elegant interior spaces with refined materials, including stone, timber, tile and deep pile carpeted floorings in neutral or dramatic palettes. Hare says, "Interior spaces have been crafted to create a balance between living in the moment and retreating graciously. Custom interior hardware and cabinetry in kitchens and bathrooms reflect careful craftsmanship and considered details."
Bringing to light an exceptionally unique opportunity to reside on the northern slopes of the Remuera ridgeline, whether the time has come to downsize, or you're looking for a luxurious yet low maintenance lifestyle, there's little argument that Soto is a formidable option. With views across the harbour to Rangitoto and the city skyline as well as excellent proximity to the eastern beaches, this is suburban living at its most covetable.
Soto's residences and pavilions are priced between $620,000 and $4 million plus. Register on the website for a VIP preview of the display suite which will open in mid-September 2017 at 6 Meadowbank Road.