Known mostly for her cult cashmere, fashion designer Bella Freud embodies the nonchalant 'cool' of the 70s — and not just because one of her bestselling jumpers is a homage to Jane Birkin and Serge Gainsbourg. With a creative nous that extends beyond the realm of fashion, Freud's vibrant colours, pared-back silhouettes and scrawled, handwritten prints have led to a collection of key interior pieces, including cushions and blankets that we've long coveted for our own living rooms. So we were hardly surprised when we heard she'd turned her hand to interior design.
Collaborating with Maria Spoeke of interior firm Retrouvius to design a three-bedroom penthouse in the London's historic White City (formerly the BBC headquarters), Freud created a series of spaces that evoked the sensibilities of the 70s. From the geometric furnishings to the surprisingly harmonious clashing of colours (the green-carpet-orange-sofa combination works far better than one might think) everything in this apartment speaks to the decade that gave us disco — and it works.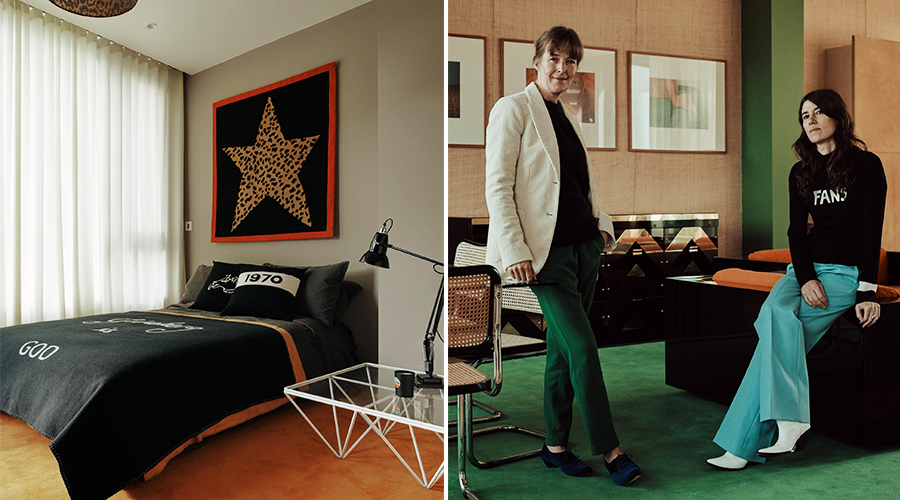 Aside from the obvious aesthetic inspiration, Freud also makes a couple of practical, interior choices we would do well to try at home. The displacement of rugs and plates, for example, from their natural habitats and onto walls is something to be taken from this idiosyncratic interior, and an easy thing to try in our own spaces.
Considering the important, historic place White City holds in London's urban landscape, this apartment is both a nod to its own origins and a reflection of contemporary tastes. Perhaps Scandi-minimalism is set to be usurped for a bout of nostalgia… but we don't want to speak too soon.
Bella Freud is available locally from Workshop.