An impeccably designed solution to suit the needs of forward-thinking denizens
With the increasing breadth of luxury apartment offerings in Auckland comes a development for every persuasion. 59 France — conceived by acclaimed local practice, Urban Collective — transcends categorisation, presenting itself as an impeccably designed solution to suit the housing needs of forward-thinking denizens.
Assuming the place of the historic Kings Arms Tavern on France Street in Eden Terrace, the elevated site, with sweeping views north towards the city and west over the Waitakere Ranges, will give rise to a striking 99-apartment-strong edifice. Neither too suburban nor confrontingly inner-city, 59 France is picked to be one of Auckland's most alluring and pragmatic residential buildings to date.
With more than 20 years experience and dozens of projects under its belt, Urban Collective's reputation is one known to bring to life considered apartments with local residents in mind. Its boutique offerings are united in their consistently commanding aesthetic appeal. Past projects such as Grey Lynn's The Dylan and Fanshawe Street's Kauri Timber Building have won an array of awards in recent years.
The building pays homage to the warehouses and ateliers that have long dominated this part of the city. Widely recognised as one of the most connected boroughs in Auckland, the extensive brickwork at its base is a nod to the area's industrial origins while higher up, black steel framing is counterbalanced with an unobtrusively contemporary design that subtly integrates the construction with the surrounding skyline.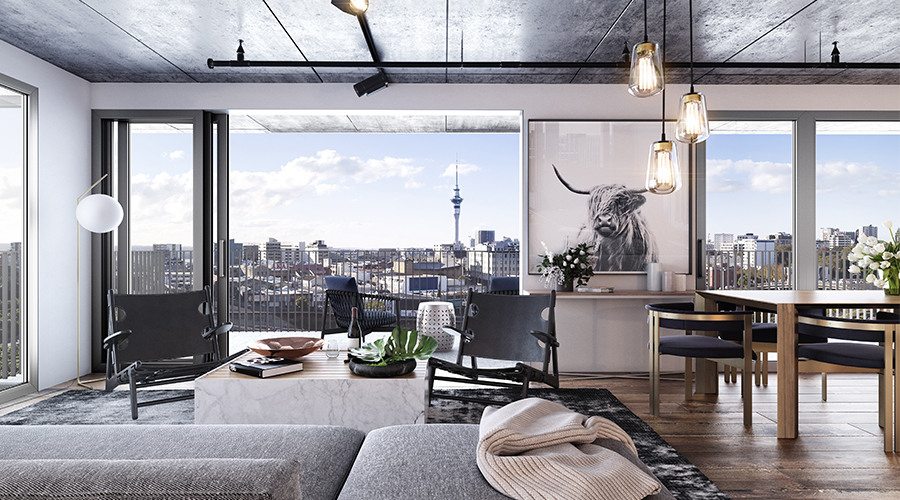 Within the compelling structure is a mix of one-, two- and three-bedroom apartments that are cleverly placed towards the outer walls of the L-shaped building to maximise natural light. Thanks to Urban Collective's savvy use of material and know-how, each residence is priced competitively with one-bedroom options ranging from $515,000 to $750,000, two-bedrooms from $755,000 to $1,500,000, and the generously sized three-bedroom iterations beginning at $1,045,000.
What's more, the developers have minimised Body Corporate expenses through the shrewd use of hardy yet ultra-stylish materials and an absence of amenities that are inevitably underused. All apartments are built with the same generous 2.8-metre stud height and range from 50m2 to 183m2 in size. Finished with the timeless application of exposed concrete and high-quality fixtures and fittings, 59 France's residents will no doubt be united by an appreciation for fine design. Then, there's its ultra-convenient proximity to the city; located a mere one and a half kilometres from Ponsonby Central and the same distance from the Auckland Domain.
With retail and hospitality tenancies set to house a restaurant and a delicatessen on the ground level, as well as offices, there will be plenty of spaces in which to mingle and congregate, including the extensive north-facing garden by leading urban landscape architects, LandLAB.
Due for completion at the end of 2019, 59 France is set to provide savvy Aucklanders with the chance to enjoy an incredibly stylish and connected lifestyle.
Visit the website to find out more.