Fresh off the course from Hong Kong, the Volvo Ocean fleet is swiftly making its way to our shores, and with it, a flurry of activities and events set to ignite Viaduct Harbour. Herein we outline how to make the best out of all the waterfront has to offer:
Fuelling Up
Kick things off with a spot of brunch and a hit of caffeine. Those hankering for a brekkie fit for a king will revel in Oyster & Chop's complete Power Breakfast, but if you're after something a little lighter, eateries Giraffe and The Fox serve up an enticing selection of fruit salads and smoothie bowls. Gastro bar Degree offers some divine goats cheese and mushroom toast and up at Dr. Rudi's, you'll find a steady stream of delicious Atomic Coffee.
Check out the Vessels
As the monohulls and their valiant sailors take a hard-earned repose during the stopover, attention turns instead to the competition's M32 catamarans. The sleek and speedy watercrafts will be berthed in the Viaduct Harbour marina at Market Square (between HeadQuarters and Oyster & Chop) where curious onlookers can have good a good look. At around 510kg each and 32-feet in length, it's worth getting up-close and personal with these masterpieces of engineering. 10th-17th March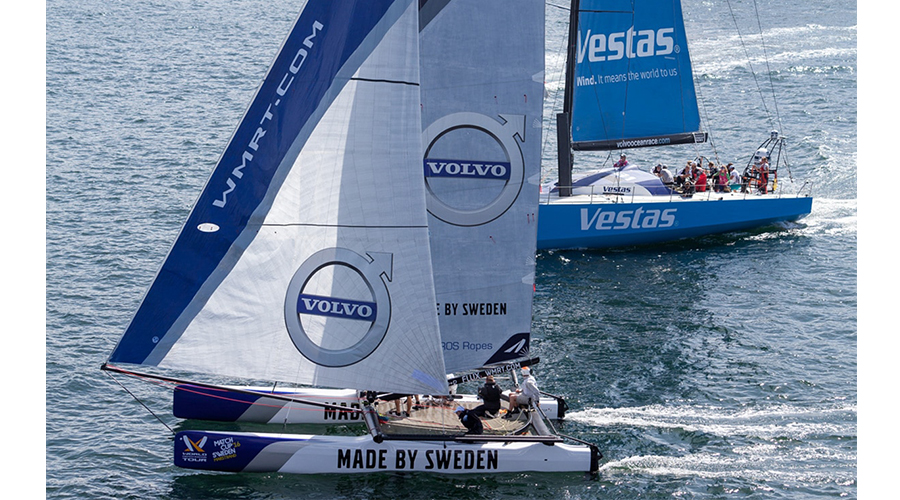 Keep Your Cool
The perfect treat for a balmy day on the waterfront, keep an eye out for Lalele Organic Gelato's vintage caravan in Market Square where you can satiate your cravings with one of their fresh and unpredictable flavours. 28th February – 13th March
Doin' It For The Kids
Between the Ocean Race furore is plenty of family-friendly entertainment to keep the little ones content, including a top balloonist duo, that will be performing around the Lalele Gelato cart, fabricating all manner of blown-up creations. Pop-up hot spot The Nightingale will also be offering substantial meals in kid-friendly portions, including steak and market fish while Frida Cocina showcases more exotic fare for adventurous bambinos, with a miniature taste of Mexican cuisine. Balloonists will be on site on Saturday 3rd & Sunday 4th March, from 2-4pm.
Kick back and take in the views
Undoubtedly, one of the best things to do in Viaduct Harbour is to sit back, relax, and take it all in. Waterfront havens such as Soul Bar & Bistro, Dr. Rudi's Rooftop Brewing Co. and Parasol & Swing Company offer panoramic views of the sparkling Waitematā harbour, while pop-ups, House of Peroni and Stoneleigh's vine-covered courtyard can be found on the nearby Te Wero Island — you'll struggle to find a better place to soak up all the Volvo Ocean Race action.