You've probably started to notice the build-up, smattered over various news and social media outlets. Whether it's via an image of actress-of-the-moment Margot Robbie, kitted out in a long-sleeved black polo, barely-there skirt and a pair of knee-high white leather boots, or another of Brad Pitt and Leonardo DiCaprio staring nonchalantly at the camera, Once Upon A Time in Hollywood is everywhere. And with good reason too. The film — rumoured to be auteur extraordinaire Quentin Tarantino's final cinematic offering — isn't being released until July, and although we know it's early, the hype is already starting to make it one of the most hotly-anticipated offerings the box office has given us in a long time.
But with anticipation of any kind comes rumours and widely spread misinformation, and Once Upon A Time in Hollywood is no exception. To clear the air, we've put together everything you need to know about the upcoming film.
The Plot
Despite initial rumours that the motion picture would focus on the infamous Manson murders, Once Upon A Time In Hollywood instead sees a recreation of Los Angeles in 1969, when the city served as the backdrop for the Hippy Hollywood takeover. Manson is involved, however a biopic this is not. Rather, it's the Tate-LaBianca murders that serve as more of a backdrop to the sprawling narrative, one which, instead, focuses more on TV Western star Rick Dalton (neighbour to Sharon Tate) and his stuntman double, Cliff Booth, as they navigate the crumbling demise of Hollywood's golden age. While well known 'celebrities' are peppered throughout — not just Sharon Tate, actor husband Roman Polanski and Manson himself, but Steve McQueen and Bruce Lee too — the film is, for the most part, a work of fiction.
The style
Directed in a similar ilk to that of Pulp Fiction, the multifaceted film is said to comprise non-linear thematic chapters where the characters and stories are skillfully interwoven.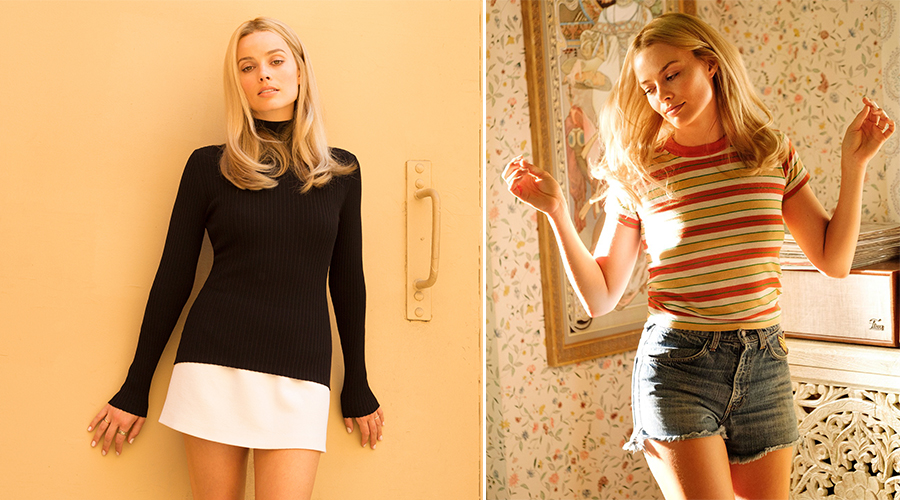 The Cast
The film boasts a typically star-studded Tarantino cast, with a titillating blend of both modern and classic acting brilliance. Fading TV star Rick Dalton is played by Leonardo DiCaprio, with Brad Pitt as his close friend and stunt double Cliff Booth, while Margot Robbie plays pregnant actress Sharon Tate, with Polish actor Rafal Zawierucha as her husband, Roman Polanski. The late Luke Perry lends his talents as George Spahn, the owner of Spahn Ranch, a Western movie and TV location that played house to Manson and his followers for months. The great Al Pacino appears as Rick Dalton's agent, Marvin Schwarz, Dakota Fanning brings to life Manson follower Lynette "Squeaky" Fromme, Damian Lewis takes the role of Steve McQueen and Austin Butler plays the notorious Charles "Tex" Watson, who led the raid on Tate's home.
Elsewhere, actors who have names that might not ring a bell but faces that most certainly will are in abundance, too. Dreama Walker, (Gran Torino, Sex and The City, Gossip Girl, Don't Trust the B—- in Apartment 23) for example, or Keith Jefferson (Django Unchained), Margaret Qualley, (The Leftovers) and Maurice Compt (Narcos, Den of Thieves).
Other names playing smaller parts, or yet unknown parts, comprise Lena Dunham, Maya Hawke, Rumer Willis, Tim Roth, Julia Butters and New Zealand's own Zoë Bell. Long story short? The cast is all-encompassing and set to rival that of the talent-stuffed Pulp Fiction.
The Influence
Once Upon A Time In Hollywood pays homage to a wide array of movies that Tarantino counts as major influences. A serious cinephile, his list would be too comprehensive to comment on, although there are two major influences that stand out from the rest: Sergio Leone's Once Upon A Time In The West and Once Upon A Time In America, both of which bring to life specific eras in American history.
The controversy
Admittedly, Tarantino is no stranger to controversy. He made the headlines last year after claims of mistreatment on set (by both Uma Thurman and Diane Kruger) and has been criticised for his consistent, close alliance with producer Harvey Weinstein. With Once Upon A Time In Hollywood, critics have been quick to point out that the movie, a supposed comedy, is a fictitious story about very real, dreadful events. Not only does it feature the real-life murder of Sharon Tate, but in doing so it also glorifies Manson, an unnerving tactic that seems to happening frequently as of late. (The latest string of Ted Bundy features are splitting critics down the middle.) Whether such controversy will affect ratings remains to be seen, but, as with many productions crafted in the same vein, it's likely that the disputes will only amp up interest.

The release date
Originally set for release on 9 August 2019, the 50th anniversary of the Manson Family murders, the date has since been brought forward to 26th July, instead.