It's rare that an exhibition, or even a single piece, exudes so much joy and whimsy that it evokes an almost instant feeling of happiness. Yet that was the emotional response when exploring the new exhibition by Sydney-based artist Simone Rosenbauer. Showcasing at Sanderson Contemporary Art gallery from 1st February to 22nd February, we suggest to anyone needing a New Year mood boost to head to Newmarket as soon as you can.
The second instalment to Like Ice In The Sunshine, her well-received earlier exhibition, Rosenbauer's latest endeavour displays an enticing assortment of vivid, radiant popsicles. Simply entitled Like Ice In The Sunshine II, the work ranges from the classic, chocolate-encased ice cream to the frozen treat with a double stick, all rendered in colour- saturated hues, with each image as beguiling and alluring as the next.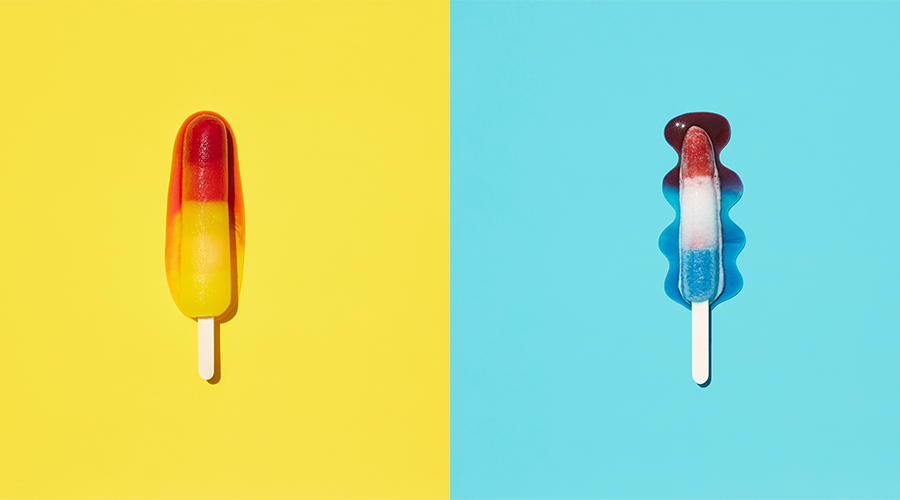 Each of these cool summer essentials is photographed in various states of melt, with ice cream and colour pooling around the quintessential paddle pops. In fact, by capturing various states of disappearing in each visual, the artist offers a stark reminder that summer itself is fleeting. That said, those who want to capture and experience the glory of Rosenbauer's seasonal works all year round, are able to purchase the pieces — they come in two different sizes (85 x 85cm and 35.5 x 35.5cm), with prices varying between $2,400 and $7,800.
Given the prevailing political climate and relentless turmoil currently raging around the world, there couldn't have been a better time for Simone Rosenbauer's exuberant, joyous works to show up. For those who are wanting to meet the creator of this simple, welcome and nostalgic relief, Rosenbauer will be attending Sanderson's hosting exhibition on Saturday 1st February at 11am, along with coffee and croissants from the neighbouring business Camper Coffee.

Sanderson Contemporary Art
Osborne Lane
2 Kent Street
Newmarket