An elegant and inspiring soirée akin to an artful iteration of Cirque du Soleil
If ever there were a soundtrack to ignite the emotions, the classical score of Debussy's 'Clair de Lune' and Mendelssohn's 'A Midsummer Night's Dream' would be a good place to start. These two iconic pieces, along with a handful of others, will be performed in a spine-tingling manner by the Auckland Philharmonia Orchestra at a one-night extravaganza taking place on Thursday 23rd November at the ASB Theatre, Aotea Centre.
Entitled Midnight, the show, in company with the orchestra, will see Auckland's leading circus theatre company, The Dust Palace, carry out a mesmerising interpretation of the genre's most haunting and beloved compositions using high-flying acrobatics, contortion and mime. The discerning audience can watch on as the talented cast proceeds with their ultra-sensory spectacle.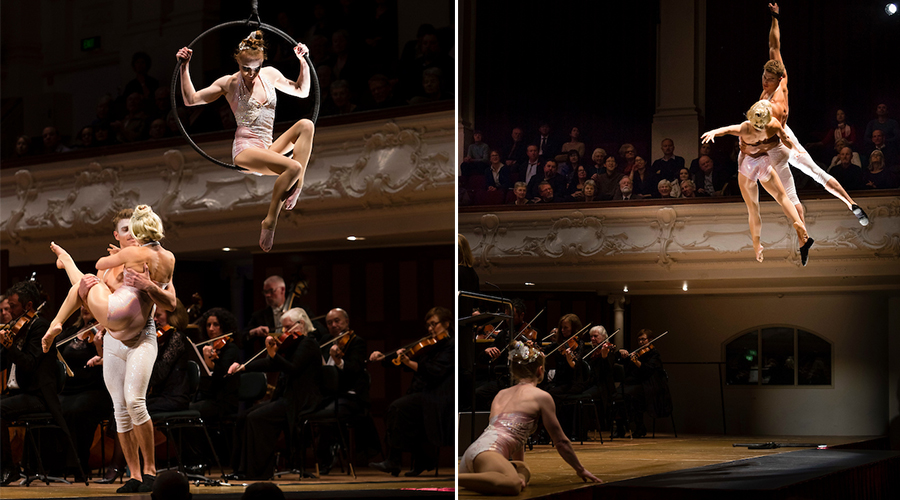 When asked what audiences can expect, the show's director Mike Edward replies "All the most amazing beautiful cirque! We've got hand to hand, aerial trapeze, chair balancing, hula hoops, cyr wheel, cloudswing, and some things people won't have been before… aerial umbrella, aerial birdcage and pole bed are all completely unique to us." When speaking about Dust Palace co-director and choreographer Eve Gordon, he adds "Eve has a great ability to create new, unseen apparatus from her imagination. As a result, we will be working on unique equipment designed specifically to enrich the storytelling aspect of our work. Speaking of, storytelling is at the core to all our theatre: creating character, narrative and journey allows the audience to engage with us beyond just the circus 'spectacle'."
An elegant and inspiring soirée akin to an artful iteration of Cirque du Soleil, Midnight will be an evening to remember. Purchase tickets here.