When Lee Alexander McQueen took his own life on the eve of his mother's funeral in 2010, it left a huge void in the fashion world that can still be felt today. It is this palpable sense of loss that compelled filmmakers Peter Ettedgui (writer and co-director) and Ian Bonhôte (producer and co-director) to embark on a journey to tell the story of the hallowed British designer, one who will go down in the annals of history as fashion's ultimate disruptor, chaos maker, and beloved enfant terrible.
McQueen was "larger than life — a giant figure on the cultural landscape that was England during Cool Britannia" says Ettedgui who himself, along with Bonhôte, was living in London during this 'renaissance' period. "There was so much great work coming out at the time, around when Tony Blair was elected […] and Lee was at the centre of it." The writer goes on to explain how the designer transcended the fashion realm to work with photographers, videographers, and iconic figures of the time (the late 90s and early 00s). He was all over the tabloids, lighting metaphorical fires at every juncture, and is, in essence, the poster boy of the hyper-proud cultural movement that included the YBAs.
While the above is ample reason to embark on the making of an autobiographical film, after probing Ettedgui further, he admitted to a different, more personal connection with the legendary designer. His father, who also worked in the fashion industry, had met McQueen several times and thought very highly of him. "He was enamoured with the work he did. My father respected his brilliance in tailoring and cutting. When McQueen died, my father was distraught. He was also terminally ill and died himself only three weeks later."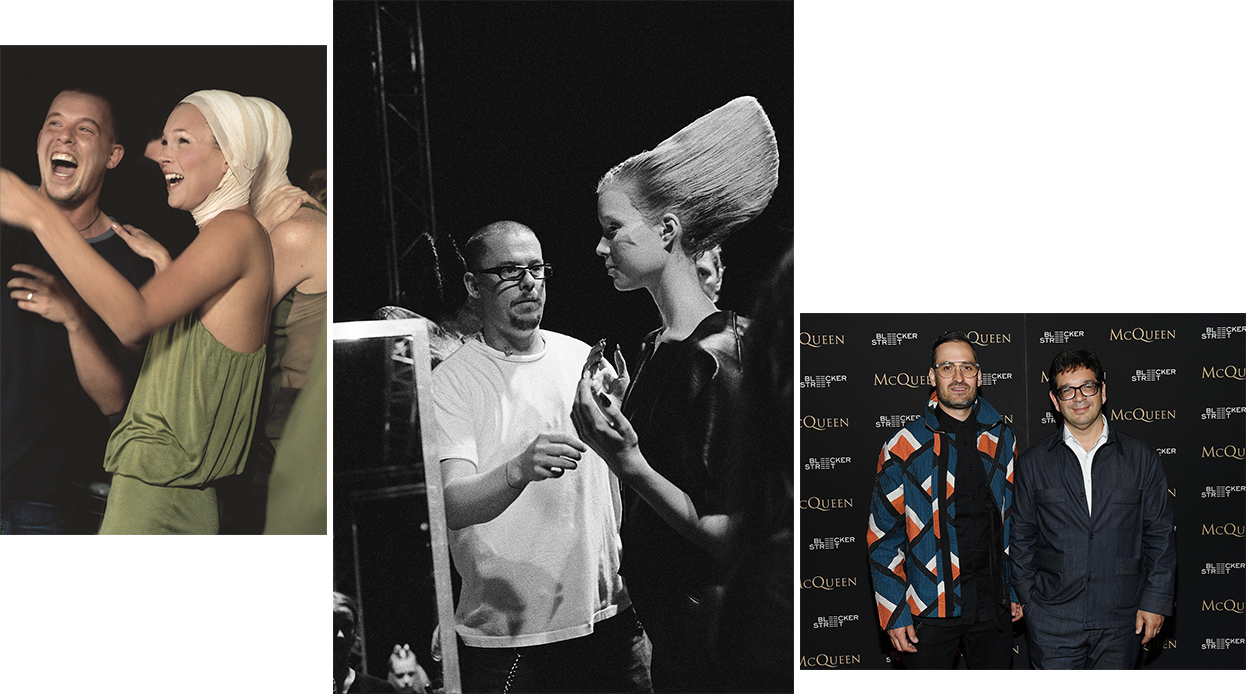 At once epic and melancholy, this tale of McQueen's career trajectory makes for a twisted, rags to riches story with a potent injection of the human essence at its core. From his uninhibited nascent period, designing sensational creations that cost him under 10 quid while existing on the benefit, to helming LVMH-owned label Givenchy from 1996 to 2001, it's a formidable journey into a creative mind that illustrates his gravitational pull, his inner sanctum, his personal demons, and how more money indeed led to more problems.
Both Ettedgui and Bonhôte made the conscious decision to place McQueen's work at the centre of the film, avoiding the more tabloid-esque avenues they could have taken given Lee's sensationalism in the media. "No one wanted to work with us in the beginning," says Ettedgui, referring to the McQueen family's sensitivity around still very recent events. "So we had to work with the utmost integrity."
With each one of his collections, shown chronologically, comes an intimate insight of McQueen's personal life; the two are inextricably intertwined, increasingly disturbing and simultaneously awe-inspiring. "The key to us making this film was taking Lee's work and figuring out what each [collection] meant. For Highland Rape, for example, the autobiographical aspects behind that show came to the surface quite quickly, but for other collections, we had to work a lot harder to draw a connection between the show and McQueen's psyche."
When speaking very genuinely of the privilege it has been for the pair to make a movie about such a unique individual, Ettedgui put it plainly, saying; "People like McQueen don't come around very often — he's a once in a lifetime kind of guy."
McQueen will be showing in cinemas from Thursday, 6th September.
This competition is now closed.