The philanthropic landscape in New Zealand is a vast and varied space. You only have to read our recent article on the subject, in which we examine some of the complex changes happening in the sector, to confirm as much. And while it would seem that this space and its major players are starting to think a lot more about strategic giving, putting the onus for success onto the granters instead of those receiving funds, and adopting a more collaborative approach, a newly-launched Kiwi start-up is taking these ideas and turning them into a practical piece of philanthropic infrastructure. Meet, Impact Lab.
Set up to be a tool for philanthropic entities and social service providers, Impact Lab uses big data to quantify and measure social impact in an accurate, easy-to-understand and cost-effective way. With its modus operandi being to 'do good, better,' it will be used by philanthropists to not only determine the most effective ways to give to the causes they support, but will also allow them to compare what they're doing to others undertaking similar work. Via Impact Lab's GoodMeasure and GoodFinder tools — the former designed to compare an organisation's data with scientific knowledge of what works in order to measure positive change, the latter, a data analytics service that shines a light on who or what would benefit most from investment — those in the philanthropic space will be armed with superior insight and will be able to amend their investment strategies to ensure maximum impact.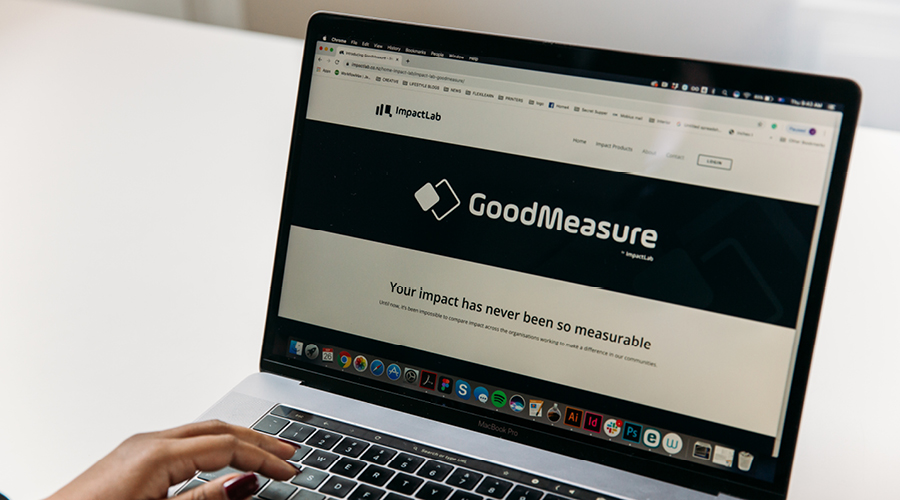 "If you want to know the good your dollar is creating and how much it costs you to create that good, our tools will calculate that," Emily Mason, CEO and co-founder of Impact Lab tells me. "We will tell you the social value in dollars that your investment has created in people's lives, because we have access to this big data set about individuals in New Zealand and their lived experiences, so we can say with certainty that this is what will actually happen if you make a change."
For Emily, coming from over two decades working as a public servant and never feeling like there was enough (or any) feedback on the actual impact of what she was doing, Impact Lab has been a revelation.
Similarly, Kylie Reiri, another one of Impact Lab's founders and its Chief Technical Officer also came to the start-up from a public service background, and when I spoke with her, echoed Emily. Telling me she had always wanted to use her skills to make a difference in New Zealand, she explained how she had felt that, until Impact Lab came along, the infrastructure for measuring and affecting tangible change really didn't exist. "There were already lots of people [in the Philanthropic sector] who were able to tell good stories about the people they served and why they had chosen to give to certain causes," she says, "there's a lot of emotion in that." Pausing before continuing, "but what was really missing was hard evidence and data."
It cuts to the heart of what Impact Lab is trying to do — tap into the culture of giving that seems to flourish in New Zealand, but ensure that this idea is married with fact and is implemented in a strategic way.
As far as Impact Lab's process, Emily and Kylie explain how they first meet and spend time with philanthropic entities, in order to understand their work and gather key information. From there, they compare what that organisation or person is doing with similar case studies and research papers from around the world, building a web-based tool in which the philanthropist in question can access all of the social service providers they are invested in, compare their impact to others and make decisions around who or what to invest in next.
It's important to note that the Impact Lab's tools are not about fuelling competition in an already competitive market, or simply telling people to only invest in whatever is generating the most value. They're about making clear the areas that need help as well as allowing granters to support people and services to create more value. In this way, these tools will hopefully work to encourage those in the philanthropic sector to adopt more diverse portfolios and allow investments to be applied more broadly and effectively.
But what is really special about Impact Lab, is the fact that it really is a first of its kind — globally. As Emily and Kylie tell me, tools like the ones Impact Lab has created, really don't exist overseas yet, which means that the natural progression for the company will be to eventually expand offshore. Until then, however, they're pretty happy helping New Zealanders become the pioneers in this new wave of strategic philanthropy. "We're a very small country, which means that we can do stuff fast," Emily says, going on to say, "the ability to effect change in New Zealand using [Impact Lab's tools] will be phenomenal and will give us a big platform to roll it out further."
Having launched officially last week, Impact Lab is already being praised for its groundbreaking model. "We've been getting so many emails from people asking how they can help and get involved," Emily tells me, laughing. A testament to the innovative Kiwi thinking that has long put our small country on the map, Impact Lab feels like the start of a new chapter for philanthropy in this country, and we'll be watching its progress with interest.
For more information on Impact Lab and its GoodMeasure and GoodFinder tools, click here.