Science fiction has recently become tantamount to all things cool.
Science fiction, the literary genre once synonymous with bespectacled teenage introverts or lonely middle-aged, mother-cohabiting men, has recently become tantamount to all things cool. It's everywhere; cult TV shows, futuristic motion pictures and high-end fashion blend seamlessly together in a weird but wonderful modern blast of intergalactic pop culture.
January kicked off with a step into the unknown with a season premiere of one of the longest-running science fiction series — that's right, The X-Files was back on our screens in all its unearthly goodliness. This year will see the release of the Natalie Portman-fronted surrealist film Annihilation, the star-studded science fantasy flick A Wrinkle In Time and the dystopian Steven Spielberg creation Ready Player One. Even ad slots for the über valuable Super Bowl were taken up by an assortment of offbeat TV and film promos such as The Cloverfield Paradox and Jurassic Park, as an almost tongue in cheek metaphor for the rising geeks amongst the popular jocks.
The obsession with the mysterious is well and truly in full swing. The whole world is watching it, and, ultimately, the whole world is wearing it too. The spooky and the spiritual have crashed into our fashion forecasts with the strength of a gale force wind. How could we forget Gucci's fantastical AW17 campaign complete with aliens, dinosaurs and UFOs? Gucci and Beyond features an extraordinary mix of 50s and 60s sci-fi inspirations, comprising a mash-up of models interacting with a legion of sea monsters, extraterrestrials, Bigfoots and dinosaurs.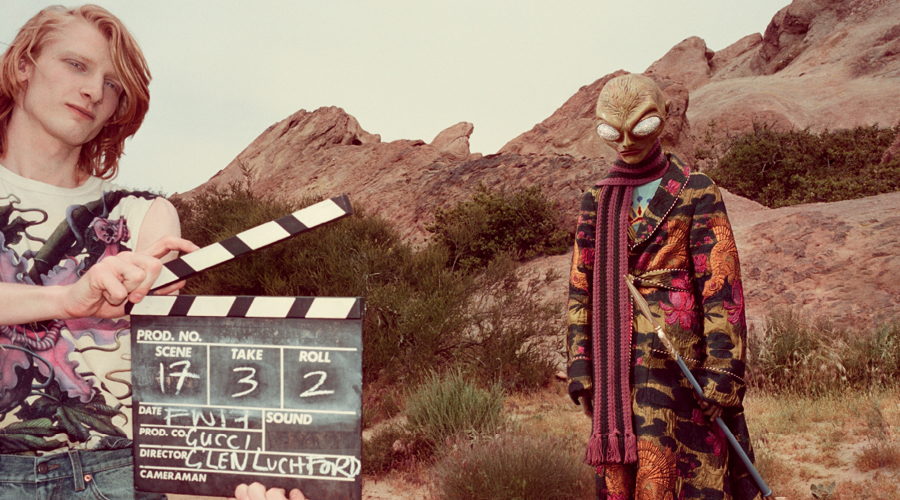 And where AW17 left off, SS18 picked up with aplomb. Sashaying down the runway at the Louis Vuitton show was model Sora Choi, decked out in a Stranger Things printed t-shirt — a nod to the Netflix series that catapulted into a global phenomenon. Over at the Raf Simons show, the former head of Christian Dior, there was clear 'Bladerunner' inspiration.
Just when it seems the look couldn't be any more on trend, Jeremy Scott lands with a futuristic bombshell for his '18 Ready-to-Wear collection. Neon, blunt haired models stormed the runway in slick metallics combining thigh-high moon boots and silver platforms, dosing up the ethereal notion with a slick of angular eyeliner. In a deliberate nod to The Fifth Element and Milla Jovovich's citrus haired Leeloo character, Scott's show encapsulated society's unequivocal love for sci-fi and all things out of the ordinary.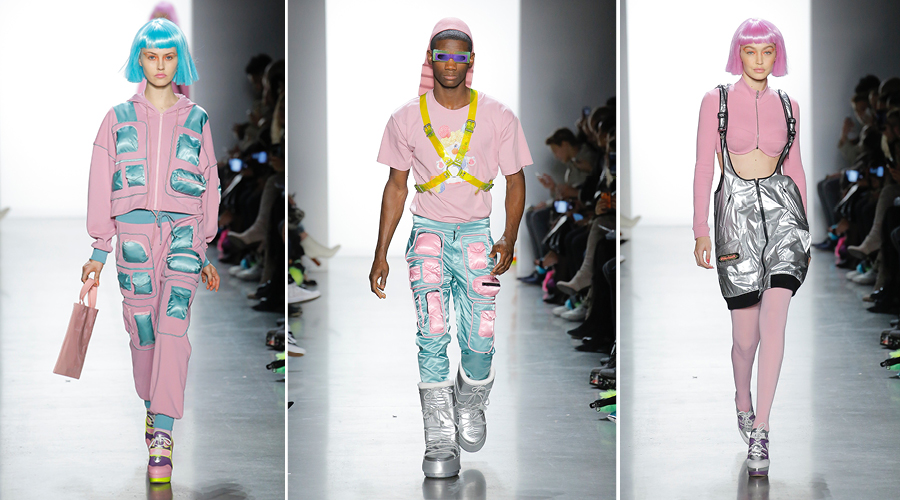 So what is it that captivates our minds and keeps us fascinated by the unnatural? Perhaps our rampant imaginations make us feel young and carefree again. Or, perhaps our consistent thirst for knowledge pushes us to constantly seek new truths. Maybe dabbling in the unknown gives a sense of excitement and wonder that we struggle to find in everyday life — losing ourselves in a distant world is a way of escaping reality.
The supernatural is becoming more run of the mill and the paranormal is becoming more, well… normal. So stock up on the silver, get lost in some sci-fi streaming and get weird — because this trend is going nowhere fast.
Image credit: Gucci