House of Cards has held me firmly in its grasp since the opening monologue of season one, in which Frank Underwood (Kevin Spacey) kills a dog as nonchalantly as if he were making a cup of coffee. In his equally intriguing and off-putting manner, he broke through the fourth wall and seemingly my screen to draw me into his world of sordid, debaucherous political warfare, where I faithfully remained until the end of each season.
Despite his chilling performance in House of Cards, Spacey didn't have a whole lot of cred left to his name after a string of sexual assault allegations left him without a support base and out of a job — including this one (where apparently he had made the working environment unbearably toxic). And putting aside my initial reaction to the news, agreeing that it was best he left, I was deeply saddened. Season five had left more questions than answers, and I felt I was owed a final dose of the Underwoods before putting the obsession to bed for good.
Luckily, Spacey's co-star, on-screen wife and my idol since the days of Princess Bride, Robyn Wright, has stepped up to save the day. And considering her stellar performance as Mrs Underwood in the first five seasons, it really wasn't hard to imagine her carrying the entire show on her more-than-capable shoulders when the news was announced that that's exactly what she would be doing for the show's sixth and final season. After all, the last season ended with her in the oval office as she, for the first time, tuned to the camera to say (a foreshadowing) "my turn."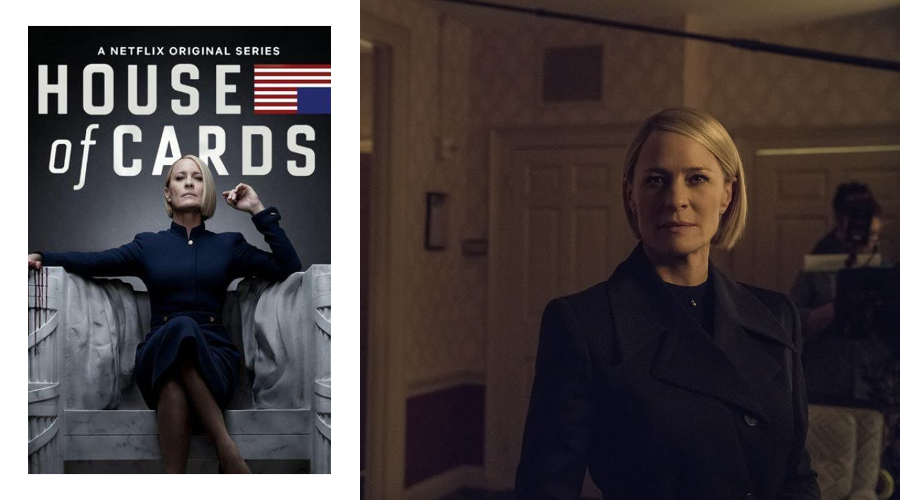 Due to be released on Netflix today, House of Cards' swan song will be delivered in eight thrilling parts (rather than the 13 episodes that made up each previous season), and despite not much being given away around the plot, we do know a few things: One, that Frank Underwood is dead (by whose hand we'll inevitably find out); Two, that Claire Underwood is coming into this season as the undisputed President of the United States (and with blood on her hands); Three, despite one obvious exception, most of the characters we've grown to appreciate over the last five seasons will be coming back for their final walks through the White House, including Doug Stamper, Cathy Durant and Tom Hammerschmidt, alongside two new characters, played by Oscar-nominated actors Greg Kinnear and Diane Lane.
It's set to be a gripping end to what has been a thoughtful, dramatic, captivating series — one of the first Netflix originals to hit the big time. And although I'm hard-pressed to let it go, at least I'm getting closure.