The Māori name for a star cluster also known as the Pleiades, Matariki's rise signals the start of the Māori new year. The date changes every year, following the lunar calendar rather than the European calendar. Traditionally, the official celebration period for Matariki starts with the rising of the constellation. This year, that is the 2nd of July, however some events occur over a full month from the 19th of June until the 11th of July.
The significance of Matariki stems back to ancestral Māori, for whom astronomy was interwoven into all facets of life. It is seen as a time to celebrate new life, providing communities the opportunity to come together and acknowledge the year gone by, and make plans for the one to come. For both indigenous and non-indigenous people, it is a chance to celebrate our unique country and pay homage to tangata whenua, past and present.
Inviting us all to celebrate Matariki through a thoughtful and dynamic exhibition programme, Commercial Bay has partnered with Māori artist and curator Jade Townsend (Ngāti Kahungunu, Te Ātihaunui-a-Pāpārangi) and award-winning designer Tyrone Ohia (Ngāti Pūkenga). They are facilitating an installation named Whānau Mārama, which translates to 'family of light'. The multi-faceted exhibition includes a major sculptural commission by Townsend, which are stunning and expansive portrayals of the nine whetu (stars) of Matariki throughout the space — alongside works by 18 other emerging and established Māori artists and researchers.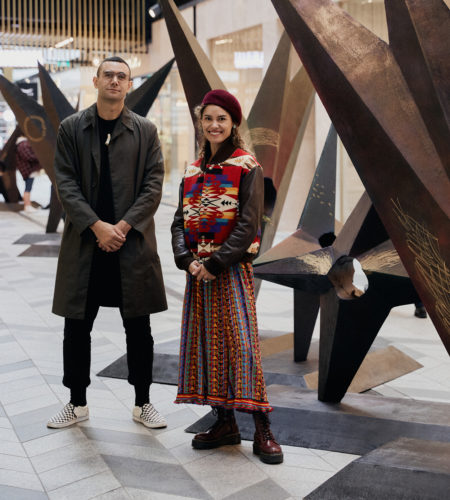 From now until the 11th of July, visitors to Commercial Bay can expect the precinct's connecting pathways to be transformed into sites for storytelling. Follow a map to reveal temporary, artful additions whereby several of the retail stores at Commercial Bay will be reimagined as 'kaitiaki', caretakers of artists and their taonga, through partnerships that will display artists' works in their spaces.
Keep an eye out for Yu Mei, which is displaying hand-painted canvas bags by Nikau Hindin; Wynn Hamlyn, who have collaborated on works with Hana Pera Aoake and Emily Karaka; and international retailer Kate Spade, where husband and wife duo Lissy and Rudi Robinson-Cole are displaying their sculptural crochet art — among the many other store exhibitions, each telling a different story about Matariki.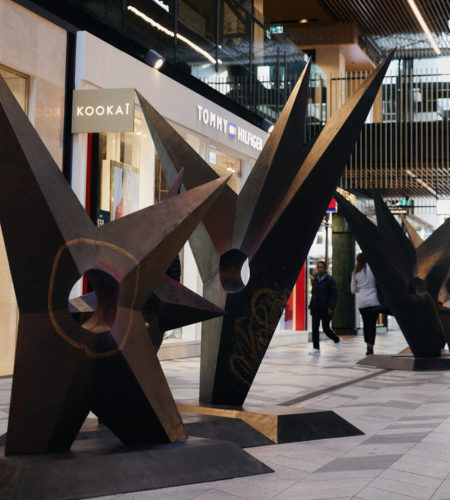 The map also guides visitors to a wānanga (learning) space to learn about Tā Moko, and a library display of rarely-seen Māori pukapuka (books and documents). The purpose of Whānau Mārama is to showcase a multitude of perspectives that reflect politics, indigenous ways of learning and contemporary art forms, plus ways to remember histories, document the present and re-imagine the future.
Completing the 360-degree experience, musician Riki Gooch will curate an immersive soundscape across all three floors of the precinct, plus live musical acts will be revealed across the three weeks. So, we recommend you make a beeline for Commercial Bay before the 11th of July, as it is an absolute treat to have so many of Aoteaora's brightest talents under one roof to help us mark this special Matariki period.
Whānau Mārama
Saturday, 19th June to Sunday, 11th July
Commercial Bay
7 Queen Street,
Auckland CBD