At 31 years old, burgeoning photographer Chris Corson-Scott is an old soul in a young package. He grew up in the 'burb of Mt Eden, Auckland, exhibiting his first work in 2010 after becoming seriously interested in the practice a few years prior. His new show, Dreaming in the Anthropocene, opens at Trish Clark Gallery Tuesday 13th June as part of the Auckland Festival of Photography. We ask the artist about his M.O. in a bid to understand how his photos achieve that haunting, signature stillness.
What drew you to photography?
For me, it was discovering artists with a personal voice like Walker Evans, Henri Cartier-Bresson, and Joel Sternfeld. Photography never meant much to me before that because it seemed so homogenised and contentless. I liked those artists (and others like them) because their work is visually unique but also socially and politically engaged. Their work is trying to understand the world, other people, and themselves. And, unlike a lot of contemporary art, it wants to communicate rather than alienate.
I like photography because when it's good, it's about seeing the world from other perspectives, and as a mechanical medium it seems particularly relevant now. So much of our lives and dreams are driven by how much we believe in and are manipulated by photographic images. We live in a time with so much narcissism and confusion — where it's considered normal rather than insane to cultivate a shrine to yourself with thousands of selfies on Facebook and Instagram — so looking beyond ourselves for a second seems healthy. Maybe even more so than an organic latte.
What is the theme behind your new show Dreaming in the Anthropocene?
Anthropocene is a suggested name for the current geological age; the first where the most dramatic changes to the planet have come from human activity rather than natural forces. During the industrial revolution, "The Great Acceleration" began, picking up steam in the 1950s. It was a period where deforestation, ocean acidification, habitat loss, fossil fuel and finite mineral consumption, carbon dioxide and methane release, and many more things that negatively affect our chances of surviving, began increasing at exponential rates.
Now the majority of climate scientists suggest even if we stopped almost everything tomorrow, it would be too late to prevent runaway climate change. But as billions more people adopt the same ideology and expectations of consumption we have, use of resources will only increase. Beyond that, we have only 100 or so years left of the rare metals and minerals used for making batteries and much of modern technology anyway. And those materials are mostly mined in environmentally damaging and oppressive conditions in places like central Africa – not exactly "clean energy". The 'Dreaming' part of the title is asking how we find meaning and make sense of our lives given the seemingly hopeless environmental situation we're in.
What, do you think, defines your personal practice as a photographer?
I guess it's a desire to give individual photographs meaning against the endless tsunami of Flickr/Facebook/whatever uploads, 24/hour news cycles, and memes. I like that stuff like everyone else, but I'm also trying not to just live in the present, and to care, which feels like a very uncool thing to do right now, as irony and disconnection is the universal safety blanket which we're all cuddling to feel okay. Like Lorde said  — "It's a new art form showing people how little we care (yeah)".

How do you get into the 'artistic' zone?
It's so easy to be glued to our phones and media all the time. I fight it too, and I see it constantly when I'm working around the country. Recently I was in a campground during a rainy week in Motueka, and 20 of us sat there in a darkened lounge looking at our phones without a word or eye contact, except perhaps an angry glance when someone interfered with a phone charger.
I come across people in the most beautiful and remote places, like the side of a mountain, and they're uploading selfies to Instagram. It's hard for us to be somewhere and just exist anymore — an addiction to the endorphin rush having our existence validated by communicating. Hacking our biology with a digital overdose. If people don't know you're doing something, is there still any point in doing it? People pull into the car park of a historic site or attraction, take a picture and leave. Suggesting you were somewhere, and people reacting to that, is now the experience.
What's working for my photography in the last few years, is to turn everything off, walk as far as I can from roads or tracks, find places commodified as little as possible, and then not take photos for quite a while and just try to consciously be present in that place – New-Agey as that sounds. The photographer Jeff Wall has a saying: "I begin by not photographing". It's probably too knowingly clever, but I think it's true – the best way to photograph, or to experience a place, is to begin by not photographing.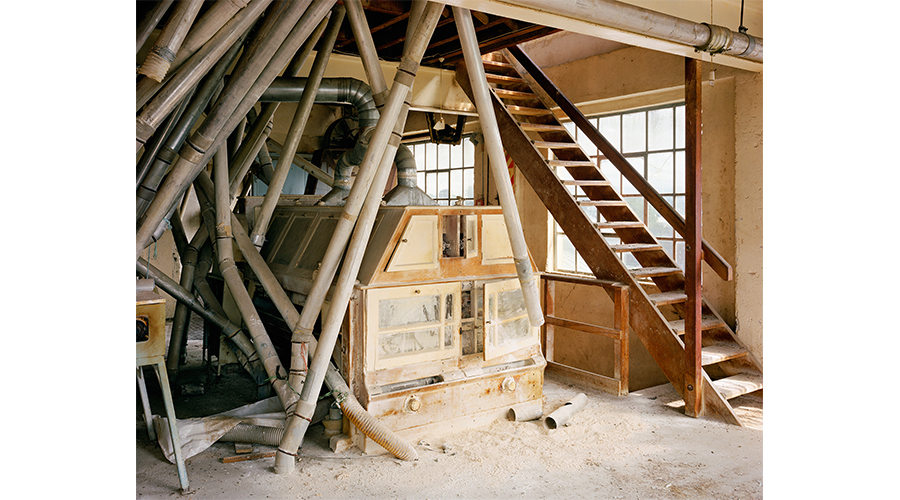 Your pictures are often taken in places of historical significance — why?
I find them interesting and moving. Historic places aside, I've liked overgrown and forgotten places as long as I can remember. I think it's because their entropy contains a feeling of freedom or truth, which the artificiality and order of suburbia I grew up in, but also modern life, doesn't have. A lot of movies I love have the same feeling, like Andrei Tarkovsky's The Mirror/Stalker, Akira Kurosawa's Dersu Uzala, or certain Studio Ghibli films. They have a real attachment to wild nature. Japanese director Hayao Miyazaki has a quote I like: "Modern life is so thin and shallow and fake. I look forward to when developers go bankrupt, Japan gets poorer and wild grasses take over."
And some of what I'm doing is just using photography's ability to document. A lot of the places I'm photographing are important, but they're vanishing really quickly. Many have already changed dramatically or disappeared since I photographed them. Mainly, it comes back to what I was talking about with the title of Dreaming. What were the dreams in the first place, and what we can still dream of now? Because right now I think we're lost.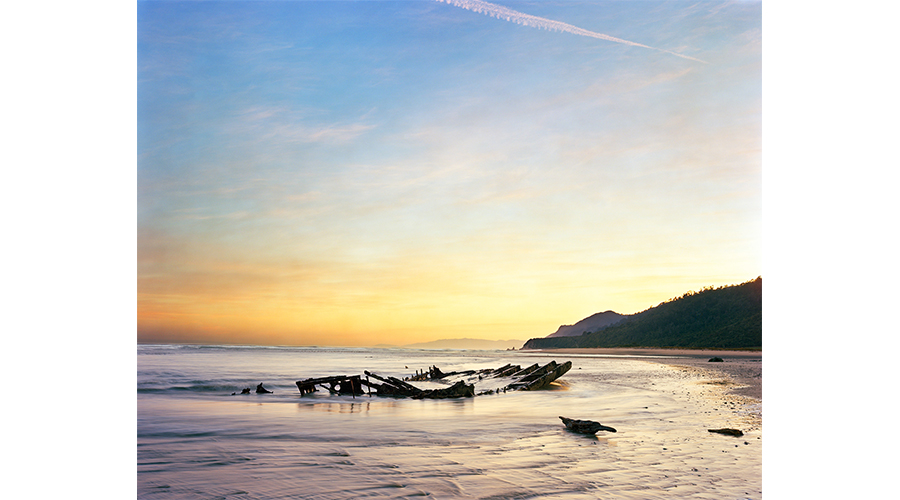 What do you hope people take away from your work?
I want to make the past seem alive while seeing our present madness as if it's already in the past, so it can be viewed with distance. Maybe it's partly a coping mechanism because I see everything as temporary and vanishing. My father was diagnosed with cancer in my early 20s and died on my 28th birthday. He didn't drive, so I drove him to the majority of his hundreds of hospital appointments and treatments. Spending so much time there, and seeing the pain so many people go through  — parents losing children, children losing parents, people who will spend the rest of their lives in dialysis, or in other wards, people with nobody to visit them and so on changed me. Underneath the distraction and veneer of modern life, life is the way it's always been; short and very fragile. I'd like to make work one day that would make people feel that too, so they don't waste their lives chasing money, trying to be more 'successful' than others, or anything else that doesn't actually mean anything. And if we could get even a little past those things, maybe we could not destroy the only planet we have so GDP can increase by a percentage point each year?
Trish Clark Gallery
1 Bowen Ave
Auckland
(09) 379 9556