News has broken that Viaduct Harbour is launching a fully immersive lighting festival this May and we'd be lying if we said we weren't fizzing. Following the success of recent luminary projects including the Auckland Harbour Bridge and Viaduct's own sea wall lighting installation with the help of artist and visionary Angus Muir, the waterfront precinct has joined forces with Muir again this year — this time to see a full scale, three-day lighting event take place from 11-13 May.
Encompassing a range of interactive artworks dotted along a trail that weaves through the Viaduct Harbour hospitality zone, Bright Nights is the culmination of not only New Zealand's best lighting talent, but also our best music talent with the likes of hip-hop artist David Dallas and drum 'n' bass legends Shapeshifter collaborating on a silent disco-style installation titled Square Dance Discotheque. Conceived by creative producer Perceptual Engineering and brought to life with the help of partners Spark and Spotify, the installation will offer the audience an opportunity to don headphones and listen to specially curated playlists by the kiwi musicians, all while experiencing a visually dynamic 'dance floor' projection mapped onto the Market Square pavement.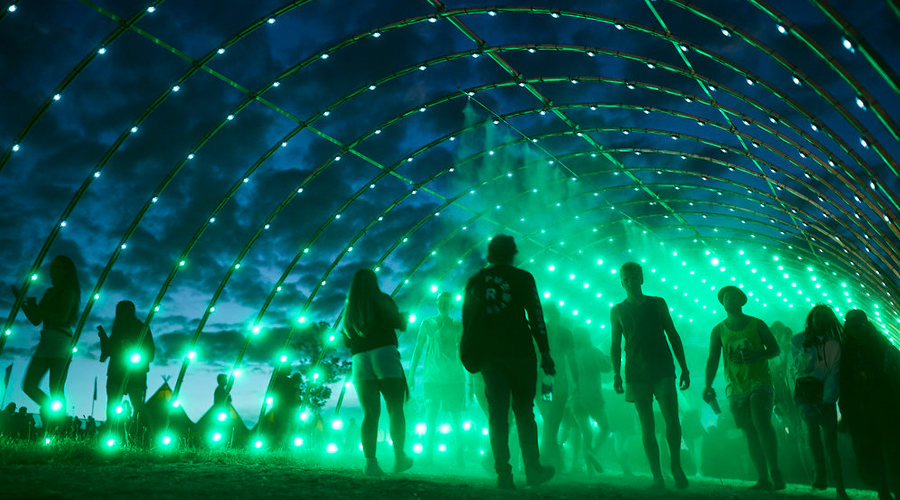 With a dozen more compelling light works scattered in front of the Viaduct's renowned restaurants and bars, and special guests including futuristic Vospertron performers and Lalele Organic serving glow-in-the-dark gelato from a dedicated UV zone, Bright Nights beckons us to the city's water edge with the promise of a multi-sensory experience from 6pm until late, Friday 11th, Saturday 12th and Sunday 13th May.
For a map of the installations, click here.