"I like to smoke regular, old-fashioned joints, but my kids are always trying to get me into vaping," Sister Kate chuckles. She's calling me from her cannabis farm in California, and I'm momentarily taken aback by her words — certainly not the kind of thing I ever expected to hear coming from mouth of a nun. But Sister Kate is no ordinary, run-of-the-mill, garden variety nun. She is, as she explains, the founding member of a movement she started in reaction to what she saw as the ruination of the planet, as well as an unenviable turn of events in her personal life that would be enough to leave anyone reeling — but reeling, she is not. Let me explain.
The subject of a highly-anticipated documentary, Breaking Habits, Sister Kate started her new-age 'nunnery', Sisters of the Valley, after a life that suffered the unfortunate side effects of high power corporate jobs, thieving ex-husbands and the ultimate betrayal of family. Spurred on by the need to make ends meet and after discovering the power of marijuana (and its potential business opportunities) Sister Kate shed her former persona to become the name by which she is now known and took up a mission to provide cannabis-based products to those in need by growing marijuana on the land, harvesting it and creating a range of medicinal products from the plant with the other nuns who have joined her cause. "We're humble farm women getting the medicine of the earth to the people," Sister Kate explains. "We're not about religion, we're not about dogma," she continues, "we're just trying to live an intentional lifestyle that sets an example for people."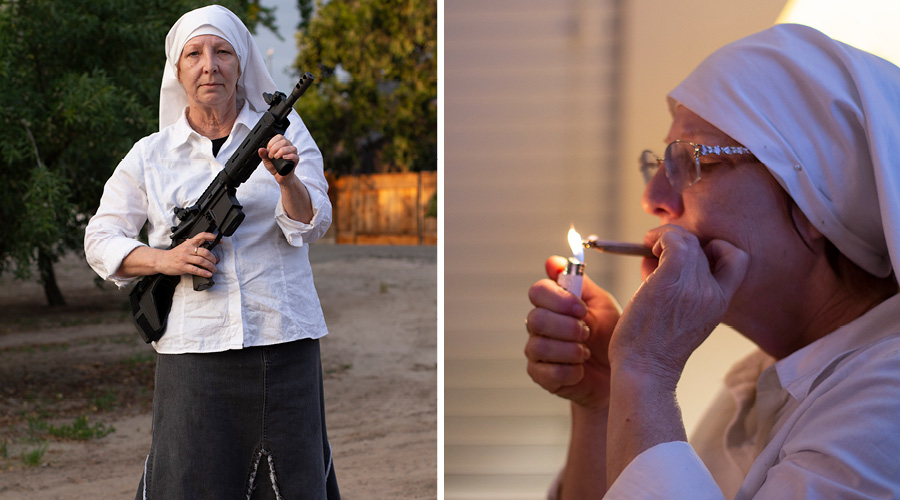 Despite adopting the garb of Christian nuns, Sisters of the Valley are more like earth mothers. Their core beliefs, drawn from the medicinal practises of medicine women in ancient Europe as well as those of the Native Americans, really boil down to two, main points — humanity and the planet. The products being produced at her farm in California reflect this ethos, with a multi-purpose CBD salve touted as their best seller. "People who suffer chronic migraines put a dab behind their ear in the morning to prevent migraines from coming on," Sister Kate tells me, going on to explain how their products have become incredibly popular for their effectiveness and natural qualities.
In the documentary, Sister Kate is followed as she journeys through the highs (literally) and lows of operating a legal cannabis business in small-town California. Fending off a Sheriff determined to bring her business down as well as defending her precious crops from black market dealers (sometimes with necessary fire power) the question that hangs over the film is whether the altruistic nun can remain undeterred in the face of seemingly impossible odds. As director Rob Ryan says, "the fact that she has persevered with her philosophy to heal often in dangerous circumstances… is a testament to her on going courage."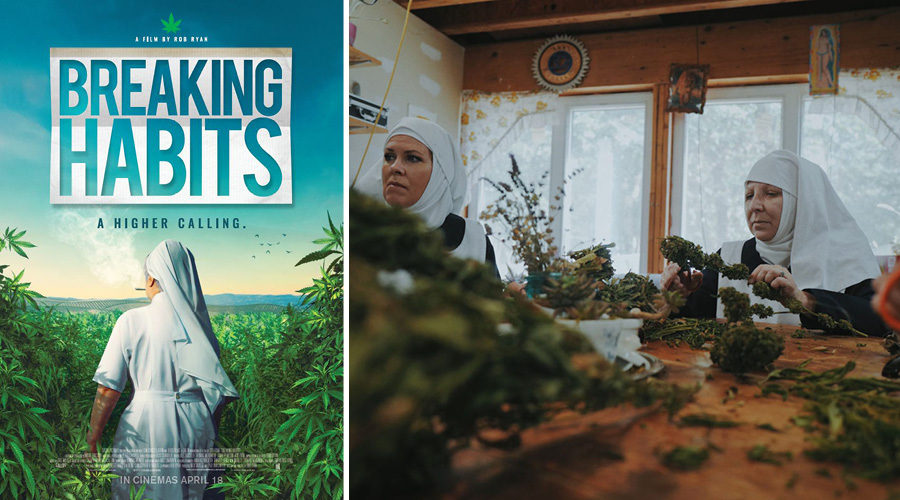 But the beauty of this documentary is it's underlying message of hope, and if it's doing one thing, it's encouraging discussion around the ongoing legal status of marijuana — an issue that is set to hold huge sway in the political landscape of the future. Sister Kate tells me how she hopes that the film will "open people's eyes to what it looks like when you're crossing over out of prohibition into the legal industry," before saying, "these are radical times and they call for radical responses… becoming weed nuns is pretty radical but it's working for us."
It certainly seems that way. Various satellite chapters of Sisters of the Valley have been opening up all over the world, with Sister Kate telling me that they now have sisters and brothers in the UK, Mexico, Brazil, Canada and even here in New Zealand. Not only that, but other entities in the United States have become proponents of Sister Kate's cause. On the morning we talk, she explains how she had just come out of a meeting with a company that owned farms in five states, who had expressed interest in converting all its land into Sister farms to start producing cannabis exclusively for the cause.
When asked about how she deals with the naysayers, Sister Kate tells me, "if people say it's the devil's weed we just say bless you and move on. We have a saying around here… if you stop to kick every backing dog you're not going to get anywhere," she laughs. "It's not very nunly but that's the saying."
Breaking Habits is out from tomorrow, the 25th April. Rialto Newmarket is hosting a special screening on Monday 29th April, where Sister Maria of the New Zealand chapter, will speak (among others). For more information, click here.