School holidays can be a daunting prospect. And while for any parent, the opportunity to spend time with family is a welcome one, it can be quite a task to find different ways of keeping a young brood entertained — particularly when staying in Auckland.
With that in mind, we decided to line up a few of the best kid-friendly events and happenings taking place around Auckland over the next couple of weeks. From ice skating to immersive exhibitions and showcases, these are guaranteed to keep boredom at bay.
See prehistoric underwater predators from safely on land at Auckland Museum
Monsters of the deep are brought almost back to life in Sea Monsters, Auckland Museum's fascinating new exhibition. A look at the giant marine reptiles that hunted the depths of the sea when dinosaurs roamed the earth, more than 70 displays packed with fossils and fossil casts (including a 13-metre long Elasmosaurus and 9-metre long Prognathodon) will have all ages impressed by these prehistoric ocean predators.
Get their creativity flowing with the Commercial Bay and Harbour Eats Winter Kids Club
With a selection of creative, fun and educational activities, Commercial Bay is one of the best places to take the kids over the holidays.
For aspiring cooks and bakers, Harbour Eats is offering a range of classes where wee ones will learn new culinary skills, from make-your-own tacos and Hawaiian crafts with Sam Choy Poke to a sushi extravaganza with OJI; a 'bring your burger to life' doodling class (and lunch) with Boho Doodles and Burger Burger and even a DIY tea-making class with Harker Herbals.
As good for the kids as it is for parents, Commercial Bay's lineup of retail and dining experiences will provide mum and dad with plenty to do once the children have been dropped off.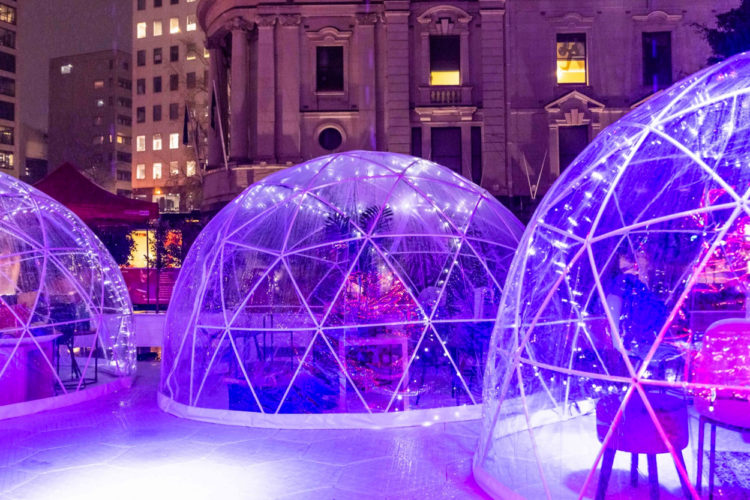 Glide along with them on the Ice Rink at Aotea Square
From now until the 8th of August, Aotea Square has become a hub of winter activity thanks to the Elemental Festival. Its Ice Rink and Ice Slide a magical inner-city winter playground for kids and grownups alike and if you're keen to fuel up before or after you skate, the Auckland Night Markets are set up each night from Monday to Sunday, with a delicious and varied selection of cuisines from around the globe, from dumplings to Hungarian flatbread. You could book out one of The Snugs to enjoy a feast in private; comfortably appointed with furniture, blankets, and heaters, these five eye-catching geodesic domes seat up to eight people, including kids.
Keep them enthralled with Madagascar The Musical
An all-singing, all-dancing extravaganza based on the eternally catchy DreamWorks animated film, Madagascar The Musical is oodles of fun for the whole family. Follow along with Marty the zebra, Gloria the hippo, Melman the giraffe and Alex the lion as they escape from New York's Central Park Zoo to find themselves on the adventure of a lifetime. And don't forget those pesky meerkats…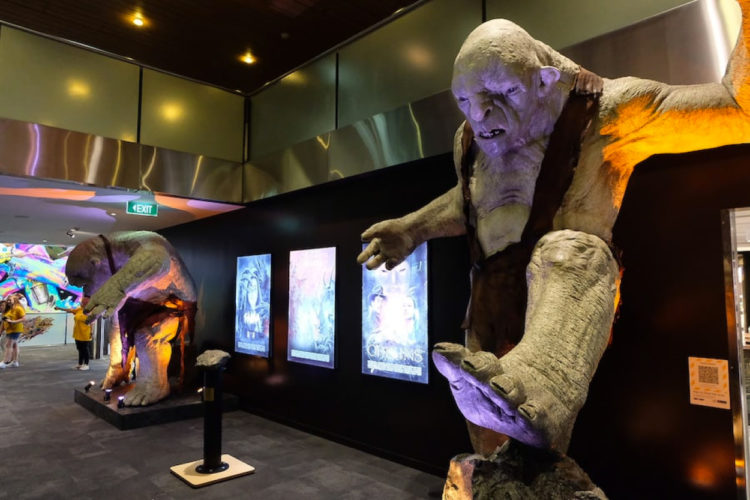 Get them up close and personal with their All Black heroes, or experience the fantastical reality of Weta Workshop — both at SkyCity
The perfect activity for enthusiastic little sportspeople, this interactive experience allowing visitors unprecedented insight into what it takes to make, shape and be an All Black is still open at SkyCity. Designed as a 45-minute guided tour, attendees can get up close and personal with the story of the All Blacks and the passion they bring to the Haka, before being able to engage in some hands-on activities where they can test their rugby talent and have some fun.
Also on at SkyCity, Weta Workshop Unleashed is an utterly enthralling experience, inviting attendees to step into a fantastical film effects workshop and explore the worlds of horror, sci-fi and fantasy in the making. The 90-minute guided experience will give insights into how the crew design, build and bring to life practical effects, plus you'll be face to face with monsters, giants and robots, and incredible set pieces from the world of these fantastical films.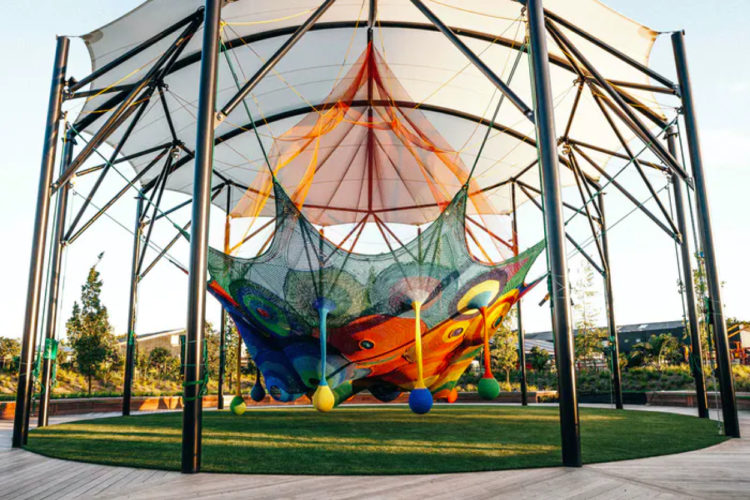 Spend a fun-filled day at Whoa! Studios
Always a great place to take the kids, Whoa! Studios is keeping the ball rolling with a 45-minute 'modern musical' named The Cheshire Cat's Smile. Using puppetry, 3D projection and a host of international and original music, The Cheshire Cat's Smile gives new meaning to why the Cheshire Cat is always smiling. With plenty of space for kids to run around and play (the Whoa! Studios urban park is one of the best playgrounds you'll ever see) this one-stop destination promises a whole day of fun.
Feed their minds with Wow Science at MOTAT
Set to capture the imaginations of curious young 'uns and kids who love getting crafty, MOTAT's school holiday programme is all about the inspiring possibilities of science. Along with being introduced to important scientific concepts, little ones are encouraged to have a heap of fun.
There's the Glamp Site, where kids are invited to construct and customise a paper model caravan, then test their spatial skills with a giant floor puzzle, finding the best layout to fit in all their holiday needs. Poo, You and Very Tiny Things delves into the science of medicine and the human body, teaching kids to use real microscopes to observe everyday items (as well as dissecting fake 'poo' from a strange creature). They'll also a 3D print lab to learn how computer-generated designs become physical objects before your eyes.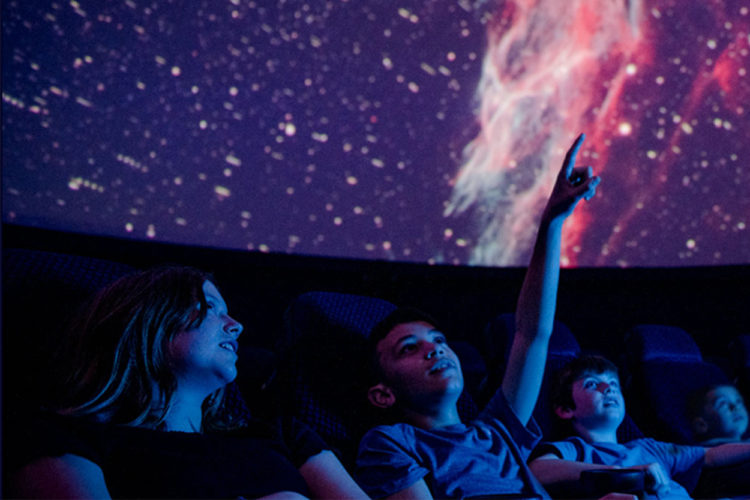 Take a magical journey to outer space at the Stardome
From the 15th until the 23rd of July, Stardome's school holiday programme features a whole variety of shows, bookable for just $8 each — plus live science experiments with the dome's Astronomy Educators. Climb aboard a magical cardboard rocket in 'Secret of the Cardboard Rocket', or follow the adventures of Cy and Annie and their dog Armstrong as they embark on an unexpected journey into space. Learn all about the astrological and cultural importance of Matariki, or meet a family from another star system in My Perfect Little Planet.
Have a cosy home day watching the Royal New Zealand Ballet's production of The Sleeping Beauty
Rainy day got you wanting to stay in? The RNZB's magical performance of The Sleeping Beauty can be enjoyed from the comfort of your own home as it's available to stream from the 16th of July until the 22nd of July via Tikstream. Let young ballet fans and perhaps burgeoning dancers luxuriate in Tchaikovksy's gorgeous orchestral score, and absorb themselves in one of the most beautifully romantic stories of all time.