Launching this week, Newmarket gallery Sanderson Contemporary's must-see latest exhibitions by two local artists explore notions of time and place, nature and humanity through the mediums of painting and photography.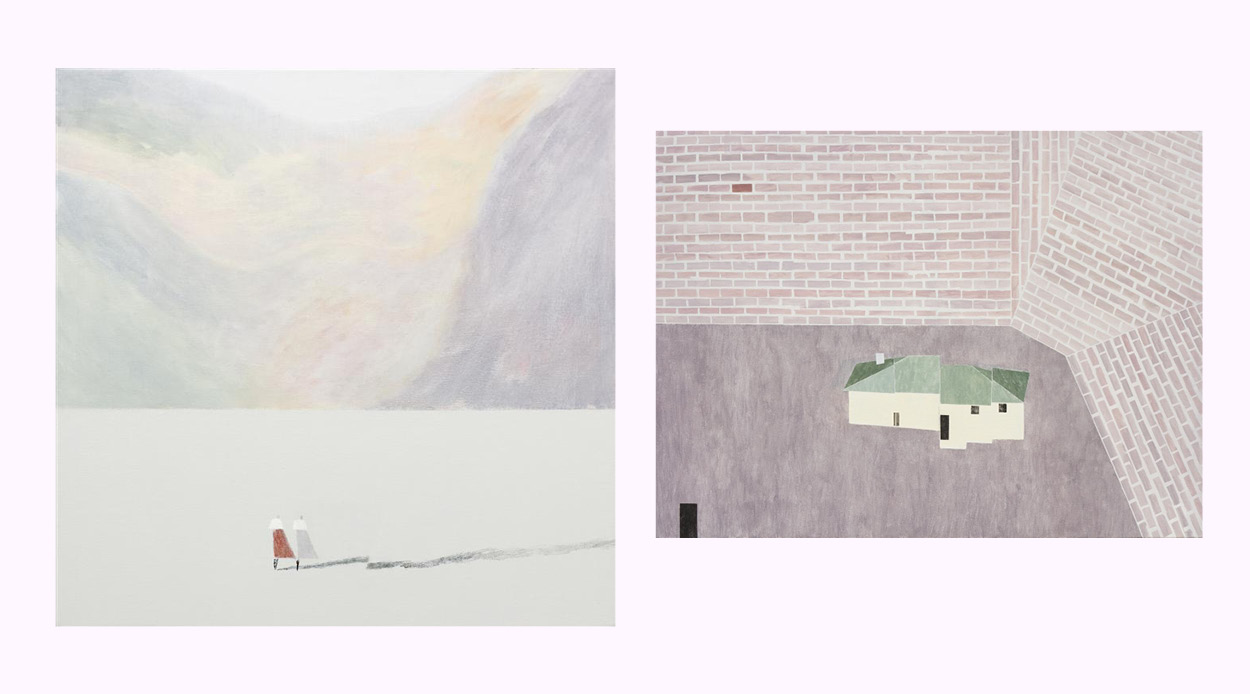 Ascendants by Alan Ibell
Painter Alan Ibell uses his charming works to explore human narratives around transition and the search for fulfilment, often wielding a pastel palette that offers a delicate visual representation of what is, by contrast, weighty subject matter.
Ibell's latest exhibition, Ascendants, renders striking and expansive landscapes for his signature, uniquely proportioned figures to wander through and inhabit. Building on his propensity for creating dream-like compositions, the settings are often strangely familiar, yet specific placement lingers just out of reach like a fragmented memory.
Using both the expansiveness, looming nature of his landscapes and the closed-in built environment of his houses, Ibell mirrors the imagined inner worlds of his figures, inviting the viewer to make space for contemplation.
In this exhibition, the physical placement of the Ascendants paintings is also significant, deliberately unsettling the viewers' sense of perspective and self-positioning. Ibell's 'Landscape with Ascendants' paintings are hung on Sanderson's walls slightly higher than is conventional, forcing the viewer to share the figures' diminished position, while the skewed perspective of the 'Home' paintings unsettles the voyeuristic stance of the gallery visitor.
Sweet and Sour by Kate van der Drift
In her latest exhibition, Kate van der Drift's charismatic and mysterious works turn the photographic medium on its head. A continuation of her exploration into the fragile ecology and transformation of the Hauraki Plains, Sweet and Sour saw the artist burying unexposed film negatives into the mud of the Piako River for several weeks.
The results bear more resemblance to an under-microscope petri dish or some kind of incredible celestial event than a photograph, the stunning manifestation of algae, bacteria, pollution and sediment in the water reacting with the film to produce a vivid alchemical response.
Van der Drift's artistic exploration of the Hauraki Plains has continued for over four years now, beginning with more traditional photographs of the area. Due to colonisation and industrialisation, she says, the Hauraki Plains have been entirely transformed from forested low-lying wetland to a drained and intensively cultivated landscape with an uncertain future.
Her aim with her last two exhibitions has been to create a physical image of the chemical makeup of the river, tapping into the rich, historical tradition of camera-less artists working with light-sensitive material in dialogue with time.
The prints range from 400mm x 510mm, to 1100mm x 1375mm in scale, with the larger providing the viewer with even more opportunity to become completely absorbed in their layered beauty.
Both Ascendants and Sweet and Sour are showing at Sanderson Contemporary from Tuesday, 20th of April until Sunday, 16th of May 2021.
Artwork as pictured above, from left: Waxing Gibbous to Waxing Crescent, October 2020 I, 37°20'33.4"S 175°30'30.5″E, 2020, Chromogenic Photograph from 4×5" Negative, edition of 5 + 1AP, 1220mm x 980m; View From a Window III, 2021, acrylic on cavas, 475mm x 625mm, framed; New Moon to New Moon, February 2020 II, 37°20'33.4″S 175°30'30.5"E, 2020, Chromogenic Photograph from 8×10" Negative, edition of 3 + 1AP, 1100mm x 1375mm.