Lucy Kirkwood, 28, is an Auckland-based graphic designer and author of The Official New Zealand Dictionary of Colloquialisms, a consummate guide to Kiwi slang. If you haven't had the privilege of pouring over a copy, your vocabulary is definitely worse off for it. Given the creative has just released a new edition, brimming with naughty words to make you LOL, we thought it appropriate to ask her a few questions in the lead up to Christmas.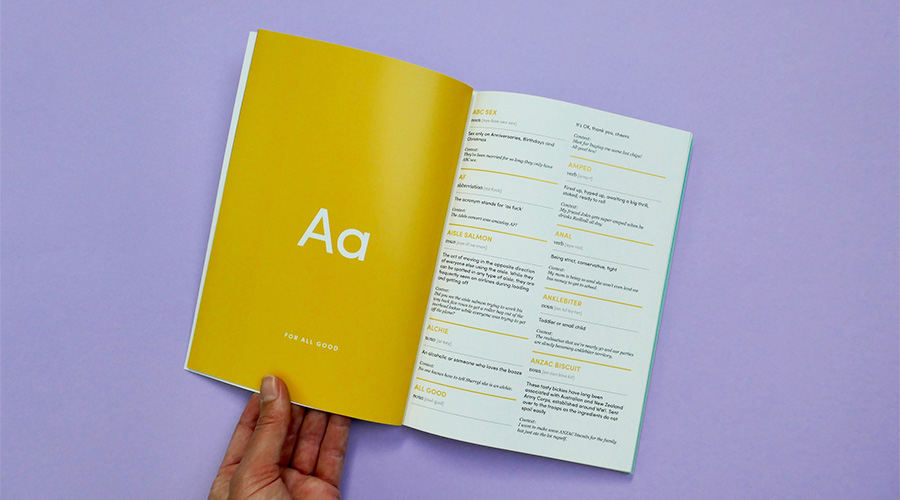 How did you come up with the dictionary idea?
I initially created the dictionary as part of a University project. I was aiming to decipher our identity as Kiwis without the iconic cliches. We have a bizarre interpretation of the English language which has developed into our own brand of slang. I noticed nobody has ever really focussed on this aspect and how entertaining it is.
Some terms are ruder than others… what do most people struggle with? 
Probably best not to mention specifics, but I will say it catches people off guard reading unpredictably rude words in print.
What is the favourite part of your daily routine at the moment?
Walking and stalking other people's dogs.
What's your favourite colloquialism right now?
Tolerance Juice – very appropriate for my December work/life balance.
What do you hope Santa will bring?
A puppy in any shape or form… but I'll settle for some Rabbit Ranch Rosé and a pair of Chalk linen pants.
What kind of candle are you burning right now?
'Spirituelle' by Mad et Len
How is your Christmas prep going?
At this stage, I'll be wrapping myself up in a bow.
What is the name of the last Spotify playlist you made?
Old but gold.
Give us three words that you hope will describe your summer break?
Sure why not?
Who will you be channelling this summer?
Mariah Carey from 1995
The Official New Zealand Dictionary of Colloquialisms will set you back $29 at Iko Iko.