As we cautiously prepare to move through the different stages of lockdown it's time to start looking at the clothes that we will need to make the transition to life beyond the front door. Rather than go all-out-glam at once (we know you want to) here are the items that will satisfy your lust for luxury and something new, while providing serious service throughout the upcoming season.
Calling these items basics is a disservice because after one wear you will feel well and truly out of the ordinary.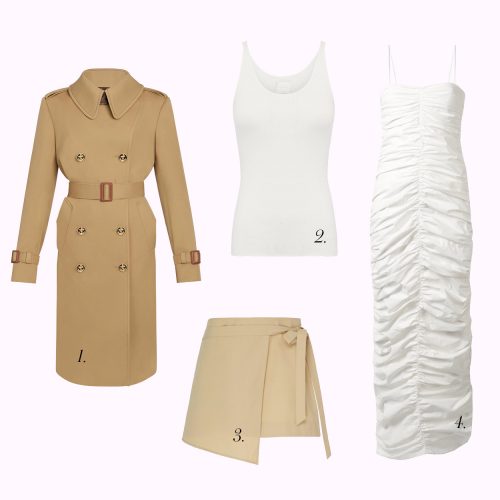 1. In the trenches
Double-breasted trench coat, Louis Vuitton
If you've been editing your wardrobe in the past weeks between Netflix and baking binges you would know that key pieces never make the throwing out pile. Expect to pass this on multi-tasking piece on to the next generation.
2. Tank Girl
Stretch tank, Harris Tapper
With the seasons in transition your tank becomes a layering essential beneath winter jackets. Wear it on its on indoors for a seriuous gun show. 
3. It's a wrap
Soul skirt, Maggie Marilyn
With its utilitarian proportions and pocket flap, this mini taps into the Alpha Girl trend, asserting itself on top of black boots or beneath oversized jumpers. 
4. Easy glamour
The Gown, Georgia Alice
Going glam doesn't mean going over the top. This simple white gown has more than enough visual interest with some irreverent ruching.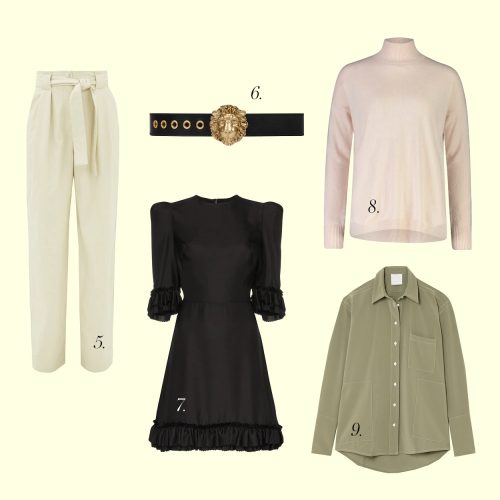 5. Wearing the pants
MSGM Pantalone Vegan Leather Pant, Muse
This high-waisted, white take on the classic leather pant will have you wondering why you spent so much time in recent weeks wearing leggings and sweatpants.
6. Belt up
Lion's head belt, Gucci
Basics do not have to be boring with this brilliant black belt elevated to queen of the accessories jungle with its gold lion's head. Tiger King's Carole Baskin wishes she had this much style.
7. The LBD
Festival Dress, The Vampire's Wife, Workshop
The little black dress gets a romantic update from The Vampire's Wife who balance feminine details with a Gothic vibe that keeps everyone guessing.
8. Stick your neck out
Romy mock neck top, Elle + Riley
During the lockdown the turtleneck became the staple for anyone wanting to look instantly put together during a Zoom video conference. We suggest trialling this staple IRL beneath a blazer or to take a summer dress into winter.
9. Military moment
Harry Shirt, Paris Georgia
With full military vibes thanks to a patch pocket and some serious overstitching, this one size fits all option will have admirers standing and saluting on your morning march.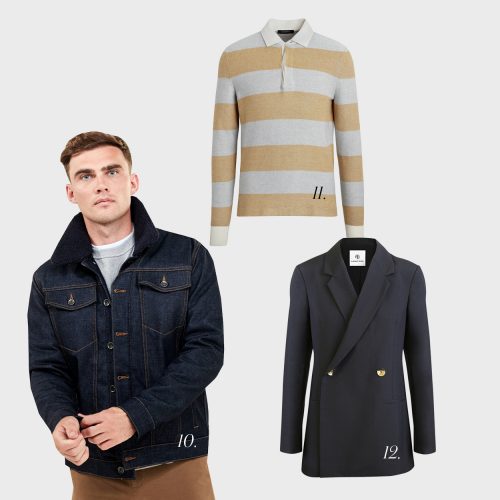 10. Denim on the double
Quilted raw denim jacket, Working Style
The denim jacket has been riding high on the back on the nineties fashion revival, but this quilted version is a classic keepsake, rather than a mere step back in time.
11. Sports luxe
Rugby knit, Zegna
Definitely don't stuff this cotton, silk, cashmere blend into your sports bag. Tap into the rugby top revival with Zegna's luxurious craftsmanship to make sure that you're on the winning side of style.
12. Full Jacket
Kaia Blazer by Anine Bing, Superette
From the label approved by P.E Nation's Pip Edwards comes this classic longline blazer. This Anine Bing staple with bling buttons in a double-breasted style has back to work, or the real world vibes written all over it.