For some, Christmas is nothing but a chore — a holiday synonymous with hours whittled away by trawling websites and even longer spent meandering in and out of shops in search of the perfect gifts for the entire family. This year, however, things are set to be different. Thanks to Tiffany & Co's vast selection of luxuriously beautiful goods, Yuletide shopping can be done and dusted in one fell swoop. And to make things even easier we've found the perfect gift for each member of the clan, from Gramps to the family dog, meaning you can spend less time aimlessly wandering the aisles and more time knocking back the eggnog.
For him
This year avoid the cologne (he'll think you're insinuating something), the gimmicky knick-knacks that he'll only use once before forgetting, and the shirt that you think he'll look good in (NB: he hasn't worn last year's iteration for a reason). Instead, opt for something a little more traditional and timeless. This luxury stainless steel Tiffany's Atlas two-hand timepiece is masculine and simple with a little dose of luxe, serving as a serious gifting no-brainer.
For her
For those fellas stressing over what to buy their better half this Christmas, not to fear — the search ends here. Diamonds are a girl's best friend, and it's fair to say nothing will leave a lasting impression quite like the exquisite circlet pendant necklace in rose gold. Looking to pop the question? 'Tis the season after all, and nothing's more synonymous with engagements than that little blue box… if you're ready to take that next step we recommend something unique and striking — the unparalleled Tiffany Soleste ring with its pear-shaped glistening, yellow diamond will do.
For Mum
Christmas marks that time of year where you can truly show the family matriarch just how much she means to you, and there's nothing that says 'No.1 Mum' quite like a superb new set of earrings. These Olive Leaf Pearl Earrings are understated and elegant, combining sterling silver with freshwater cultured pearls to create an utterly beguiling aesthetic.
For Dad
A quick reminder for Dad that he's the handy-est guy on the block, this tape measure is sure to earn you offspring brownie points. It's not your average DIY tool either; this luxurious variation comprises a sterling silver case with textured diamond-point accents on the tape measure's clip and the brand's instantly recognisable logo to create a utilitarian item that is both practical and a work of art. Expect Pops to be showing this off to all his friends before the new year even begins.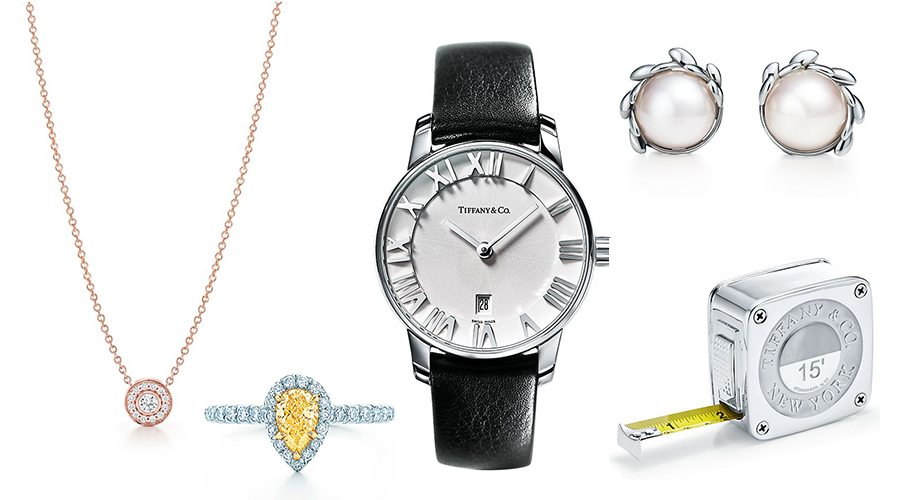 For Grandma
This Christmas, remind granny who her favourite grandchild is with this delightful cup and saucer set. Crafted from Irish Parian bone china, the dainty set combines an exclusive basket weave pattern with a twisted rope motif to create an alluring design that looks just as good ornamenting the kitchen shelf as it does when used to sip a quality brew. Because nothing screams 'Grandma' quite like a piece of fine china, right?
For Grandad
It's no secret that the old 'pen and paper' combo is crumbling under the rise of technology with the older generation comprising the few who still put the time and effort into the practice. Keep Gramps' love for the tradition alive with this ballpoint pen, far more than your standard Bic, this masterpiece is a textured style in stainless steel that will add a dose of sophisticated luxury to those tireless crosswords.
For baby
While the youngest of the lot might not yet appreciate Christmas gifts, they sure will in a few years time. Kickstart that savings fund with this adorable piggy bank, crafted from earthenware and finished off with hand painted polka dots — available in both soft pink and baby blue. Don't forget to pop in a few dollars before you pass it on; being the bearer of bad luck doesn't quite coalesce with 'seasons greetings.'
For the dog
Loyal, comforting, and never not happy to see you, it's fair to say that the family pooch deserves far more than your average chew toy. Instead, get tails wagging this Christmas with something a little bit more luxurious — like this leather pet collar with matching leash, adorned in the brand's iconic shade of blue. Walkies will never be the same again.
For the cat
Not a dog person? For those who are more moggie inclined, this bone china cat bowl should do the trick. At once modernistic, minimalist and distinctly à la mode, the Tiffany blue bowl is perfect for the most debonair of the family. (Bonus: It also serves as a quirky interior accoutrement, meaning that it works as a present for you, too.)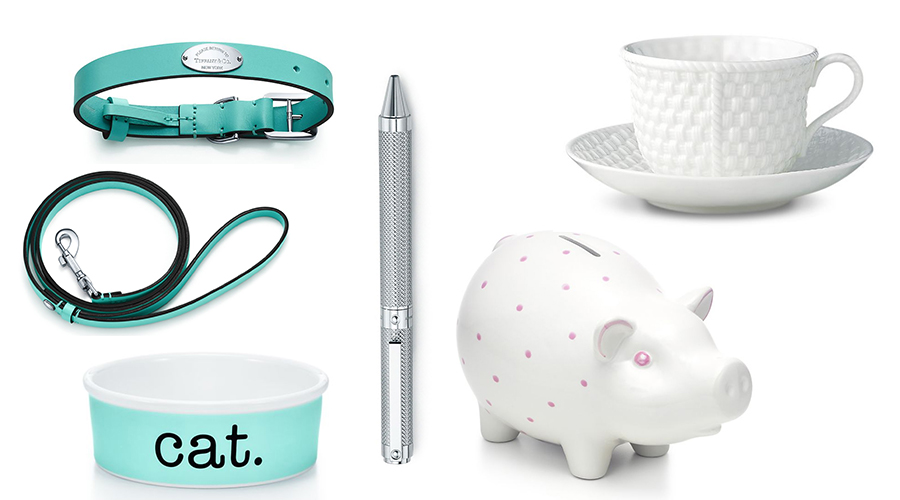 Tiffany & Co.
33 Galway St
Britomart
Auckland
0800 843 326