There are three things that come to mind when we ask Vinci Gin-Nen, event organiser at Seafarers, what he thinks sums up the 90s — "doing the running man, racing home to watch one of the two channels on TV, and, most importantly, wearing Reebok trainers," he says. Quintessentially 90s, the classic shoe brand has always been undeniably synonymous with the era, but fast forward a few years and it seems we're having a second wind. The Reebok trainer is in the midst of a revival, and thanks to the new launch of the Aztrek original runner, it's a movement that won't be slowing down anytime soon.
The new Aztrek collection blends old-school athletics with new-gen aesthetics, retaining all the things we know and love about the classic — including the blocky, Hexalite heel and the generous ride height — while revamping it with white mesh detailing, reflective features for nighttime and contemporary red and black accents. It's a nostalgic tribute to a bygone era, a modernistic rehashing of a pivotal pop culture moment — something that Vinci knows all too well because, for him, the original version is an embodiment of his youth. "Reebok shoes were always an integral part of my look, whether it was playing basketball with my young buddies or attending K' Road sneaker parties back in the day," he explains. "Now, the shoe serves as a tribute to my younger days, and is a reminder of just how old I truly am."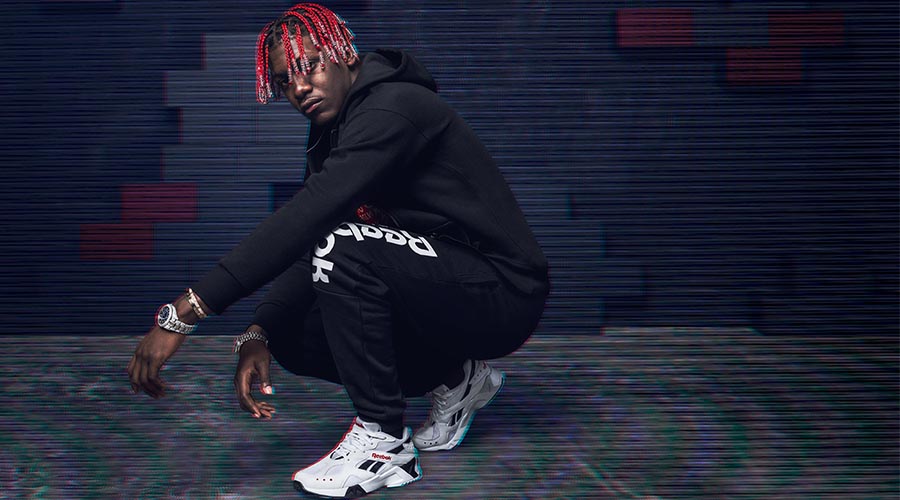 As a shoe that taps into the logomania, sportswear and vintage trends in one fell swoop, the Aztrek is a multifaceted model that can lend itself to any a wearer (older or otherwise) and it seems only fitting that a star of similar credentials should front the new campaign. American rapper Lil Yachty, it seems, is the personality fit for the job. Not only an artist who adopts the devil may care attitude of the 90s while redefining it through his own lens, but also one who creatively crosses boundaries and blends genres, his ethos is a perfect reflection of the Aztrek revival.
As we're currently subscribing to every throwback trend we can get our hands on (including the running man), it seems that Reebok has swooped in at just the right time.
The new Aztrek collection is on sale from today, available here.