Paris Fashion Week draws the crème de la crème of the fashion world to the city of light. Over the past week, the likes of Gucci, Dior, Balenciaga, Balmain and Hermès (among many others) have presented their SS19 collections and offered up some serious talking points for the seasons ahead.
1. Hedi Slimane makes his debut for Celine
The landscape of fashion has been rife with vitriol against Hedi Slimane's decision to remove the accent from the 'e' of Celine, after taking over as Phoebe Philo's successor at the French brand. And it certainly ramped up the anticipation for Slimane's Celine runway debut. The biggest question of whether the designer would continue Philo's legacy of creating inherently wearable, feminine clothing for the modern, working woman or whether he would sharply turn the brand in another direction altogether was answered as soon as the first few models came down the runway. It would seem Slimane has returned to his roots. Entitled Paris La Nuit, the designer's young models bore thigh-skimming dresses, glamorous, after-dark sparkles and silhouettes that seemed to embody the same kind of youth disco culture of Slimane-era Yves Saint Laurent. It was certainly different and I would be lying if I said I wasn't disappointed to see a definitive end to Philo era Celine, especially considering how intrinsically UN-wearable everything felt. It was interesting to look at the runways of Valentino and Givenchy, which both presented collections that made me question whether they were trying to capitalise on the new, Philo-shaped hole in the market — albeit in their own distinct ways.
On the plus side, Celine's new line of menswear reminded me of the significant impact Slimane has had on tailoring. From his introduction of slim suiting at Dior Homme, Slimane has always had a refined eye for creating flattering, menswear silhouettes. In fact, as I churned through the looks I found myself thinking that I would be more inclined to wear pieces from Celine's menswear as opposed to the womenswear offering.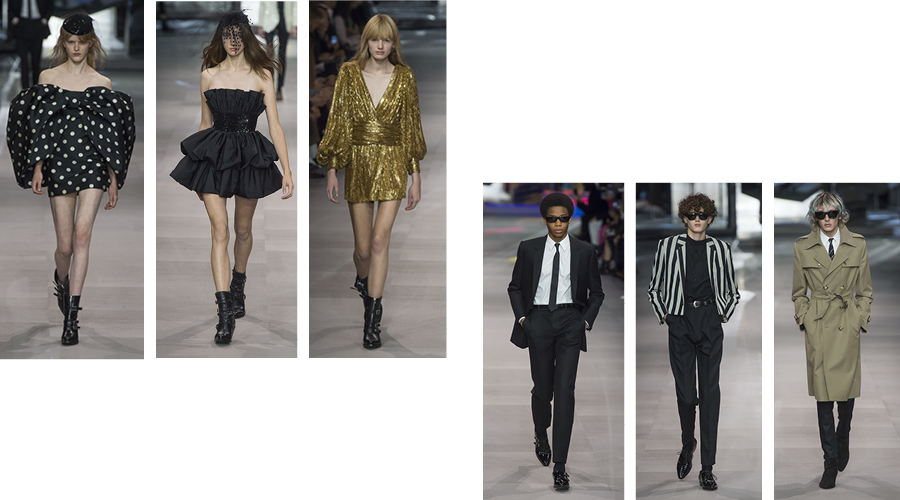 Receiving a mixed reception, at least we now know where we stand when it comes to the direction of one of our favourite brands. I suppose it's up to you whether you want to start hoarding Philo-era Céline from The Real Real and Vestiaire Collective — because you won't be seeing pieces like that again any time soon.
2.Real animals feature on the runway at Gucci
For AW18 Gucci posited replica human heads, pet iguanas and baby dragons as viable seasonal accessories. Granted, for that show, they materialised as expertly crafted props. For SS19, however, Alessandro Michele evidently felt the need to bring a touch more life to his runway, sending one model walking down with a live cockatoo on her shoulder. And while it was certainly different, it wasn't altogether surprising considering the brand's recent track record of playing with eclecticism in extremis. The thing is, this works for Gucci. It feels like the crazier it gets, the more we understand it, and the clearer Michele makes his vision. He isn't saying that we should all go out and adopt a tame cockatoo, but he is reminding us to keep things fresh and revel in the unexpected.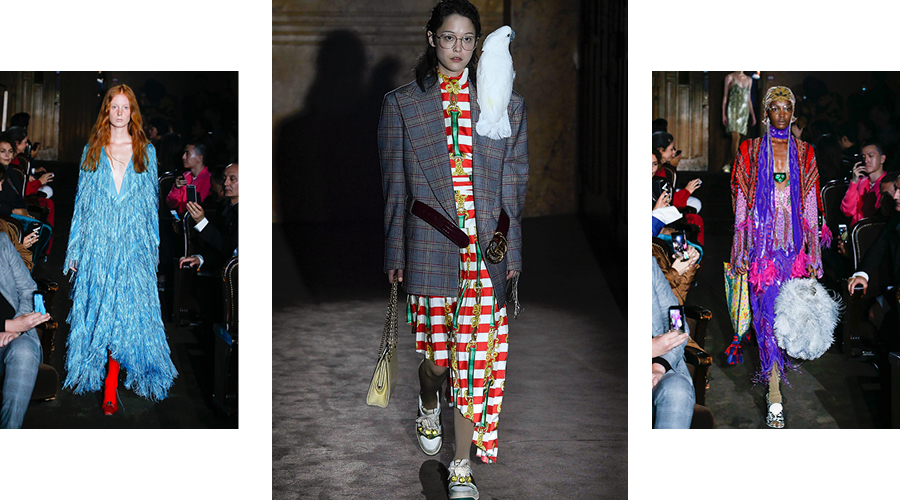 3. Dior dances into SS19
Despite the fact that the rumour mill has been whirling with whispers that this may be Maria Grazia Chiuri's final collection for Dior (there has been no word on whether this is actually true), the designer created a veritable spectacle for the French Maison's SS19 show at Paris' Hippodromerome. The runway space was expanded to encompass a conceptual dance showcase choreographed by Tel-Aviv based Sharon Eyal and performed by eight dancers from her company. Models walked through the moving bodies, creating an ethereal, fluid environment where dance and fashion seamlessly melded.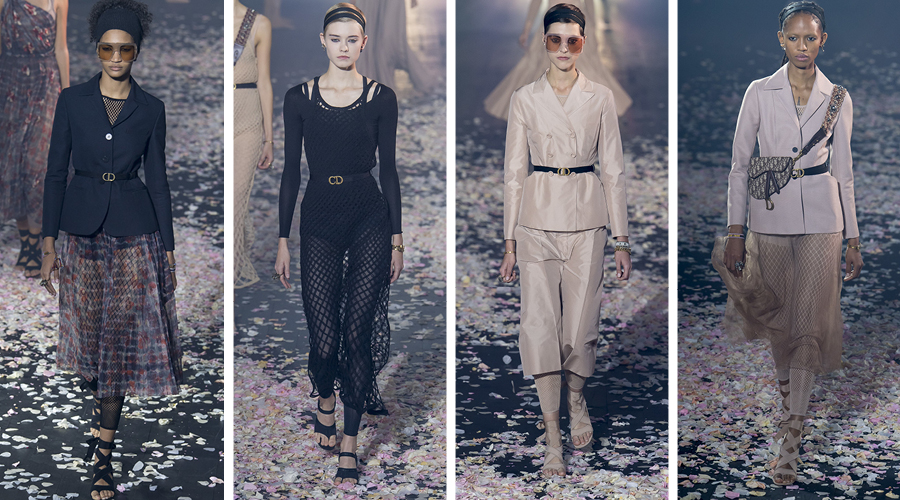 4. Balmain, Balenciaga and Hermès cut some staunch shapes
Speaking more from the perspective of overarching trends that have been emerging from Paris Fashion Week, there seems to be a widespread focus on silhouette, with brands like Balmain, Balenciaga and Hèrmes sending strong, staunch shapes down their respective runways. Those Balenciaga shoulders we have come to expect from the brand were taken to sleek, new heights, while over at Balmain, sculptural clothing and exaggerated figures seemed to be the order of the day. Hèrmes didn't deviate too far from it's usual, tonal palette and timeless elegance but there was a strength to the collection with bold leather detailing and unyielding structure.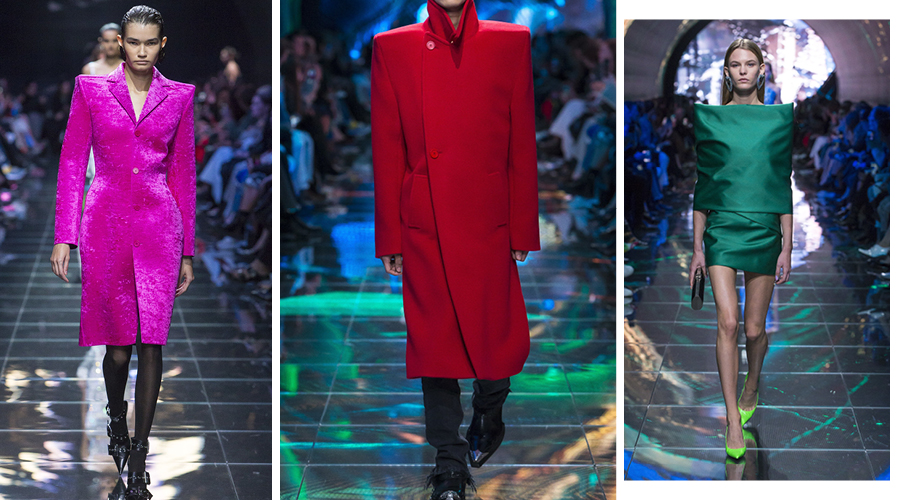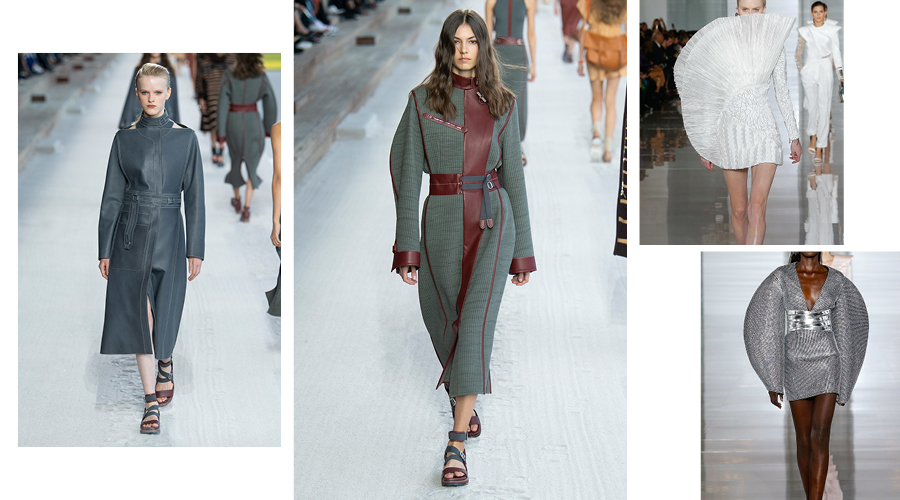 5. Serious baggage
From the trending baby bags to now, an apparent move in the other direction, oversized bags seemed to be having a moment on the runways of Paris Fashion Week. Brands like Loewe created large, tasselled leather iterations; Balmain played with plastic perfection, while Jacquemus undoubtedly held the most-talked-about bag moment, sending models down the runway with eye-catching, beach-ready totes alongside it's (quickly becoming iconic) mini bags.