There exists a kind of mythology around fashion designers and their muses. Producing collections inspired by enigmatic waifs who themselves end up becoming canonised in the culture of their time, it's a dynamic built on mutual admiration, respect and, ultimately, obsession. But while iconic pairings like Hubert de Givenchy and Audrey Hepburn (who famously called the French designer a "creator of personality") gave rise to renowned outfits like the Breakfast at Tiffany's dress, they're starting to feel like a slightly outdated representation of the relationship.
The muse as a concept will always exist in fashion. There will always be the Naomi Campbells and Daria Werbowys to the Azzedine Alaias and Phoebe Philos of the world, but in many ways, the idea of a muse as exclusively an individual from whom designers garner inspiration is evolving with the industry. With social media's role in breaking down anonymity and giving rise to a raft of 'unconventional' models and personalities, a question hangs over whether the muse-designer rapport can still exist as it used to.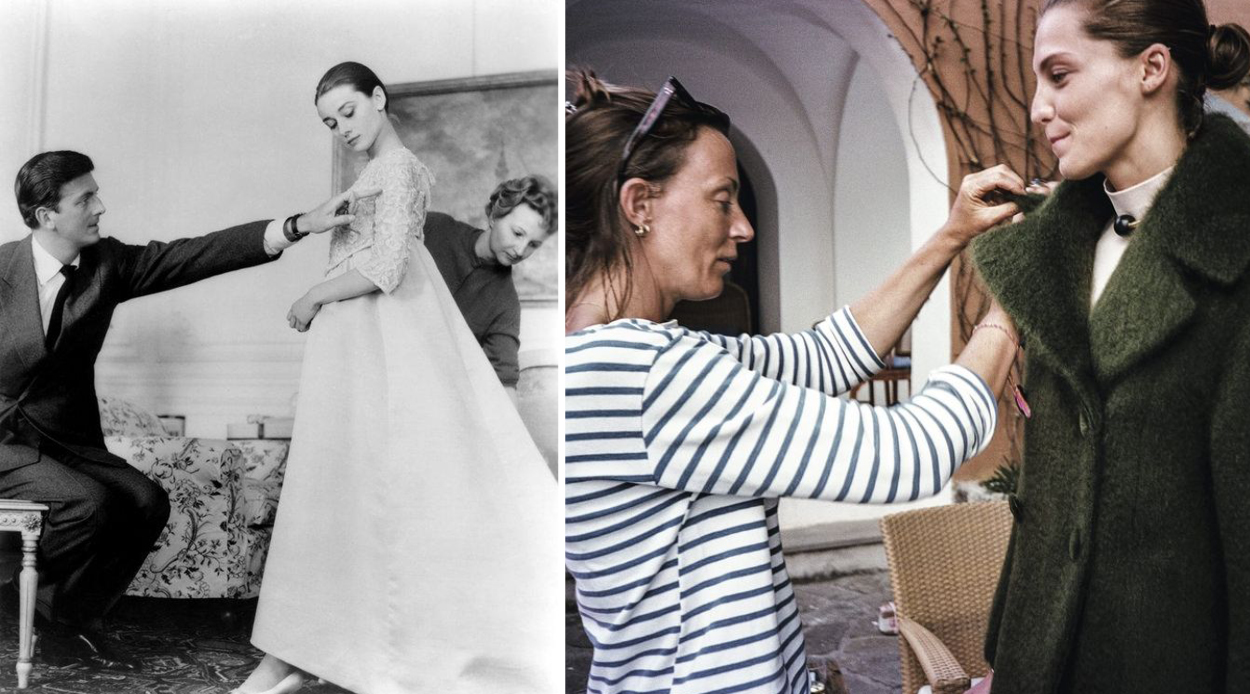 But what makes a muse? While nailing down this trope is virtually impossible considering the certain je ne sais quoi that is fundamental to its existence, there is a degree of authenticity that's needed for anyone deserving of the title. Recently, however, it feels as if designers care less about an individual's physical attributes and more about the ideas that that person represents. There is a move beyond the muse as simply a source of aesthetic inspiration, resulting in a multi-layered, message-based approach and instead, changing the nature of the muse-designer binary.
When Gucci's Alessandro Michele teamed up with the Spanish artist Coco Capitán, her influence on the eccentric designer and the famed Italian house was significant. Her scrawled slogans adorned tees, sweatshirts and bags, as well as being brandished on building-sized Gucci murals where statements like 'COMMON SENSE IS NOT THAT COMMON' sat next to questions like 'WHAT ARE WE GOING TO DO WITH ALL THIS FUTURE?' Together, designer and artist expressed an apparent disillusionment with the status quo, which translated into Michele's collections via an extreme eclecticism and anti-establishment edge. To me, Capitán represents the modern muse. A figure from whom Michele gained significant aesthetic and ideological inspiration. A figure who, rather than being a face for the brand, informed its collections through her words and creative ideas, and who now, feels inexorably linked to the Gucci narrative.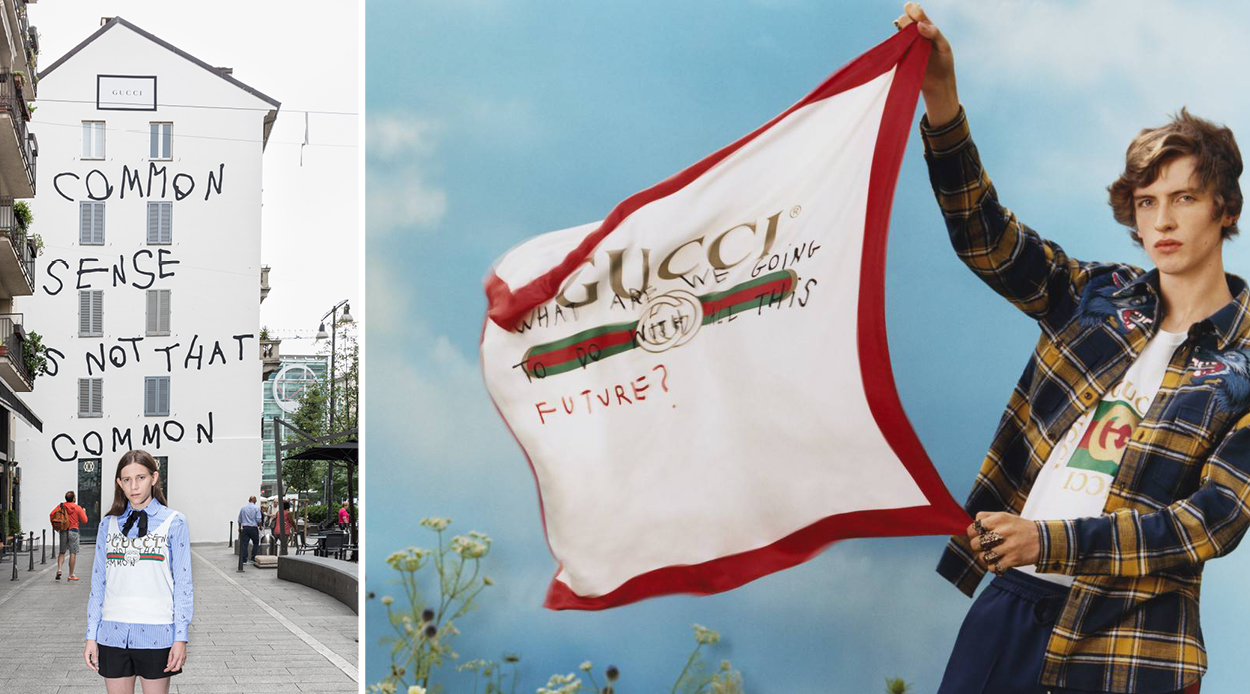 In a similar vein, Maria Grazia Chiuri, inspired by female artists, drew heavily from the works of both Leonor Fini and Niki de Saint Phalle for Dior's Spring '18 Haute Couture and SS18 collections respectively. Taking the ideas of Fini's surrealism and de Saint Phalle's colourful, sculptural work and folding them into, not only the collections, but her overarching design ideology, Grazia Chiuri's commitment to championing strong women has informed her approach to every season. And while figures like Jennifer Lawrence and Natalie Portman may perform front-of-house duties for the brand, it's the subversive artists, the female protesters and the idea of empowerment that the designer engages with more than any one figure consistently. For her, the muse wears many faces.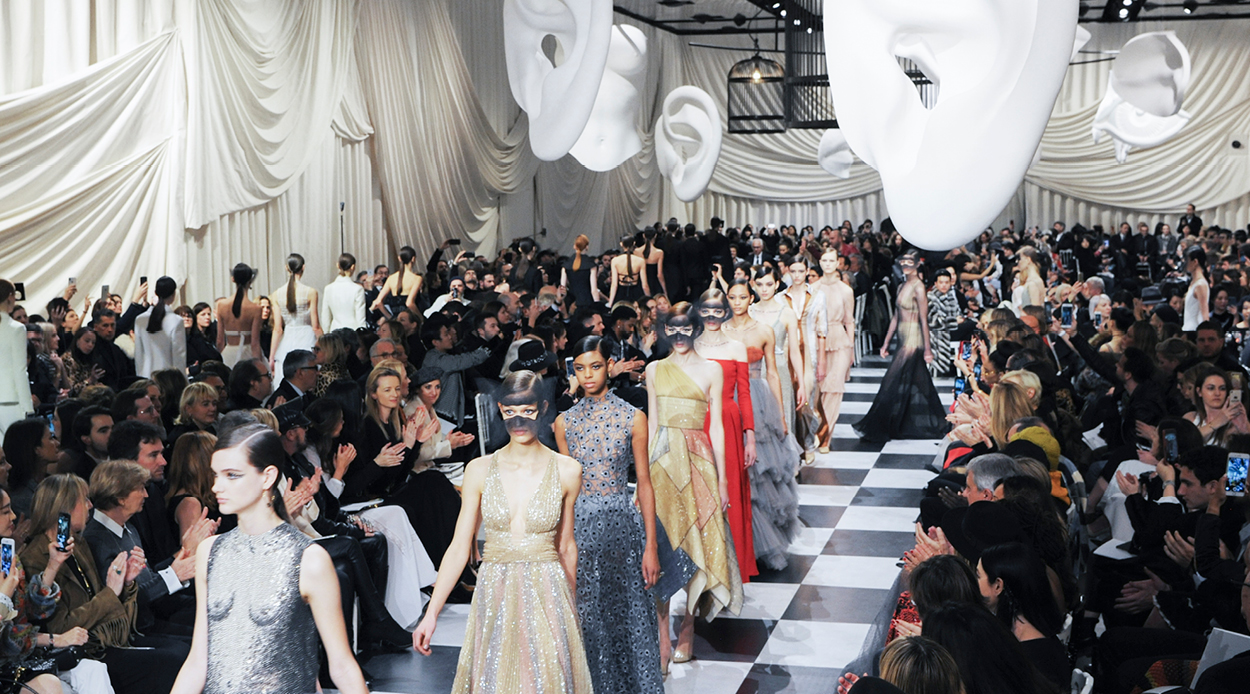 This is also true for the likes of Hedi Slimane, whose recent debut for Celine (note the lack of accent) reflected his penchant for returning to an idea that has informed his collections for decades — the 'rock chick.' Not a specific woman (although Kate Moss has sometimes been thrust into this role) Slimane demonstrates that a designer's muse needn't be limited to a single person. That it can be constant, but also conceptual and fluid. Slimane's ruling philosophy seems to be rooted in evoking an attitude. Where models may come and go, this 'take it or leave it' mantra continues to inform his creations.
The muse of today does not have to be the unattainable entity it once was, nor does it have to sit with a specific person to exist. It's true that a level of intangibility and intrigue is still necessary for something to be considered muse-worthy, but designers seem to be broadening their scope of inspiration and drawing from alternative and varied sources. For Miu Miu's Resort '19 runway, Miuccia Prada sent a multi-generational parade of Miu Miu muses down the runway. Comprising actresses, 'it' girls, supermodels and renowned personalities, the message was less about who the women were necessarily or even what they did, it was more about the air of spontaneity (most of them were only asked to walk the night before) and fun it lent the collection, an air that Miu Miu has embodied for years.
That the muse is a powerful force in fashion will always be true, but its epochal nature means that its form will constantly be in flux. For us, the muse gives insight into the industry, its prevailing values and what we can expect from some of the biggest names. But more than that, it ensures that in this ultra-saturated age where collections are discussed, cross-examined and dissected to within an inch of their lives, there remains an entity that speaks to the intangible. That connects a brand with something deeper than aesthetics. In the words of Coco Capitan scrawled across a Gucci hoodie, "I want to go back to believing in a story," and the idea of the muse offers a story we can all believe in.