From powder pink suits to logomania and the unexpected return of tie-dye, the most boundary-pushing trends of the year get analysed by three guys who consider themselves masters of style.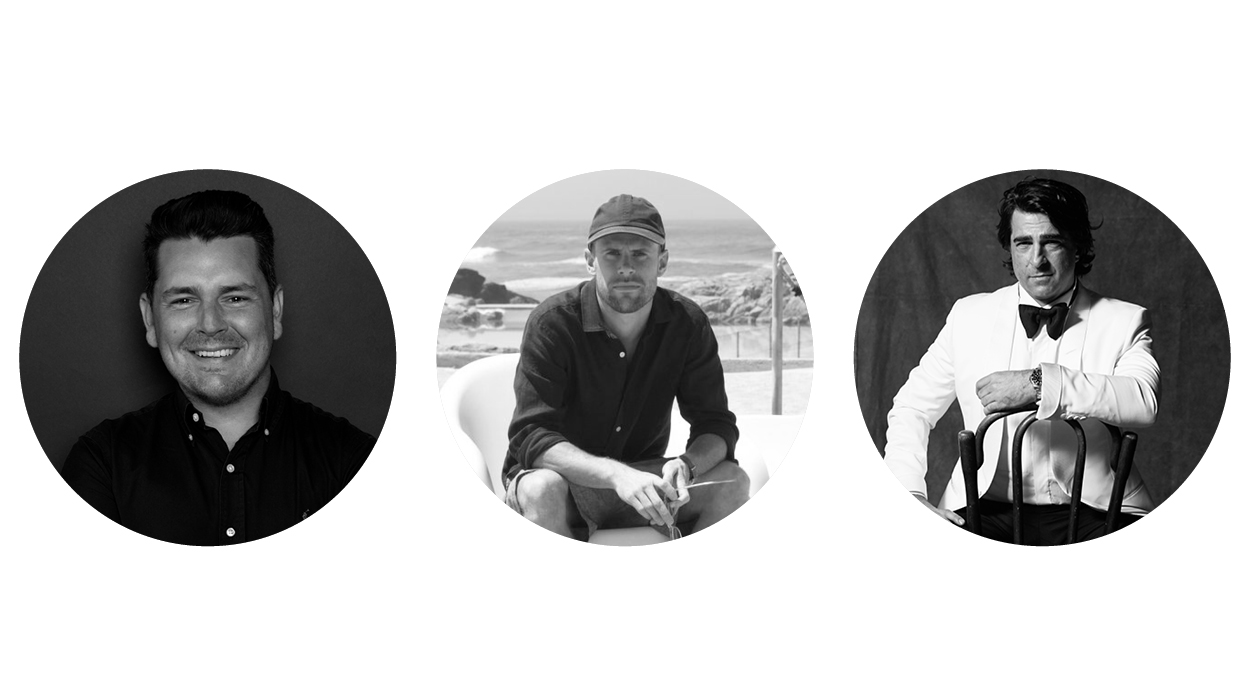 Mike Simpson
Producer during the week, amateur golf extraordinaire (he'll show you the trophy) on the weekend, and a guy who can pull off a puffer vest like no one else, the only thing better than Mike's swing on the green is his ability to deliver a killer one-liner.
Sam Hickey
This menswear designer (who recently launched men's fashion subscription service, Asuwere) is more than qualified to offer an expert opinion on the highs and lows of this year's trends. With refined taste and an eye for enduring design, Hickey brings his industry knowledge to the debate.
Ivan Segedin
Denizen's resident dude ain't no wallflower when it comes to fashion. With a penchant for luxury labels, including a white Tom Ford tux he dons once a year, and a pair of stud-covered Louboutins he wears to impress, Segedin is a stylish force to be reckoned with.
Logomania
From Fendi to Burberry, all the major brands have been engaging in a healthy dose of self-promotion via a liberal use of logos. Subtlety, it seems, is so last season.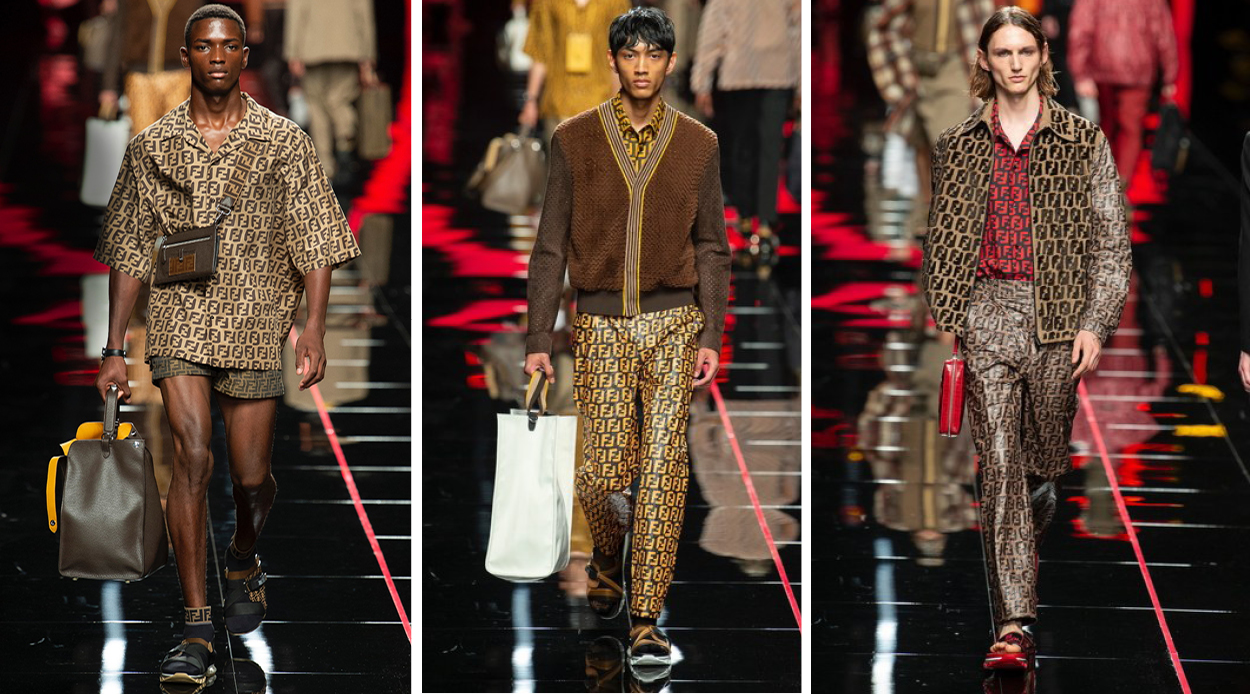 Mike: I don't like big logos or monograms on anything. It reminds me of this kid who I went to school with who wore a Gucci 'G' belt and he was a bit of a douchebag. That kid was me.
Sam: The logo-covered, oversized top and chav purse is making sense, however, paired with those shorts, I'm thinking this look might not even make the cut for an A$AP video. That most certainly counts me out.
Ivan: There is nothing more on point than an old, established fashion house making a comeback. Their excessive logo prints ooze 80s glamour and luxury. But you must act with lightning speed. If one of these pieces spends over 18 days on your Mr Porter wishlist, expect to see it soaked with vodka, layered with Adidas and accented with whispy gold chains on @lookatthisrussian.
Tie Dye
Bet you thought the days of this kaleidoscopic print were over, didn't you? It would seem that fashion just can't let sleeping dogs lie… but is that necessarily a bad thing?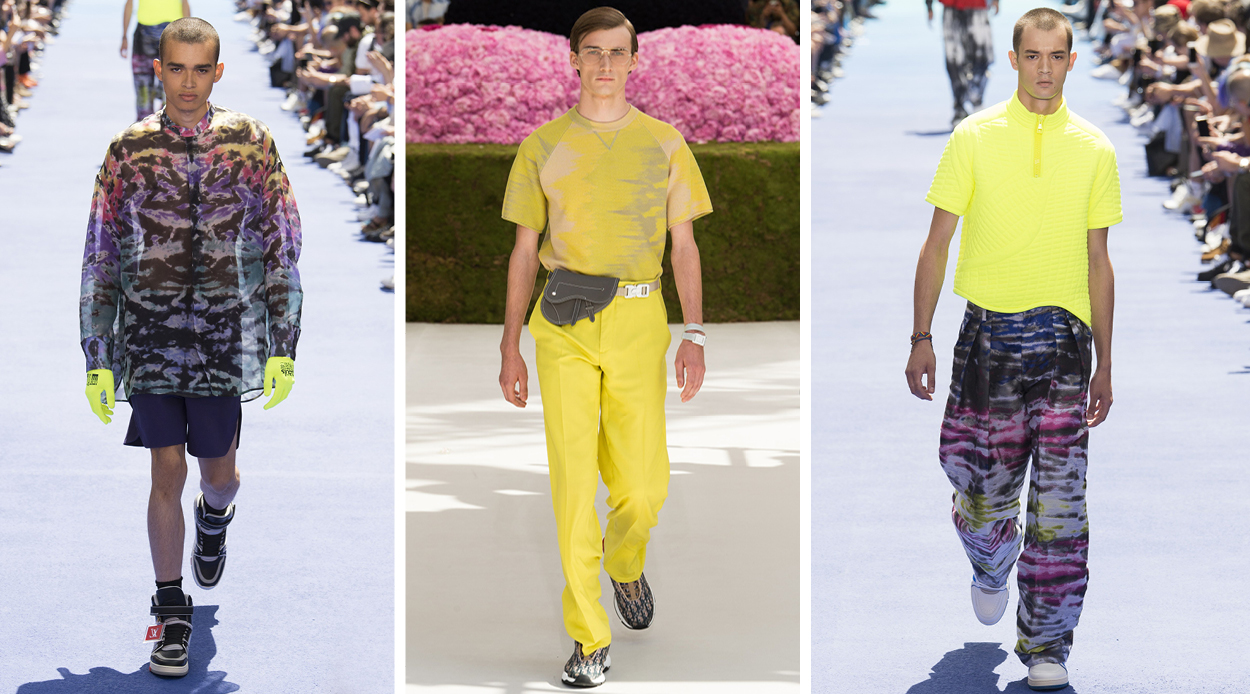 Mike: Tie dye is the flamboyant brother of camouflage, but you can't make the hilarious joke about not seeing the wearer's limbs. In comparison, I'd rather just not see this at all, but what do I know? I've never been to Coachella.
Sam: Somehow a goalkeeper from the 1994 Football World Cup ended up on the Spring 2019 catwalks, so that's a big yes from me. I don't know whether I'm happier that time travel has finally been invented or that my long neglected Umbro Jersey can be put to good use.
Ivan: Do you want to have something in your wardrobe that doesn't go with anything? Then maybe this throwback to 60s hippy chic is for you. The mention of tie dye conjures up images in my mind of dreadlocks, tattoos and cargo shorts going hand in unwashed hand with vape pipes, Birkenstocks, hairy armpits, thinking you are saving the planet by not showering, riding an e-scooter and having the disposition and genderless body type of Michael Moore.
Shirtless Dressing
According to Hermès and Dior Homme, it would appear the shirt has become altogether optional. Do with this what you will but be prepared for a few stares if you test the look out at the supermarket.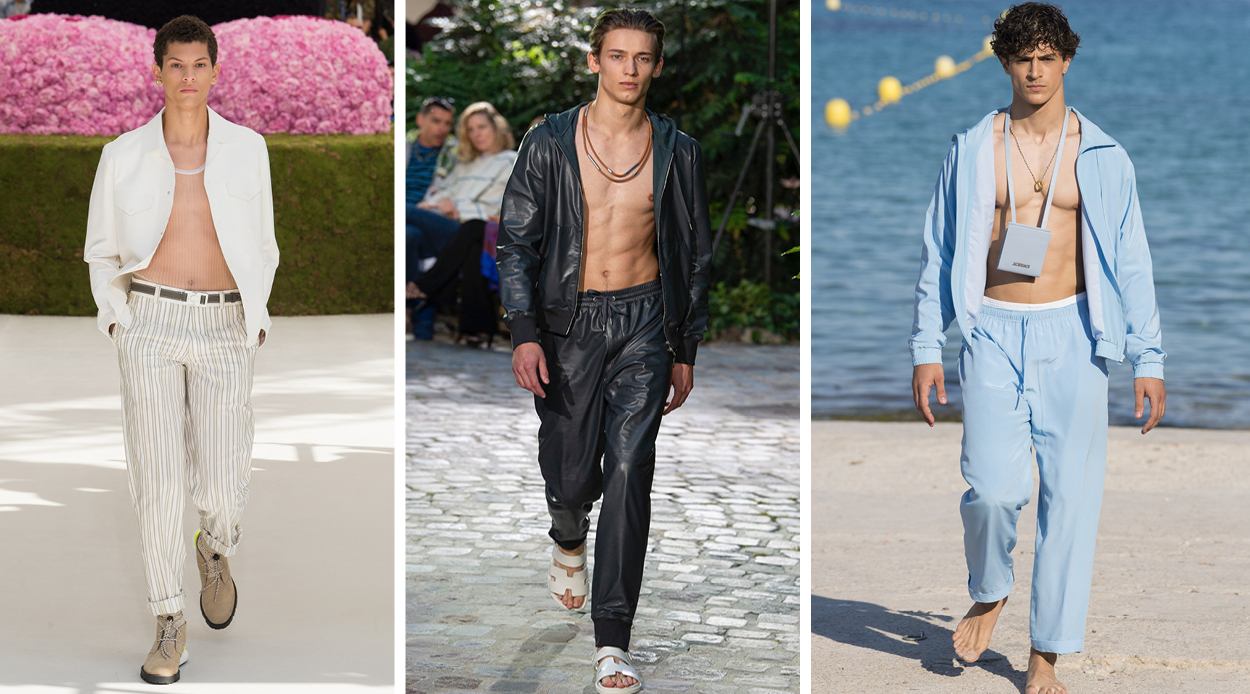 Mike: This is a tough one. I've only personally done this once and it won me third place in the 1999 Mr Puniverse Waipu, so I can't say that it was a complete failure. Times are different now and I think we just need to leave this back in the late 90s
along with Peter Andre and my Men's Physique ambitions.
Sam: If you really want to rock an all-leather tracksuit in summer I think it would be impractical not to go topless. Maybe a mesh top could dress it up for those a little more body conscious.
Ivan: After eight gruelling months inverted on pec benches feeling like a pot of honey surrounded by burly bears, this is the fashion vehicle that I deserve to present my labour of love to the world. This summer, rock out with your chesticles out.
Pastel Suiting
Perfect pastels staged a suiting takeover this year seeing various tailored pieces rendered in unsaturated shades. Hey, if it's good enough for Dior…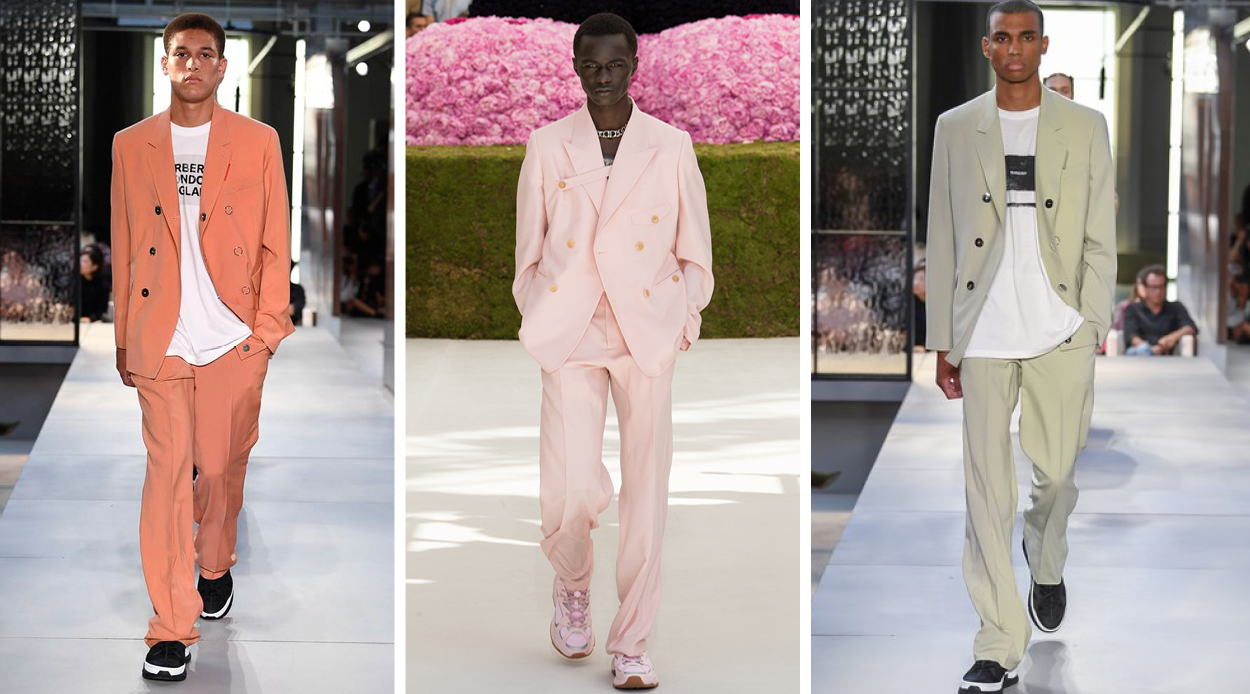 Mike: This one's probably the least visually offensive, but I still wouldn't do it because I don't have the chest hair, gold necklaces and tanned features to pull it off. If you live in Miami be my guest. But why are you living in Miami? It's a shithole.
Sam: There is a time and place where this trend would definitely work, unfortunately, that does not involve me or any event I might be attending this summer. I'll leave this one to the models.
Ivan: Whether I'm walking into the hottest restaurant in Miami with a Michelle Pfiefferish waif on my arm who only orders a salad with dressing on the side, or I'm sipping a gimlet while trying my luck at the Polo Lounge in the Beverley Hills Hotel, this is a tone that can transcend any hot situation. And make it white hot. I love it.