From Level 3 the future is looking brighter for a return to working outside the home office. Here's some inspiring picks to help you make the move from your laptop, sitting on a pile of books, to the big wide world.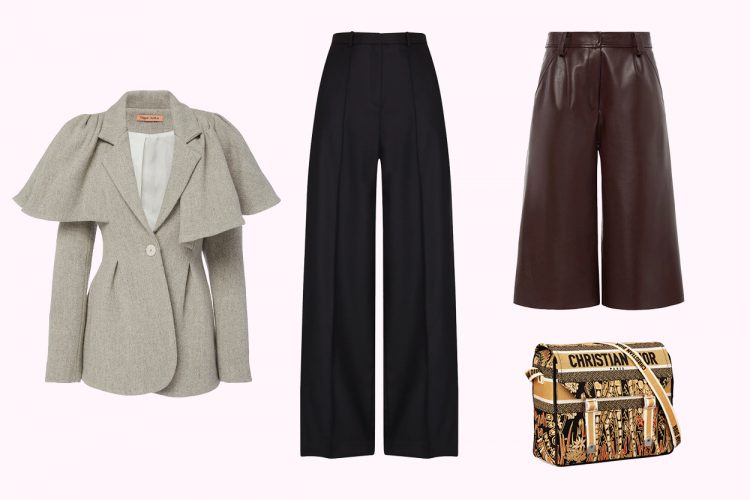 Count Your Blessings Jacket, Maggie Marilyn
With sleeves styled like a cape, this jacket is lightyears ahead of your boring blazer. Prepare to superpower your wardrobe with dart details that strike the bullseye when it comes to creating an hourglass figure.
Loulou Studio wide-leg trouser, Workshop
These wide-leg pants make social distancing a cinch, with followers of more timid trends cowering in fear of their strong style statement. Wear them with brogues for androgynous impact or play with the silhouette in platform boots.
Christopher Esber leather shorts, Muse
The leather skirt is a familiar fixture in the workplace but send eyebrows north with these long-line shorts from Australian designer Christopher Esber. Belt loops show that you mean business and a starched cotton shirt will show that heading to a meeting and not the motorcycle club.
Animals embroidered messenger bag, Dior
Tame your need to tap into the latest trends with Maria Grazia Chiuri's nod to Christian Dior's enduring appreciation of animal prints. This waxed canvas packs enough of a style statement to put you at the front of the fashion pack.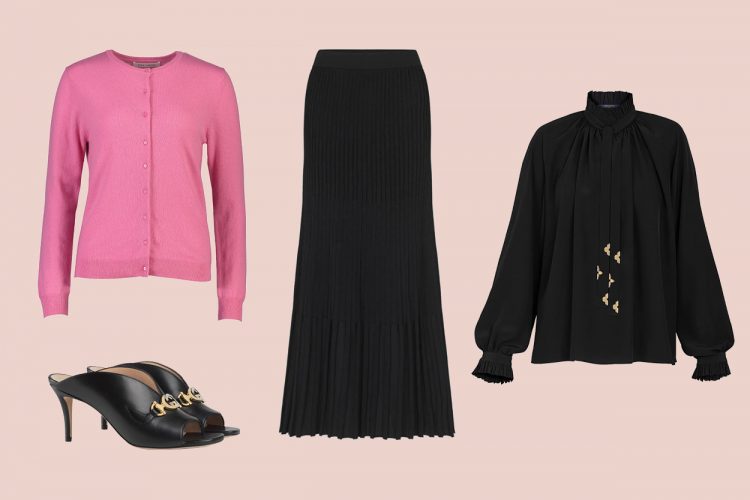 Casey cardigan, Elle + Riley
The cardigan is currently staging the type of comeback that only Renee Zellweger understands after winning the Oscar for Judy and that Harvey Weinstein can only dream about. Layer it with a blouse for retro appeal or a t-shirt for professional grunge grunt. Pretty pink adds a cheerful pop of millenial-friendly colour.
Zumi slide sandal, Gucci
We love wearing sneakers to the office as much as the next athlete or accountant, however, why not make post-Covid 19 first impressions country with some extra inches beneath you. When we come out of this we deserve to stand tall.
Esse knit skirt, Superette
Take a style step up from jeans with this hard-working wardrobe staple. This voluminous, flared knit skirt is worn on the waist and teams just as easily with a boardroom blazer or crisp-collared shirt.
Flower monogram blouse, Louis Vuitton
It looks as though video meetings are here to stay, in and out of isolation so make sure that you have something to say from the neck down and waist up. Focus on the feminine details of this silk blouse with Louis Vuitton's signature monogram set to steal centre stage.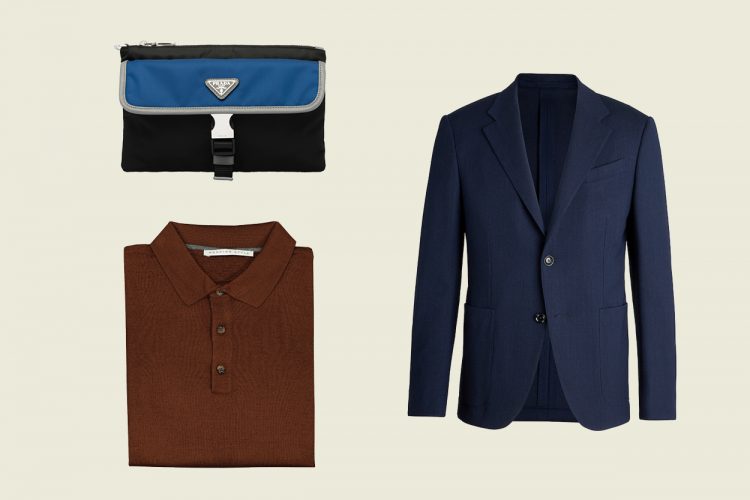 Nylon Pouch, Prada
Buckle up for safety. Every modern man on the go now needs somewhere to stash his supply of face masks, hand sanitiser and tissues for urgent outings.
Knitted polo, Working Style
If you're ready to button up but not ready to face the ironing board, turn to a long-sleeved polo for corporate casual. This rust knot works twice as hard beneath a navy blazer or on top of black trousers, before settling into a Sunday sofa sesssion.
Packaway blazer, Zegna
Chances are you won't be making any big trips for work soon but this crease-resistant jacket from Zegna also keeps you looking sharp after short distances. Each item from the Packaway collection comes in it's own suitcase, to have you dreaming of future days.