Tuhirangi Blair is softly spoken, which, when you first meet him, seems almost at odds with the brand he's created. Lucky Dip is making waves both here and overseas for the unique way its shirting is constructed. Each piece is handmade by Blair, meticulously stitched together using pieces of found or donated fabrics. Think discarded homewares like bedding or tablecloths, repurposed together with vintage basketball singlets. Aside from offering something that truly stands out in the often-homogenous landscape of fashion, Lucky Dip speaks to an idea the industry at large is starting to take more seriously — sustainability.
A subject that is close to the hearts of lunch co-hosts Viaduct Harbour and Saint Alice executive chef Maia Atvars, an immediate synergy was found with Lucky Dip's brand manifesto: Long-lasting high-quality product; unnecessary harm in all facets of the business; and to push boundaries wherever possible.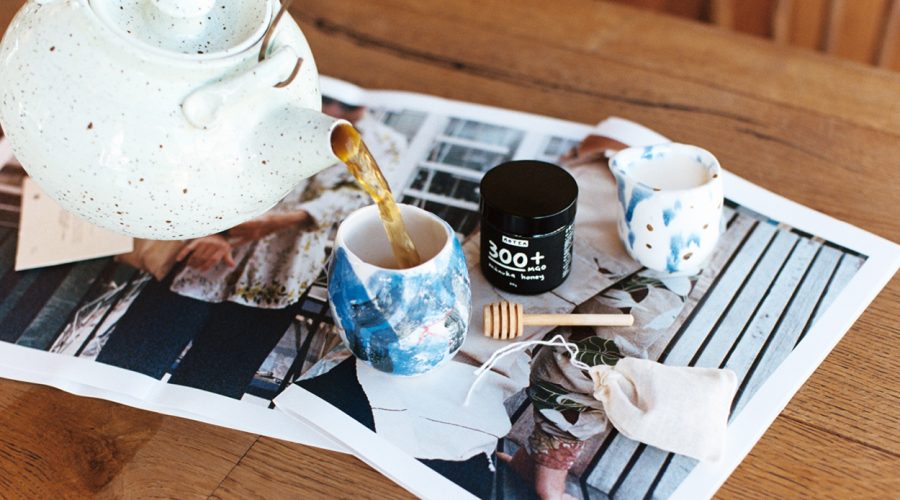 Recognising Lucky Dip's contribution to the 'circular economy', a movement that demands conscious rejection of the linear, throw-away mentality synonymous with single-use packaging and the fast fashion industry, Viaduct Harbour worked with chef Atvars to thoughtfully construct a lunch reflecting the brand's values. With a focus on under-utilised food sources, guests socialised over freshly collected Tuatuas and Waikato goat braised to mouth-watering perfection, served with traditional Italian fortune cookie pasta — a subtle nod to the brand's name — alongside spiced carrot croquettes and eggplant glazed in coffee & miso. Rounded off with Chai tea from West Auckland studio Kaputī, served in mugs individually made by Betty Chung Ceramics with Lewis Road Jersey milk and Great Barrier's Aotea honey, every detail of the shared lunch was a thoughtful and authentic inclusion.

A gathering of mostly friends and family, the occasion celebrated the inherent simplicity at the heart of what the designer is trying to do. It was clear that it was not a typical 'influencer' or PR event, with the designer personally explaining that he hand-makes every piece — each a one-off — using "stuff that has already lived a life."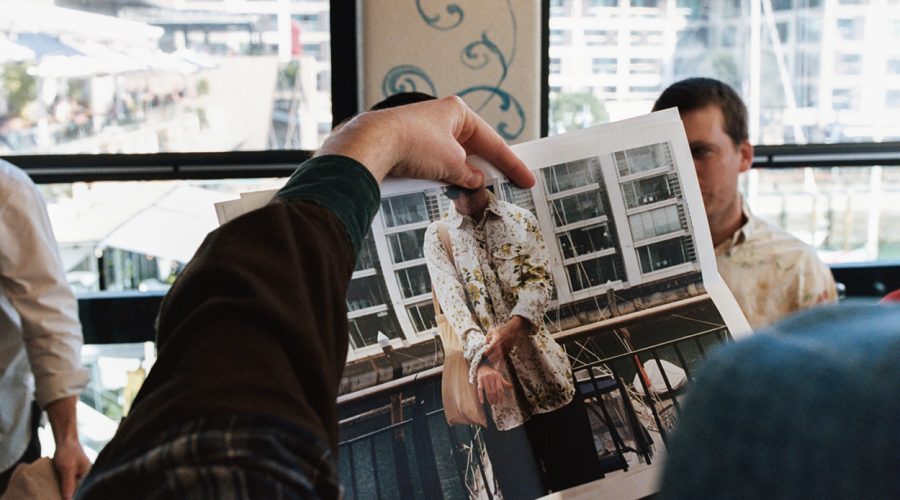 The label itself comprises only five styles in three sizes, and while the shirts themselves can be colourful, pattern-heavy and delightfully eclectic, there is a timelessness that sits at the heart of their design. Blair takes classic shirting tropes like the button down, the reversible Hawaiian and the Eton, and gives them an aesthetic reimagining while ensuring that their lines remain clean and precise. There is a focus on well-made tailoring that seems have distilled during his experiences working under Japanese designer Daiki Suzuki at Engineered Garments in New York, and previously as a menswear designer for Workshop in New Zealand.
Humble to a fault, it is only after deeper research that I learn just recently, Blair represented New Zealand at the NEXUS Global Summit (held at the United Nations NYC headquarters) — an event that brought together leading, next-gen philanthropists, impact investors, and social innovators from nearly 70 countries to explore innovative solutions for the world's most pressing problems. This discovery is a reminder of the creative talent we need only look in our own backyard to find.
Stocked in only two stores in New Zealand (Shakes in Auckland and Precinct 35 in Wellington), one in Tokyo (L'ÉCHOPPE), and online— Lucky Dip is not a brand you'll find everywhere. For Blair, the question doesn't seem to be whether he can scale up production or distribution (he's cool with keeping his shirts handmade by him and happy to stock in only a few places), but whether he can ensure his message and approach can be retained when reaching a wider audience.