Karen Walker has collaborated with The Walt Disney Company to create a joyfully nostalgic, limited edition collection of clothing, homewares and accessories in honour of Mickey Mouse's 90th birthday. The New Zealand brand joins the likes of Marc Jacobs and Opening Ceremony in celebrating the milestone birthday around the world.
Walker remembers her reaction to Disney's proposition of a collaboration as an "unequivocal yes," saying that she had always felt inspired by the cartoon mouse and how she saw this as an opportunity to "present a fresh take on his character." Finding parallels between Mickey and her own iconic 'Runaway Girl', Walker sought to play on a sense of adventure while simultaneously paying homage to the heritage of each brand. T-shirts and sweatshirts sporting Mickey, Minnie, Goofy and Donald all carrying their own Runaway Girl bindles sit next to bow-shaped, polka-dotted eyewear, fine jewellery featuring Mickey pendants, spotted key-rings, dusty-pink tote bags and a commemorative crockery set.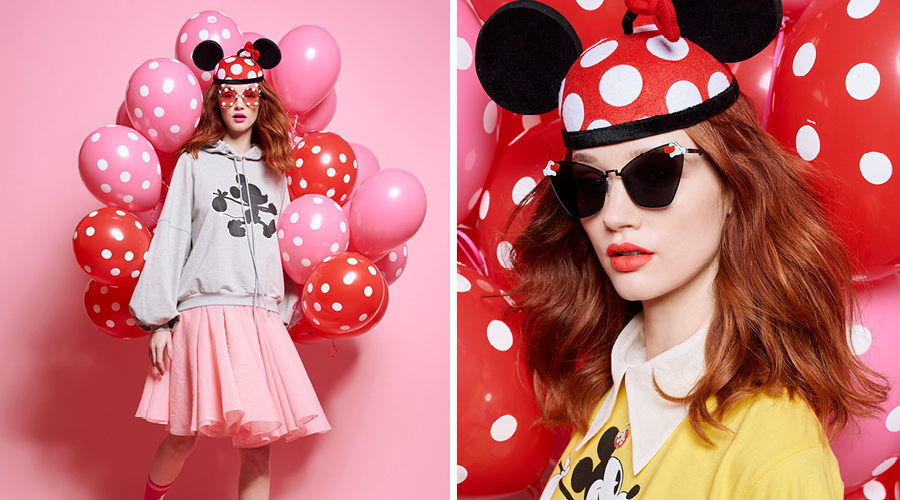 Embodying the fun-loving, adventurous spirit of the iconic character and indeed, Walker herself, the collection reignites that Disney magic we all know and love. Ensuring you can get your hands on the collection, Walker has opened a pop-up shop at her Playpark by Karen Walker store in Auckland, where the full collection, alongside a curation of some of the other special 90th birthday collaborations, will be available to purchase. But considering its very limited edition nature, you best be quick.