Hartfield Jewellers has long been one of Auckland's foremost authorities on fine and statement jewels. Offering impossibly beautiful pieces from Chaumet and Pasquale Bruni, owners Rebecca and Margaret Foley recently travelled to Europe to view new collections and discern the upcoming trends. Speaking to Rebecca about the experience of visiting Chaumet's flagship boutique in Paris' Place Vendôme — an area she said was often referred to as the "jewel box of Paris" — it was in the room overlooking Napoleon's column (the room in which famed composer Chopin lived out his final days) that she was shown Chaumet's new line-up of jewellery, set in precious stones. In between the luxurious experiences and diamond-laden pieces, Foley noticed three clear trends emerge. Herein we outline the pieces you should be wearing, and how, this season.
1. Bangles are back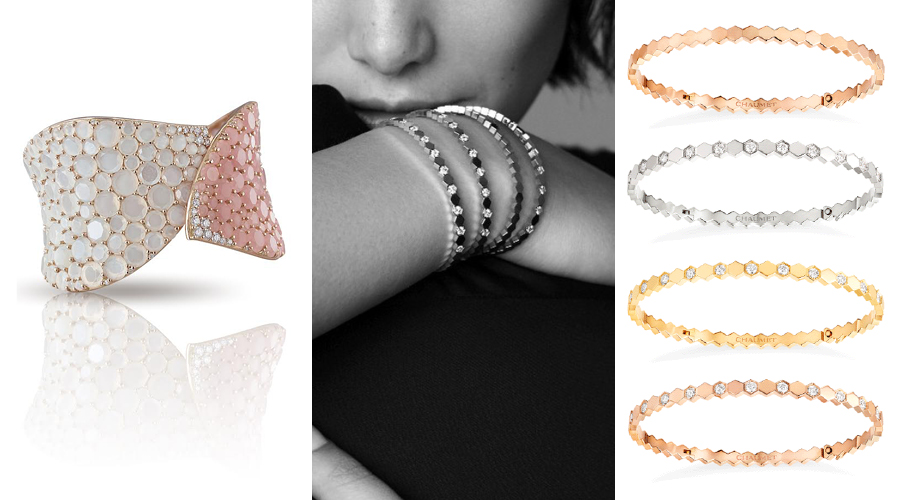 At both Chaumet and Pasquale Bruni, it was apparent that bangles would be the biggest trend for the upcoming seasons. Chaumet has extended its 'Bee My Love' collection — previously offering exclusively rings — to sculptural bangles that reflect the structure of beehives. The trend, Foley explains, is to mix and match the bangles and stack different styles together, noting a definite divergence from the traditional tennis bracelet style. Alongside Bee My Love — the first of which Hartfield will be receiving in June — Chaumet's other new collection Liens Evidence is set to offer a simple gold band that features a single diamond link and promises a more architectural take on last year's Liens Séduction collection.
But Foley's "favourite piece of the entire trip" came in the form of Pasquale Bruni's cuff from its upcoming Lakshmi collection. Crafted to reflect the curves of nature, the piece features pavé set pink chalcedony and diamonds that are cut flatter than usual, so that when a hand is run over them, the texture almost feels like snakeskin. The Lakshmi collection will be available via special order through Hartfield.
2. Spread your rings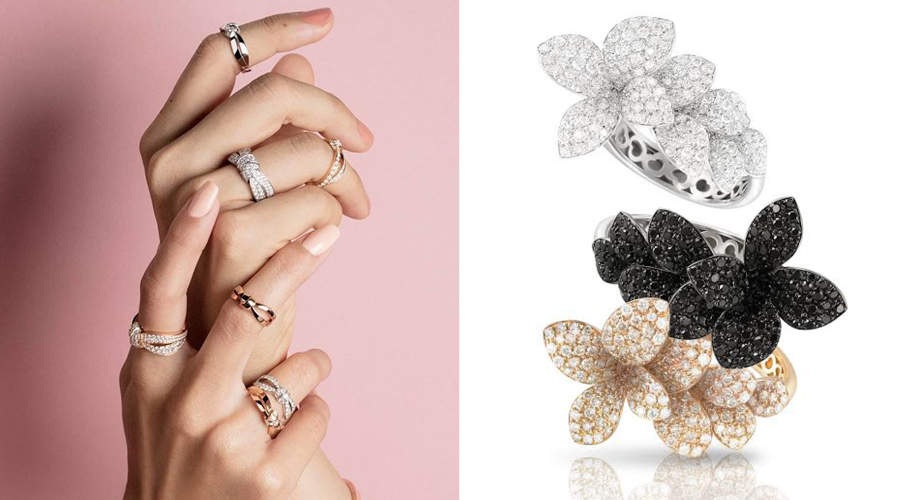 Describing this trend as wearing rings across the hand, Foley saw that fingers like the little and index fingers were now being championed as the digits on which to wear your finest pieces. It creates a more modern look and allows the wearer to show off more of the rings they are donning. Chaumet's Bee My Love and Liens Séduction rings lend themselves perfectly to fine stacking and can easily be worn across all fingers. On the other end of the spectrum, Pasquale Bruni's exquisite Stelle In Fiore rings in black and white diamonds can be used to eye-catching effect when worn across the hand (as demonstrated below).
Paquale Bruni Rings from Denizen Magazine on Vimeo.
3. Jewellery with a conscience
Less of an aesthetic trend and more of an industry movement, the other major takeaway Foley discussed was "jewellery with a conscience". Pasquale Bruni's new collection, Amore Chakra sees key pieces adorned in the word 'Amore', with diamond and rose quartz detailing and heart motifs. In line with the collection's overarching message of love, the brand will be putting a portion of the proceeds toward a project Eugenia Bruni has been overseeing in Africa (aptly named Amore Africa), that is helping to bring clean water to remote areas.
Chaumet has also demonstrated their commitment to this movement. When the brand first released it's Bee My Love collection, the proceeds were put towards the "Save The Bees" campaign, supporting the French Terre d'Abeilles association and its initiatives. The bee was always considered a divine symbol by Napoleon (Chaumet often made jewellery for the iconic figure) and this collection and its initiatives created a beautiful synchronicity between the pieces and Chaumet's history.
Beyond their schemes to help the environment and those in need, both Chaumet and Pasquale Bruni are renowned for their ethical practices, and artisanal ethos'. It makes sense that Hartfield, a brand that also prides itself on supporting ethical social and environmental practices, makes the best of these breathtaking brands from France and Italy readily available to us.