All Hallows' Eve is almost upon us and in light of the scare fest, we thought it high time we dished all on the Halloween costumes. This year, we suggest you let the cat ears rest in peace — avoid all the cliches, and instead opt for something a little more culturally on point. We've narrowed down our top ten costumes that have been inspired by the memes, puns and cultural happenings of 2018.

Bey and Jay in the Apeshit video: Beyonce and Jay-Z's serious power-suiting is 2018's answer to the perfect couples costume. If you don't have spare pastel Peter Pilotto or Dries Van Noten suits lying around in the closet, luckily the internet has a trove of cheap and easy knock-offs. Finalise the look with statement earrings, a crystal choker and a not-so-subtle gold chain. Print of a picture of the Mona Lisa and carry it around.
Scrumbo Justin Bieber: To get into the zone, imagine how you dress when you're home, in the midst of a sick day, avoiding all company. Now pop on a pair of shades and some sliders. Avoid showering for a few days beforehand, at least.
Lindsay Lohan dancing in Mykonos: Pair a silver, long-sleeved, velvet jumpsuit with a ginger wig. Once in attendance at the party, ask the DJ to blare out the remix of Zayn Malik's "Pillowtalk" and whip out that classic choreography, not forgetting plenty of odd bouncing, knee lifts, finger snapping and major hair flipping.
Post-fight Cardi B: Halloween isn't Halloween without a bit of prosthetic make-up, right? Be sure to go hard on that stuff and craft a generous lump to your forehead, search the op-shops for a floor-length crimson gown with capped sleeves and borrow every single piece of your grandma's jewellery. Be sure to hold a heeled shoe in one hand and get ready to hurl it at the nearest sign of confrontation. Props to you if you can get a friend to go as Nicki Minaj.
Rachel Chu from Crazy Rich Asians: A box office hit that was arguably one of the biggest films of the year, you're really going to look like you've got your finger on the cultural pulse here. Opt for the iconic Cinderella-like dress she sported to the wedding — if you can't find a perfect match just sew some scrunched up tulle onto a short-skirted, light blue dress — people will get the idea.
Squinting woman meme: There's a good chance you'll have these clothing items at home, making it arguably the easiest on the list. Rock a double-breasted pink blazer, ripped black jeans, pink tinted sunglasses and t-bone heels. Run around everywhere so you have to stop and catch your breath every so often.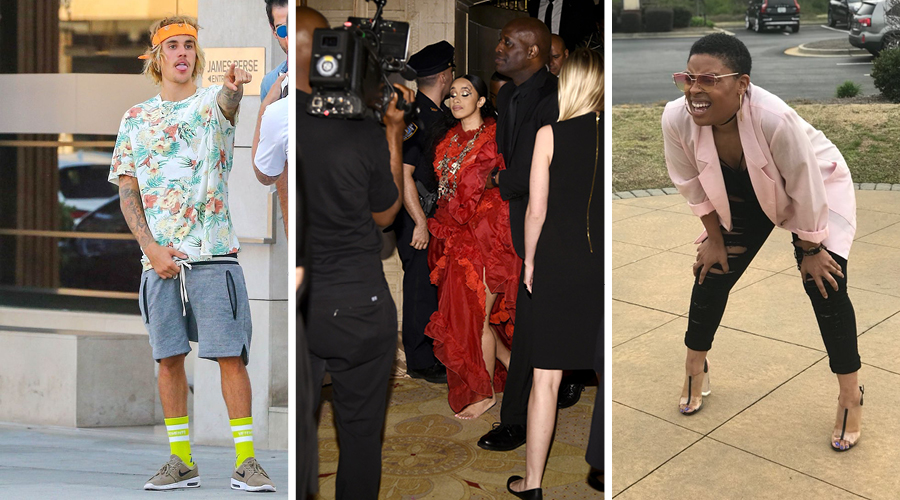 Prince Harry and Meghan Markle ceremony style: Another couple's costume, this one's ideal if the Royal Wedding had you feeling all kinds of hyped this May. Use an old wedding gown and a bouquet of flowers for the beaming bride while for Harry — unless you happen to have a military suit on hand — paint a red stripe onto black trousers and throw on a long black trench coat. Top off with a waist-cinching white belt, some shiny badges and some orange hair-dye.
The Queer-Eye team: First, find four friends who are willing to carry out a joint costume — this might be the hardest part. For Antoni: Pair a muscle-defining tight tee with a slight slick of eyeliner, hold an avocado. For Tan: Wear a patterned shirt with a French tuck and invest in a lot of hairspray — that quiffs going to take some work. For Karamo: wear a bomber jacket over a plain T-shirt with jeans and some killer sneaks. For Jonathan, sport a Jesus like wig and get creative with your clothing. We recommend throwing on a mesh and sequin high slit dress Creative Arts Emmys style. Bobby's style is a bit trickier to nail, but we suggest pairing a button down shirt with jeans and a fedora. Maybe carry around a paintbrush to really channel the design guru.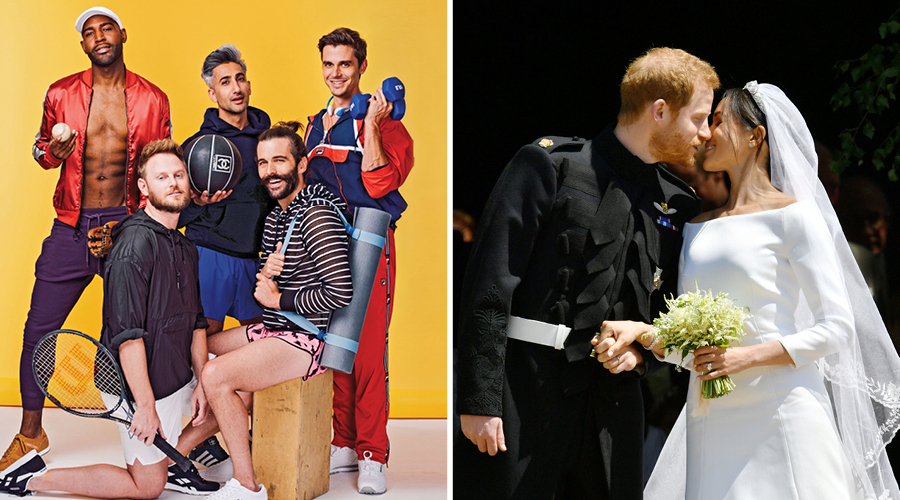 General Ariana Grande: If people don't get this one then they clearly haven't heard of the internet. Pull on a grotesquely oversized hoody and tie hair into an alarmingly high ponytail before pulling on a thigh-high pair of boots. Leave the house sans pants.
Kim Kardashian Yeezy-fied: The Kim Kardashian outfit is an easy one to nail, bike shorts with a crop top and a long silver wig. (Abs are helpful, but not necessary — we're only just coming out of winter, after all.) If you attempt Paris Hilton dressing as Yeezy Kim Kardashian and people guess correctly then pat yourself on the back, you've just won Halloween.