Over the duration of Alessandro Michele's tenure at Gucci, the luxury Italian label has experienced a second coming. Exuding the eccentricities of their designer, Gucci's recent collections have been characterised by their kookiness, their idiosyncratic styling and their ability to transport us into the curious Gucci-verse. And we have grown to love their unpredictability in the same way you love a distant relative who wears layers of necklaces, travels a lot and only shows up at Christmas with a bag of bizarre gifts and a convincing spiel about her new-age lifestyle.
That said, Gucci's FW19 collection (shown last night in Milan) left me with the impression that our aforementioned relative had finally found a stable job — although certainly not in an office. Michele stuck to the script as far as a bold colour palette and stylistic touches that made us squint our eyes to make sure we were seeing what we thought we were, but it was a collection grounded in sharp tailoring and an underlying palette of muted pastels and earthy hues. Of course, there were the quintessential sprinklings. After all, what would a Gucci runway be without a few spiky collars, floral brocades, boxy silhouettes, GG knee pads or retro suiting? But it seemed that with this season, Michele was adding a new layer to his vision, and he created a modern masquerade to do it.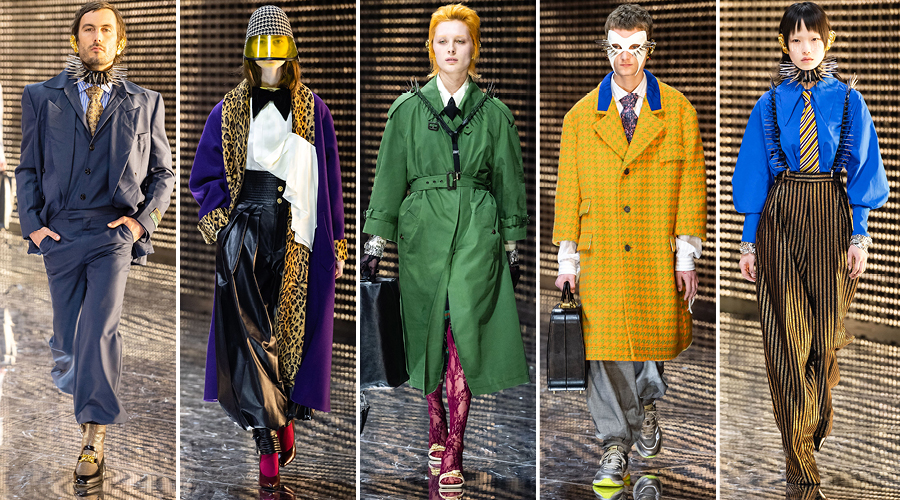 Considering that the return of 'campness' in fashion (a movement celebrating exaggeration and pastiche) has been largely led by Gucci, the irony that Michele used masks to reveal a little more of his creative nous was not lost on us.'Camp' revels in irony. Through ornate half masks, unnerving full masks and tinted visors the enigmatic designer lured us deeper into his sartorial world while maintaining an intriguing air of mystery. Perhaps it was a comment on the online culture that encourages us to make our lives universally accessible. Or an invitation to reintroduce moments of privacy. Or maybe Michele was speaking to the parts of ourselves we prefer to keep hidden.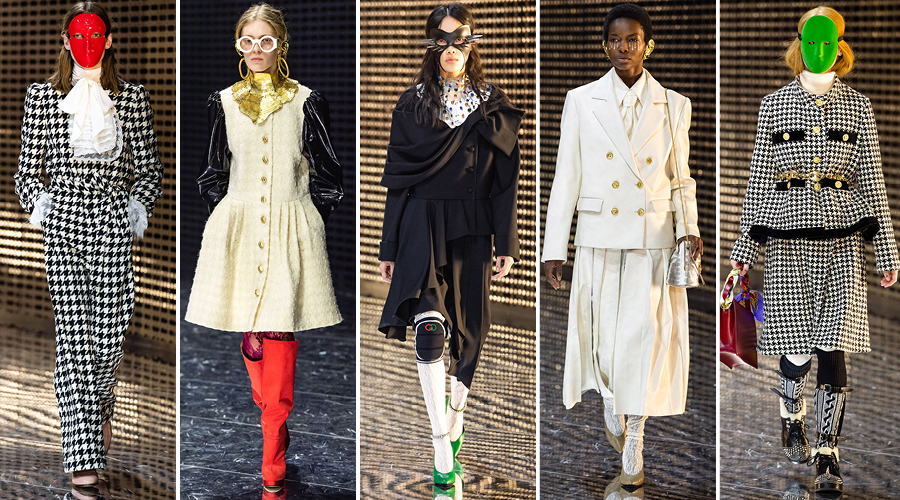 Whatever his message, the collection felt well-considered and coherent. Surprising, yes. Eccentric, of course. But it didn't have quite the same utter unpredictability as the last few, offering a subtle but welcome change of pace.