Growing up in New Zealand but living the last few years of her life in Sydney and New York, Zoe Ellis credits much of her creative inspiration to the various places she has called home and the women she has been surrounded by along the way. After studying fashion and paying her dues by working at some of Sydney's most renowned labels, Ellis thought it high time to branch out on her own — and thank god she did. Recently launching Chief Studio, a label offering a line up of dynamic, sustainable and luxurious womenswear, this young New Zealand designer is on the cusp of something very exciting. We caught up with her to chat about her journey so far, the influences behind Chief Studio and what she envisages for the future.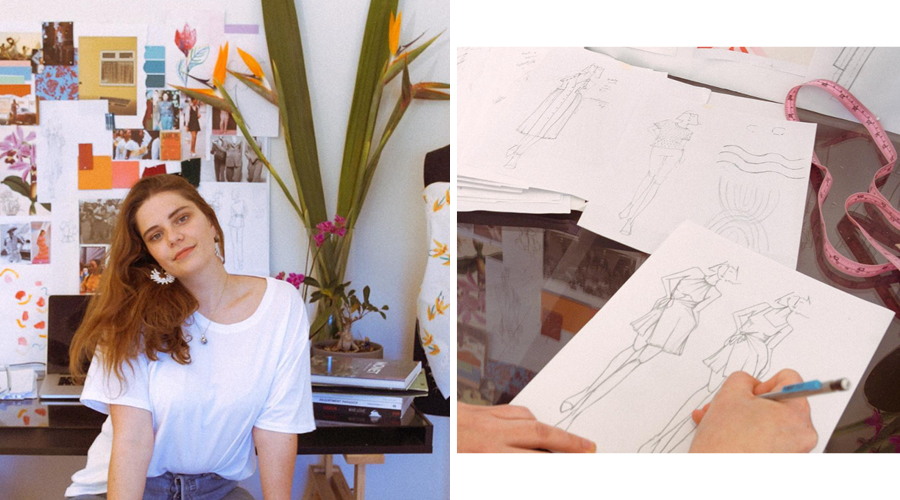 When did your interest in fashion start? I was always into art as a kid, and I'm lucky that my parents nurtured that. My mum is not a huge sewer but my aunt is and I used to love staying with her because of it. So that passion was always there, but it wasn't until I was 12 and I bought my first Vogue that I avidly started following fashion. I still remember that issue of Vogue so clearly, I read it about 10 times and I still have it!  
How would you describe your personal style? My wardrobe is built of mainly vintage pieces and basics that I buy from the brands that I love. If I had to summarise in two words it would be comfy eccentric.  
Is there any advice or motto you live by when it comes to fashion and dressing? I don't have any rules to how I dress, my key advice would be just to dress to your mood and then build from that. My go-to is to add a silk scarf either around my neck, to my bag or tied in my hair so that my outfit always has colour and something extra.
What is your background? My mother is Rarotongan/Kiwi and my dad is from Warkworth. I was born in the UK and now I have been living in Sydney for 6 years and lived in New York for one. I also moved a lot as a child. I went to high school in Auckland and then studied Fashion in Sydney. I still call New Zealand home, and it always will be my favourite place in the world.
How has that influenced your aesthetic and approach to fashion? I think one half of my aesthetic is that nostalgia for home and for the past, I take a lot of inspiration from my Kiwi/Pacific heritage. The other half of my aesthetic and approach is built on pragmatism – what do I want to wear? What do my friends want to wear? What makes me feel happy? What makes me feel powerful? What makes me feel sexy and beautiful? What is easy but playful? These are the questions that are always in the back of my mind.
Tell me about Chief Studio — what is the idea behind the label? Chief Studio is about creating vibrant, luxurious and sustainably crafted womenswear which is filled with personality. I hope to embolden the wearer and to give them the tools to express their individuality. My mission with this label goes beyond clothing because what I really want is for people to feel empowered and not compromise on any level; not on their style, not on their values and particularly not on their self-expression.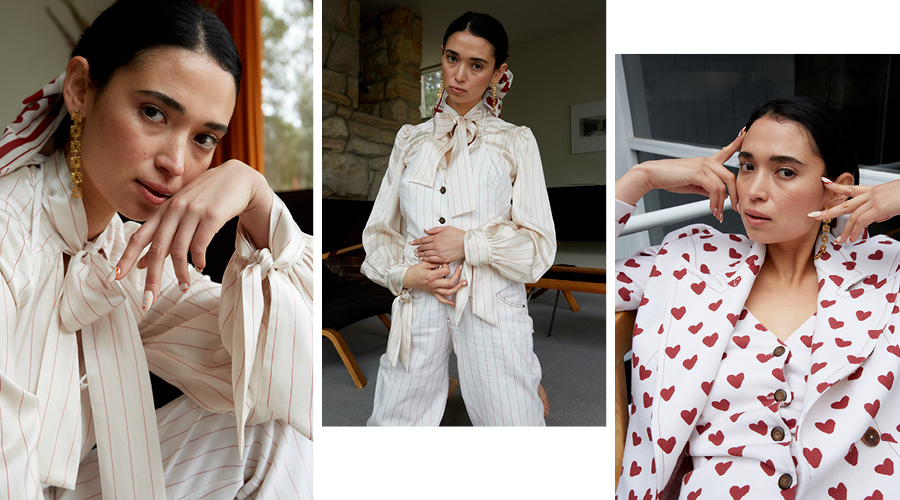 Where is Chief Studio designed and made? Has this impacted the label's aesthetic overall? Yes definitely. The brand is built around what I could source sustainably, I found this waterless printing process through a company in India which was the number one thing I wanted to work with because it's not just less pollution, it's zero. From there, I wanted to reduce the amount of travel that the goods do, which is why all the fabrics are sourced from India and the clothes are made in India. That way they only travel once to Australia.
Who do you envisage as the Chief Studio customer? The Chief Woman isn't defined by age, she's defined by what she is – a strong go-getter, a positive change maker, a person who doesn't take herself too seriously. She's intelligent, a romantic, and playful, but she also knows how to get things done.
Describe your debut collection. The first collection is only seven different pieces; a shirt, a top, a skirt, a blazer, trousers and two dresses. They come in a range of prints, that way you can mix and match everything and build a wardrobe easily with just a few pieces. The silhouettes draw inspiration from 80's leisure suiting; I love vintage Escada suits from that era so that was a huge inspiration.
What are your favourite pieces? Are there any that you are particularly proud of? I am equally proud of every piece I created so I don't have a favourite because they all do different things. The t-shirts are so soft and I wear mine almost every day and I love the matching sets for impact – I think I will be wearing my heart print set all summer long.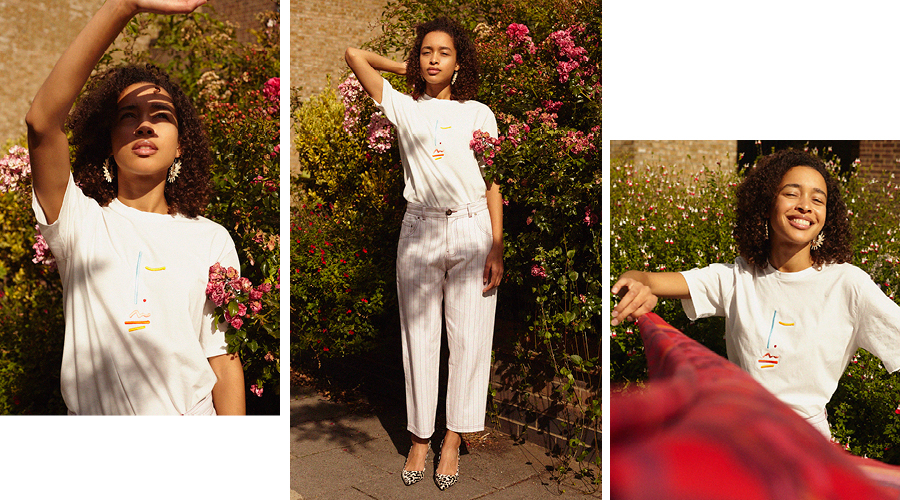 You recently had some of your collection shot in Paris. How did it feel to see your creations shot in such an iconic fashion city? It was so fantastic, there was this great juxtaposition between the tropical-inspired colours against the backdrop of such an old European city. Stephanie (who shot it) and Sam (who modelled) were both Australians who had moved to Paris to pursue their dreams. To me, it just felt so right because I think it really encapsulated what modernity means to Chief. It's not about hard lines and minimal dressing, it's about freedom, choice, taking chances and chasing what's yours.
Where is or where will Chief Studio be stocked? How will the collections be rolled out? Firstly, Chief Studio will be available through our online store which is launching later this month. If you are in Sydney we will be hosting a pop-up store during the summer, so stay tuned for details. The collections to come will continue to be small and capsule-sized because being well considered, designing to last and to be loved is at the core of the sustainable design ethos. I want everything in the future collections to be able to be matched back to previous ones, so that you can simply build out your wardrobe and look amazing without any fuss.
What do you see the future holding for Chief Studio? I see a community growing out of this label and people connecting through it. I want to continue to grow my customer base, both here in Australia and internationally so that this community can grow. I want to continue to educate people about sustainability and being conscious consumers through the clothes that I make and the platform that I have. I'm just trying to have a positive impact on our culture as best I can with the tools that I have.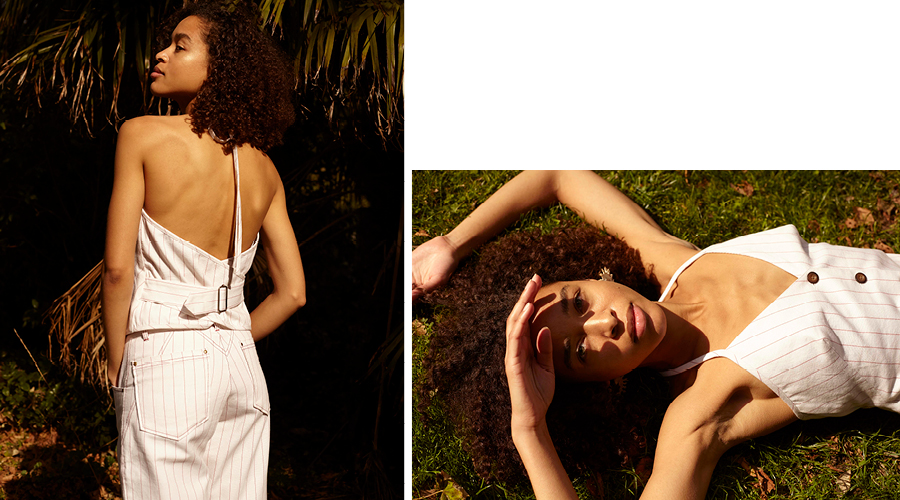 You've been studying and working in the fashion industry for a number of years now. What are some of the biggest lessons you've learnt along the way? The biggest lesson is always having a plan A, B, C and D. If you plan for something to go wrong and allow enough time to correct it, then normally everything goes right – but if it does go wrong at least you planned for it. It's not to say that fashion is a disorganised industry, it's just that it is such a collaborative one, so you must be prepared if one of those contributors has a change of plan and you need to be flexible to change yours.
What advice would you give to someone else wanting to start their own label? Just start it!! Put pen to paper today, create a moodboard, drape fabric on the mannequin, do whatever you need to do to get started creatively. The rest will roll from there. I said that I was going to start for months before I did because I didn't know where to begin, and once I started drawing everything started moving very quickly. Also, if it's a long-term goal and you're fresh out of study, then I think working in the industry for a couple of years is good. For me, it meant that I could make mistakes and learn in a supportive environment, and not feel so alone. Some of my close work friends are still my biggest mentors.