Shopping for the perfect engagement ring is no easy feat. In fact, finding an engagement ring that truly embodies the bride-to-be and the relationship with her betrothed, a ring that can speak volumes while still maintaining an air of mystery, is, arguably, one of life's toughest quests. That is, at least, unless you have the magic-making Alice Herald at your service.
The bespoke jewellery making maestro somehow manages to hit the nail on the head every, single, time. "People are, now more than ever, after something unique that speaks of them," explains Alice, when asked why she thinks her renowned rings are so highly sought-after. "It's no longer just a solitaire ring taken from a shelf with the 'that'll do' mentality." Instead, people are longing for something far more unique and personal, a custom made piece that embodies their personality.
So how does Herald manage to craft a ring so unique and personal? "We have a coffee or a glass of bubbles," divulges Alice, when explaining the one-on-one appointments she carries out with her clients, "and we really get to know each other. I learn about their style and begin to understand what they like and want." From here, she shows videos of the various stone options and discusses particular cuts and carats, before embarking on her own journey alongside some of the most prestigious diamond suppliers to craft the piece. For those not able to attend appointments, Herald is more than happy to work with clients remotely, too, often sending designs and diamond videos through email, sharing Pinterest pages and consulting via phone or Facetime.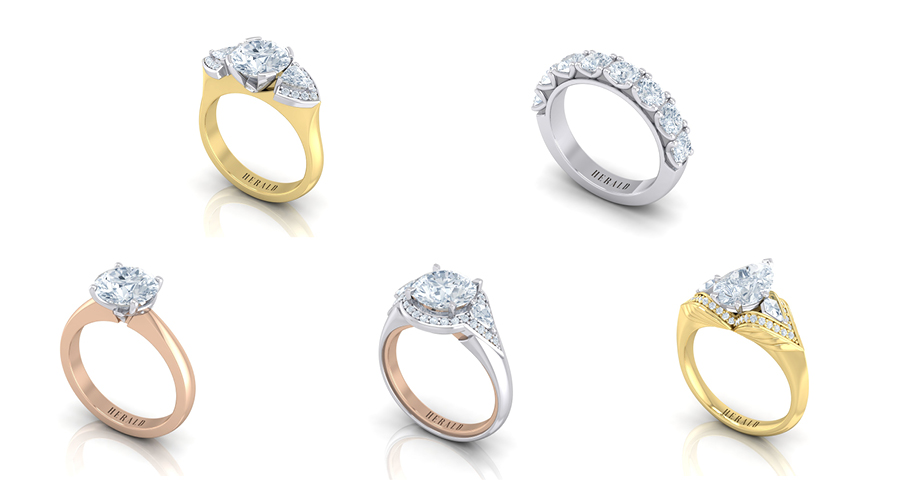 Even though many solicit Herald for one of her engagement rings alone (either a bespoke piece or one of the prepossessing wonders from her Signature Engagement Ring Collection), the relationship doesn't necessarily stop there. A bond is forged and customers often return for sentimental items later in life, "It's gotten to the point where I work with entire families," she explains, describing how people are so lured in by her designs and unique aesthetic that they wind up contacting the designer again and again, in search of a quality birthday gift, an anniversary ring, or a baby shower present.
Ultimately, according to Alice, "the perfect ring is about the story, it should be a reflection of the couple and their personalities" Undoubtedly, the bespoke treatment is a huge allure — but it's the quality, notable, Herald design that really makes the jewellery memorable. Dripping with class yet still bestowing a distinguished edge, it's not hard to see why these exquisitely designed pieces — able to transcend any jewellery trend — have customers flocking back time after time.
Alice Herald holds regular appointments in Christchurch, Queenstown and Wanaka, and once a month in Auckland. To book an appointment with Alice, enquire here.