With two million Instagram followers, a number of his own projects in the works and a budding, international modelling career, Anwar Hadid is cultivating a profile in the fashion industry to rival that of his supermodel sisters. Recently in Sydney to lead the highly anticipated David Jones spring/summer '18 catwalk alongside the likes of Karolína Kurková and Adut Akech, his casual runway walk was a nod to the nonplussed attitude I had seen on our shoot for the prolific department store the day before. Calm, collected and distinctly 'cool', Hadid's career might just be starting, but his effortlessness in front of a camera gives away the fact that he's been in the public eye for most of his young life. "I grew up in it" he agrees, before articulating how he "just see[s] it all for what it is." He goes on, "it honestly just makes you understand that none of that matters," and though this is a sentiment often expressed by those in the spotlight, I get the sense that Hadid really doesn't court notoriety. "I'm just trying to focus on my craft right now" he replies when I ask him what he does for fun, revealing an unexpected contentiousness. Citing part of his reasoning for following in the career footsteps of his famous siblings as "a good opportunity for me to see what's happening behind the scenes [of the industry]." Hadid is on the cusp of launching his own clothing and jewellery label, Martyre. "I'm trying to create something that I can put out into the world that I love," and starting a brand is apparently just one part of this goal.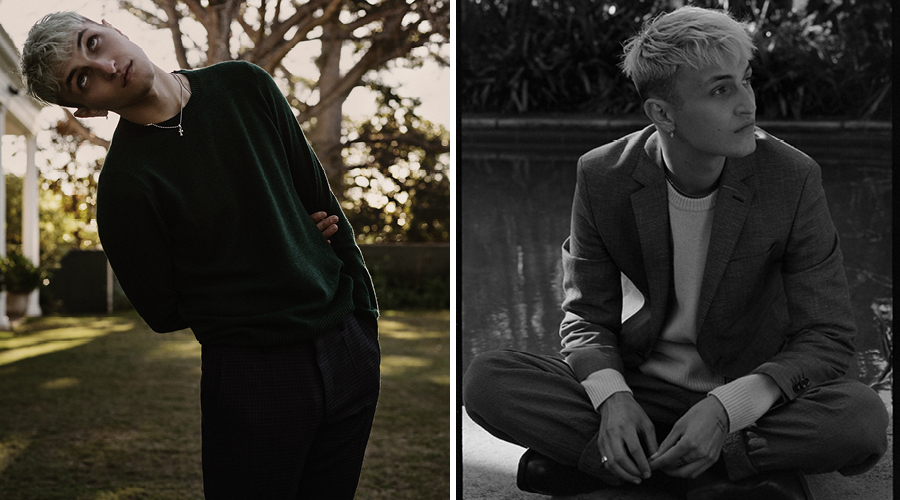 "I'm [also] trying to create an organisation with my friends to give people from other countries that don't have a voice, a platform to speak," he tells me about his desire to shine a light on humanitarian issues around the world. It's a surprisingly altruistic outlook from a guy yet to reach his twenties, and despite his penchant for dancing around set (much to everyone's amusement) there's an underlying focus in his approach that's often absent in the young Hollywood set.
His statuesque sisters who, according to Hadid "encourage me to stay true to who I am" have clearly played a role in helping him remain grounded. "In this generation," says Hadid, "people maybe don't know themselves as much," going on to offer the kind of advice only someone wholly comfortable with themselves could; "Don't think about trying to be like someone or trying to be a certain thing… at the end of the day you are what you are and you may as well rock that shit and make it your own." And with his numerous tattoos and (currently) platinum/blue hair, it's an attitude he seems to live by.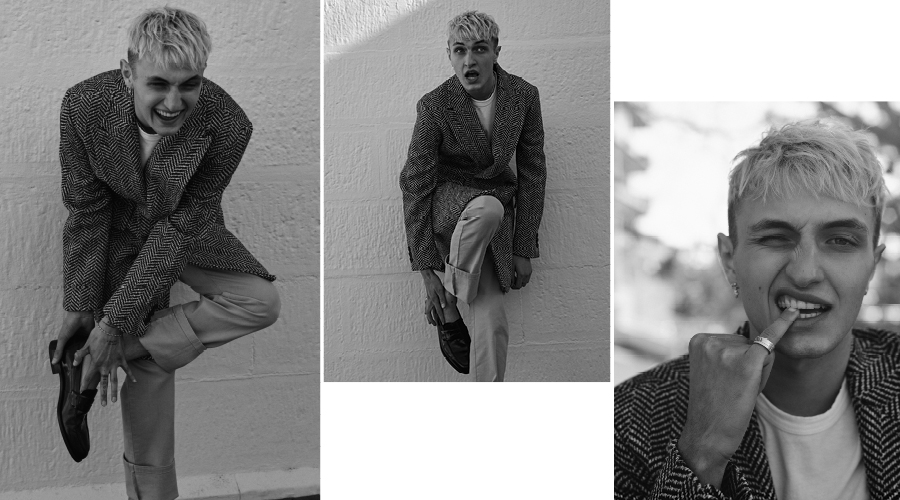 Watching Hadid interact with everyone on set as we're shooting, it's almost impossible not to be affected by his contagious energy. A consummate professional (despite his gruelling schedule that day and the fact that we made him submerge his feet in freezing water) he underlined that one of the most important things he has learnt from being in the industry is that "every person is just as important as the last," acknowledging the "huge creative process" involved in shoots like the one we were in the middle of.
When asked what he'd wear if he could only wear one thing for the rest of his life, Hadid's go-to outfit was simple and as understatedly sleek as the designer David Jones menswear he had been sporting all day. "I have this pair of plaid pants, red plaid pants, and I'd probably wear those with some kicks or some converse and just a white shirt or a black shirt." Underneath his recognisable face, laid-back demeanour and striking hair, Anwar Hadid is just an idealistic young guy out to make his mark on the world — albeit in his own, distinct way.
With David Jones set to open its first Auckland store upon completion of Newmarket's new, Westfield development, I wondered if he had any plans to visit New Zealand. "Hopefully" he smiles, "I would really like to." And I'm sure he means it.
Styling: Margie Cooney
Hair & make-up: Michael Brennan @ The Artist Group
Shot on location in Sydney